Just in time for the back-to-school days shopping gigs of U.S. households with student members in the family, Bing is offering double cash back when you search and shop through Bing Shopping. Dubbed "double savings day", this promotional gig will pay users twice the amount of what they usually get when they do use Bing shopping search to purchase stuff online. This could go as high as 50% total cashback.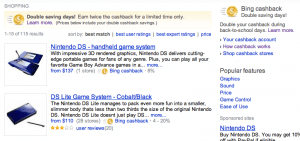 Bing Cashback which used to be called Live Search cashback was one of Microsoft's strategy to entice user to use its search engine prior to rebranding it as Bing. Although, it didn't really quite get some expected mileage in terms of getting more users, Microsoft decided to continue the "search and rewards" program and is now using it to push Bing's usage to some new heights.
It's a good shopping tool and who doesn't want to save some bucks when they go shopping. And continuing the program might actually pull in more search stats for Bing.
The Double savings day gig will run until the whole month of August, so if you have some stuff to buy and you're planning to get it online it might actually save you some extra bucks if you use Bing Shopping and Bing Cashback.
Check out the Double savings days FAQ for more details.