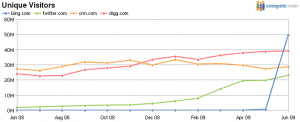 So while we are all recovering from Google's announcement of the Chrome OS, let's get back to one of hottest pre-Google Chrome OS items – Bing. What has now become of Bing – Google Search's rival? For the past few days, Bing camp's has been pretty quiet lately.
Mashable is reporting that the latest June data from Compete.com indicates that Bing is now the 13th most visited site on the web. Bing was able to register 49.57 million unique visits during its first month. Interestingly, Bing's unique visitors is even more than that of Digg with 38.96 million, Twitter with 23 million and CNN with 28.54 million. These data represents U.S. traffic only. Bing's unique U.S. traffic is almost 30 million less than that of Live.com, where most of Microsoft's web products are still residing including Hotmail.
But of course, we could always say (again) that this is nothing unusual. Users are still curious about Bing, especially with a massive marketing campaign launch by Microsoft. And this might still change in the next month or so of Bing's existence.
Still, these numbers should send Bing's rival a signal. Bing is a dark horse in the search engine wars. And boy it is going to be a powerful dark horse that both Google and Yahoo should take seriously.