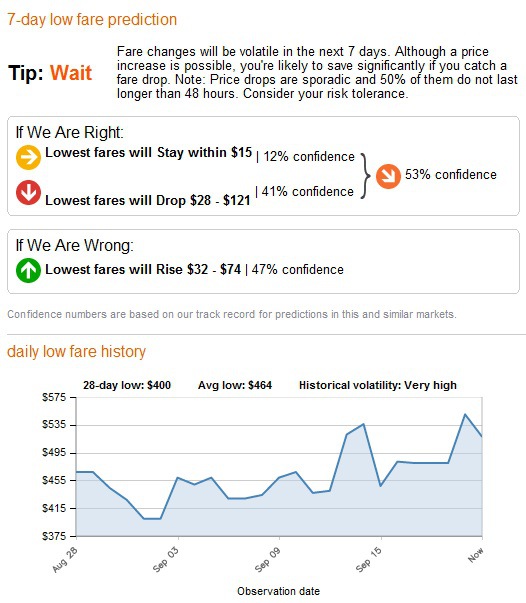 Earlier today, Bing Travel issued its preliminary 2011 holiday travel predictions. The search engine uses a comprehensive dataset that includes future airfares, past airfares, and search data to perform the predictive analysis.
Some of the interesting statistics Bing Travel released in its report include:
Domestic airfare fell 1.4% to $302 on average
3 and 4 star hotels are approximately the same price
5 star hotels have decreased in price 8% on average
Airfare to Asia has increased by 15% to $1,226 on average
Airfare to Europe has increased by 9% to $936 on average
Kari Dilloo of Bing Travel said:
"Given this summer's sharp increases, it's a relief to see travel prices normalize this holiday. Travelers looking to stay in the U.S. should be able to find some great deals this holiday, but those people planning travel to Europe or Asia will likely face a different story unless they plan ahead."
While holiday airline fares and hotel prices have decreased in most domestic markets, flexible travelers will be able to save the most. Travelers should thoroughly research travel options using travel tools such as the Bing Price Predictor, Hotel Rate Indicator, and Flexible Search. Using these tools, which look at a combination of past data and the most advantageous future travel dates, will ensure travelers maximize their travel budgets and make smart travel choices. Bing has a prime opportunity to highlight its travel site while Google Flight Search capabilities are still greatly limited.
Google Flight Search, the new travel tool that utilizes ITA data, officially launched last week. However, Google Flight Search does not currently provide users the ability to search premium fares, international destinations, or small cities. In addition, Google Flight Search misses some airfares and displays fewer travel choices than competitors' sites.
While Google Flight Search is perfecting its product, Bing Travel should seize the opportunity to establish itself as more authoritative in this market niche.
[Sources Include: MarketWatch & Bing]