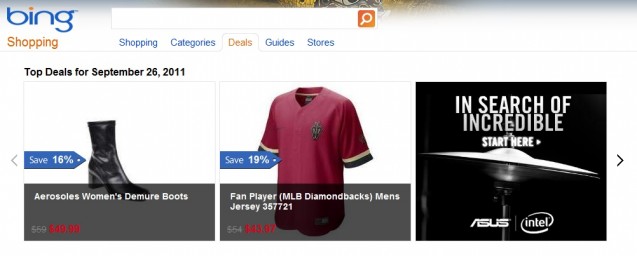 On Friday, Microsoft launched a new version of Bing Deals that will aggregate over 200,000 of the best local deals from Groupon, LivingSocial, other deal sites, and traditional retailers such as Nordstrom and Target. These partnerships are in addition to Microsoft's ongoing deal with The Dealmap, which was acquired by Google earlier this year.
Although the number of daily deal sites has recently decreased, there are still over 300 sites serving daily deals. Although consumer interest in daily deal sites continues to increase, many of consumers are experiencing "deal fatigue," which is primarily a result of being served an overwhelming number of non-relevant deals. In a recent survey, 87% of consumers indicated they would purchase more daily deals if all of the deals were conveniently located on one site. Bing Deals will allow consumers to quickly search, find, and purchase daily deals without additional clutter in their inbox.
Bing representative Lisa Gurry wrote the following regarding Bing's new deal aggregator service:
"Instead of building another program, we're harnessing deals from major providers and retailers, including Groupon, LivingSocial, Nordstrom, Target and many others, to help you cut through the clutter and find the best deals in one central location. Now you have a place to browse, find and purchase. Because we've done the work, all you have to do is go to bing.com/deals to experience it yourself."
Although Bing Deals will not be directly competing with Groupon, LivingSocial, Google Offers, or other deal sites, competition in the deal aggregation market niche is also fierce. In spite of the competition, Bing is hopeful that they will be able to capitalize on innovative new deal search features and leverage their current user base to achieve rapid growth. Microsoft also told consumers to expect more money-saving features in the next several weeks.
[Sources Include: Bing Deals & Bing Blog]