Are you a marketer working off of a tight monthly PPC budget, just trying to get some ROI out of your Google AdWords campaigns?
We've all been there.
Sadly, data has shown that bigger AdWords budgets usually yield greater results.
How do we know this?
Well, WordStream (disclosure: I am an employee) analyzed 18,037 reports using its AdWords Performance Grader and compared performance between advertisers spending more than $50,000 a month and everyone spending less.
The findings revealed that big spenders see higher ROI.
Don't toss in the towel just yet!
Luckily, success with AdWords isn't just about throwing money against the wall.
Rather, if you look a little deeper, it turns out just being more active in your account, and putting in the effort to succeed, can yield a high ROI regardless of the size of your budget.
This makes sense, right? Big spenders laying out over $50,000 per month have much more on the line, and are naturally going to be more active in their accounts.
So what can you learn from those top spenders? What actions should you be taking?
Here are 5 data-backed strategies that yield higher ROI to steal from the big guys.
1. Big Advertisers Are Continuously Adding Negative Keywords
Negative keywords are all too often put on the backburner. You're cooking with regular keywords and match types before you even give negatives a chance. This can lead to wasted spend and irrelevant clicks – a surefire way to blow your budget without seeing conversion from that spend.
The big spenders who yielded high ROI spend time adding tons of negatives to their AdWords accounts.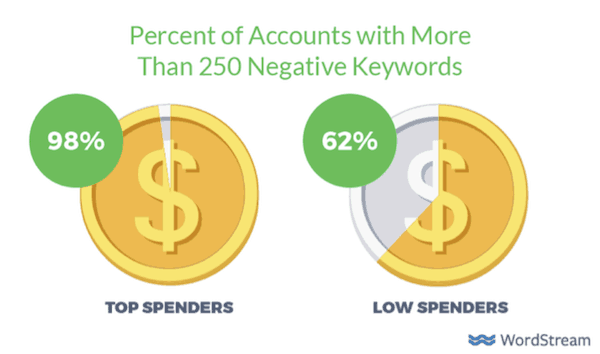 We found that 8 percent of low-spending AdWords accounts have no negative keywords at all, and 62 percent have less than 250.
On the other hand, 98 percent of top-spending accounts have more than 250 negative keywords!
If you're bidding on the right keywords (i.e., high intent and relevant), but you're struggling to gain conversions, it probably isn't because your prospects aren't interested. It's more likely that you haven't configured negatives, which is leading to irrelevant impressions. These faulty impressions are stealing your small budget from folks that are actually interested in your offer.
If you operate with a lean marketing budget, you can't ignore negative keywords!
Let's say you sell luxury loafers and you're bidding on the keyword +men's +shoes. How many of these terms do you want to serve ads for?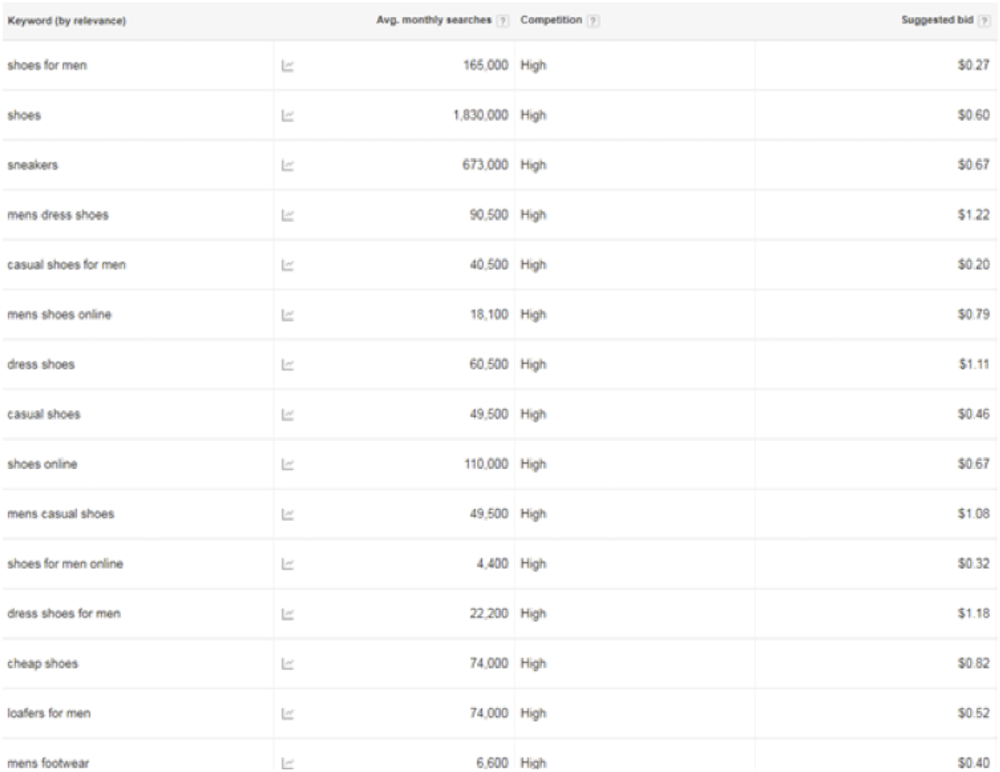 Many of them are simply too broad to justify paying for (see: "shoes"). Others may be off-brand ("sneakers" or "cheap shoes"). Not to mention the monthly search volume on some of these is obscenely high; you'd use your entire daily budget with a few clicks.
This is something that big spenders have figured out, and therefore they spend some time each week (or even every day) digging through their search query reports to identify new negatives for ad groups and campaigns within their accounts.
Take these learnings and devote time to visit your search terms report in AdWords, filter out terms that converted, and then sort by impressions; from there you'll be able to discern whether a search query is making you or costing you money.
The search query report can be a great place to uncover new keyword opportunities for your account.
2. Big Spenders Use 4,361% More Ad Extensions(!)
Not using ad extensions would be like not taking advantage of a free meal at your favorite restaurant. Perhaps you were just too lazy to get off your couch to travel to the restaurant.
Don't let this happen with ad extensions!
These little gems allow you to extend the real estate of your ad with minimal effort, which therefore leads to higher chances of getting clicks and even conversions.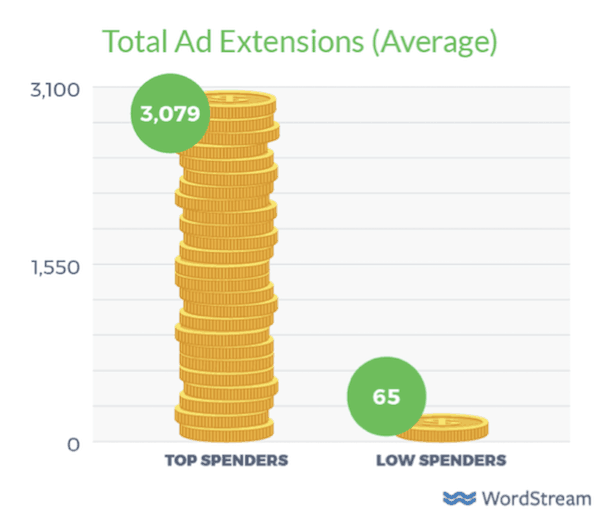 Out of the 450 top-spenders we analyzed, they had (on average) 4,361 percent more ad extensions compared to the 17,587 low-spending accounts we analyzed.
Big spenders typically have 31 ad extensions for every text ad, where smaller spenders commonly operate on a one-to-one ratio.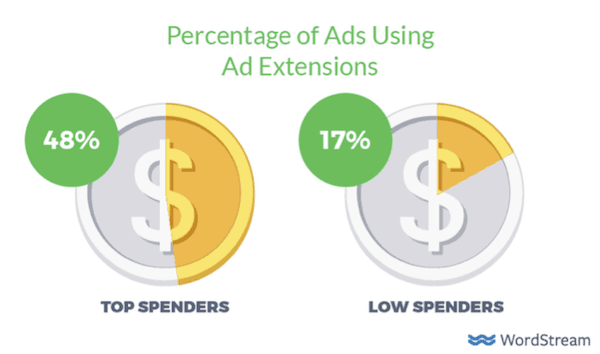 Big spenders also have extensions enabled on about half of their ads (48 percent) compared to lower spenders who only have extensions enabled on a sad 17 percent of their ads. This leaves a major untapped opportunity to enable ad extensions on the remaining 83 percent of your ads.
This is just another way to get better results from your ads without spending more money. Ad extensions are totally free!
Not only is there a plethora of ad extensions to choose from (think sitelink extensions, call extensions, review extensions, and the list goes on), they will also add additional conversion paths for searchers.
For example, if someone stumbles across your ad after searching for fall bags, your sitelink extension for "Fall Boots" or a BOGO sale might catch their eye.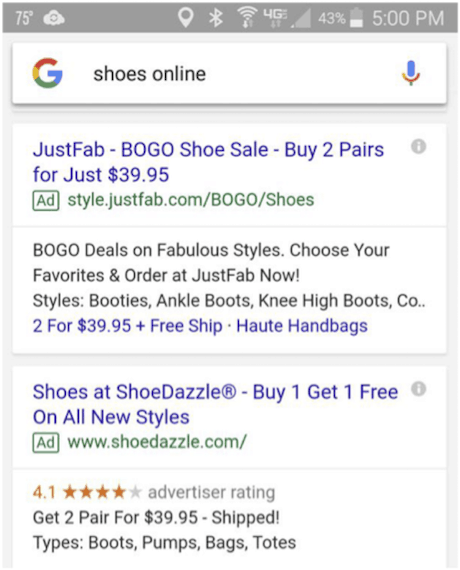 Don't let this opportunity go untapped. Configure these today!
3. Big Spenders Have More Landing Pages
Let's say you have a beautifully structured AdWords account – well-researched keywords, ad extensions, eloquently written ad copy, conversion tracking in place, and the list goes on. This is wonderful and all, but it means nothing if you're sending all of your traffic to a one generic landing page.
This is something that big spenders are aware of, which is why they diversify their landing pages and tailor them to the messaging of their ads. Your prospects are going to respond much better to landing pages that are tailed to their search queries and the ads they're clicking on.
We found that more than 1 in 4 (26 percent) of lower-budget AdWords accounts have only a single active landing page, compared to just 4 percent of top spending accounts.
While this can seem like a big challenge for smaller shops who may not have design resources on hand, at the very least you can copy your current landing page template and make it more contextually relevant to your ad copy.
Doing this for each campaign that you've built out will instantly improve the searcher's experience. Why? Because you'll be able to make the language specific, and improve the relevance for not only your users but also for the Quality Score algorithm (leading to higher placements in the SERP's for less money!).
4. Big-Budget Advertisers Track Their Conversions
Tracking conversions is a no-brainer, right? Well, for big spenders it is! In fact, 100 percent of advertisers spending over 50K per month have conversion tracking on.
Conversion tracking is a critical piece of yielding an ROI with AdWords – even if you have an 80 percent CTR on your ads, if you don't know whether those clicks are converting, you're driving your car with a blindfold on.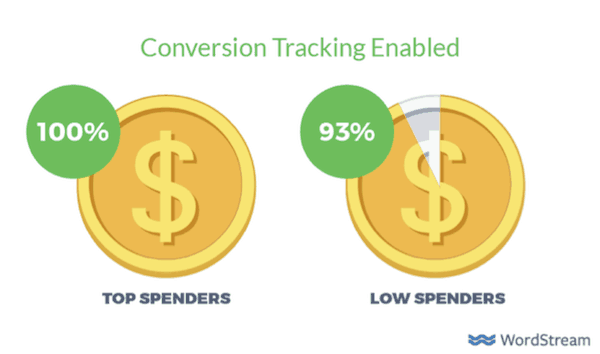 On the bright side, most advertisers realize they need to track conversions. Only 7 percent of the lower spenders don't have conversion tracking enabled. But there's no reason both numbers couldn't be 100 percent!
Whether you're spending $5 or $5 million on AdWords, you should care about conversion tracking. Setting up conversion tracking on your website is simple and completely free.
Learning how your money is being spent in AdWords should be a priority for you. This starts with conversion tracking.
5. Big AdWords Advertisers Are More Active
Strong performance correlates highly with taking actions in your AdWords account.
Whether you're logging into your account to view your search query report and add negatives, evaluate the performance of your ads and adjust bids, or configure an entirely new campaign, taking actions is critical to seeing success.
How are you going to improve anything if you don't even look at your account for weeks at a time?
Unsurprisingly, we found that the $50,000-and-up crowd aren't just spending more money in their accounts; they're also spending more time there. Check it out: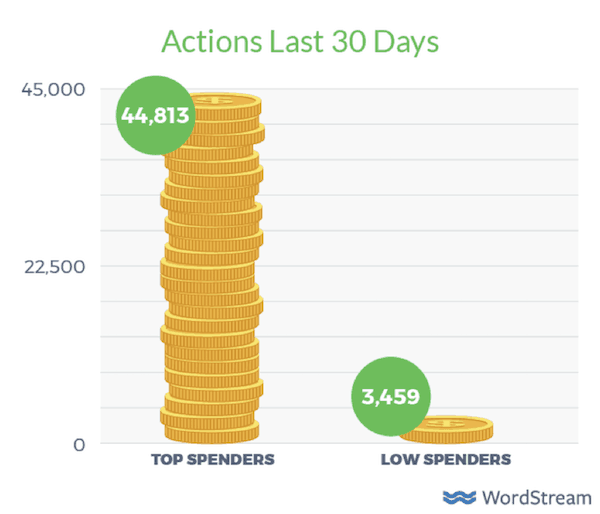 The big spenders' group is 1,196 percent more active.
These advertisers getting in there and actually doing all the stuff we talked about above.
That's the real reason they're getting better results.
What Does This Data Tell Us?
The main takeaway from this data isn't that the key to succeeding with AdWords is having a budget of over $50,000, but rather that higher budgets equal higher responsibility.
Therefore, businesses that spend a lot, put more TLC into their accounts, and therefore see higher returns.
If you can't raise your budget, don't feel discouraged! You can use the tips above to start treating your account with the extra love these big-budget advertisers do.
Whether that be diversifying your landing pages, spending more time identifying negatives, or configuring sitelink extensions, there are many steps you can take to make better use out of your budget, yielding higher returns without increasing spend.
Data Sources
WordStream pulled all the data collected from AdWords Performance Grader reports in Q2 2017, excluding duplicate reports from users who had previously run a report and users with $0 in spend. We separately analyzed accounts spending $50,000 per month and up, and accounts spending $1-$49,999 per month. We only looked at advertisers bidding in USD, AUD, CAD, EUR, and ZAR.
---
Image Credits
In-post images provided by author
Screenshots taken by author, October 2017.