For most people, the word "Yelp" is synonymous with "reputation review". And that's no surprise. This one site contains reviews of almost every type of business you can think of, from restaurants to hotels to tailors to dog walkers. If someone makes money in some kind of business, that business likely has a Yelp review.
And since Yelp gathers about 83 million unique mobile visitors per day, it's easy to assume that anyone looking at a glowing phone screen while in a business is probably either reading or writing on Yelp.
But not so fast.
Yelp might very well be powerful, and it certainly gets a great deal of traffic. But it isn't the only review site out there. In fact, it might not even be the most popular site within your market.
There are dozens of other sites that do the same sorts of things that Yelp can do, and if you can pinpoint one strong contender within your market, you could boost your local influence, and your local reputation.
Yelp Reputation Alternates
Let's start with a look at just a few of the websites knocking on Yelp's door at the moment.
Google My Business
This website has been through a few name changes in recent years (from Google to Google Places and now Google My Business), but its underlying structure has remained much the same. People can use Google My Business to get information about your business, such as your hours of operation and your location.
But this is also a handy place in which to read or write reviews. And places with great reviews come with a clever little star rating, which looks pretty spiffy in search results.
Angie's List
The developers of Angie's List hope to set the site apart through curation. Anonymous reviews are not allowed, and every review is checked before it's posted. This process is designed to help guard against fraud, and it could make this site either incredibly valuable or incredibly dangerous for business owners. After all, if you have great reviews with the Angie's seal of approval, you can look like a very valid company. But, poor reviews that have been approved can be even more dangerous since they come with that same seal.
But, Angie's List reviews aren't open to every gawker out there. Consumers must sign up for the service and pay a fee to both read and write with the site. Those who have paid might be very loyal to the site, simply because they want to get a good return on investment. But, those who haven't paid for subscription might never see the information provided here.
Judy's Book
This site was founded by two friends, hoping to compile their opinions about local businesses into one easy, searchable interface. It was acquired by a Seattle company in 2008, and since then, Judy's Book has been growing quite rapidly, boasting about 4.5 million reviews at the moment. It has great market share with moms and women, so businesses trying to tap these customers will need to do well with Judy's Book.
Citysearch
This review site tends to focus on tourist-related businesses, like hotels and music venues and restaurants. But there are all sorts of business subcategories available, including those involving construction, health, sports, and more. This wide range of review opportunities makes Citysearch a big threat, as it could become a go-to hub for people looking for opinions about almost anything.
Citysearch doesn't use a star format for reviews, so it doesn't pack the visual impact of Yelp or Google My Business. But, it does provide companies with percentage scores of popularity. The more good reviews you get, the higher the score. That's an intuitive way to rank businesses, and it could be rather devastating. Here's a slider of companies with different popularity scores. I know which one I'd choose.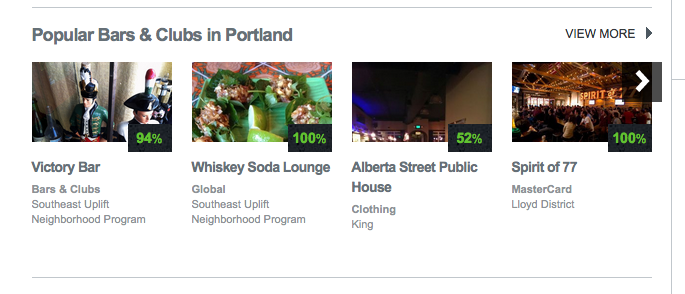 Local.com
This website gathers reviews of local businesses, but there's a tiny twist here. In addition to providing ranked results, Local.com also gathers and serves local coupons and deals. That means companies wanting to influence search results could, in theory, offer some sort of deal on the site and then encourage users to come back and write a review of the experience they had while using the deal. It's a clever idea, and I wouldn't be surprised to see other sites picking up this idea in the future.
This site does have some strange hitches, however, and that might keep it from becoming a huge threat. For example, I ran a search for a "bakery" in a town in Oregon, and I got this results page. Note that fire protection is the top result. Not ideal.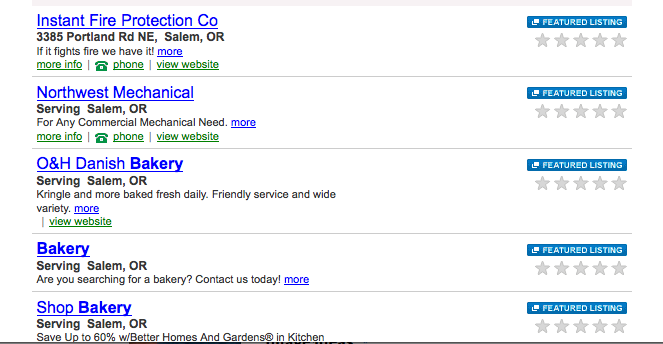 Making a Choice
This is just a sample of the review sites out there, and the sheer variety of options available could make your head spin. So many choices! So little time! But, rest assured that I am not advocating a full push on every site. Instead, I'm hoping you'll do a little research and make one informed choice.
Run searches on Google for the keywords closely associated with your business, and then look for the review sites that seem to have the strongest association with your market and your business type.
For example, imagine that I am a welder in Houston (which takes a lot of imagining, I grant you, but bear with me). My search results page looks like this for the term "Auto Welding Houston".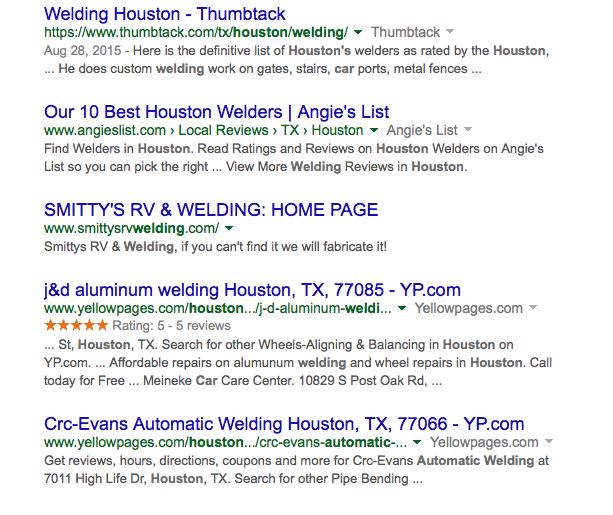 Notice that Angie's List comes up first, followed closely by the Yellow Pages? Yelp barely makes it to the first page. If I want my welding company to take off, I need to focus on Angie's List. The search makes the choice clear.
Influencing Behavior
Once you've selected a site, you'll need to dive deep into the specifics of the site you're planning to use. Find out what sort of behavior is encouraged by business owners, and spot those things that could get you banned.
For example, you might be able to use a post-purchase screen with a link to a review perfectly legally in the eyes of some site administrators, while that same behavior might get you banned in other places. Make sure to read all the fine print about what you can and can't do as a business owner.
And just talk to your customers about your choice. Tell them about what you've discovered, and ask your fans to help you out by writing up a few words at their leisure. Conversations like this are protected (you do have free speech), and those talks could help you to humanize your business and boost your relationship with your besties.
Are you ready to get started? I hope so. But before you go, if you have any local review sites you use with great success, I'd love to hear about it in the comments. Drop me a line, won't you?
Image Credits
Featured Image: MariusMB/Pixabay
All screenshots by Jean Dion. Taken October 2015.