Starting out with an AdWords account can be overwhelming. There are so many different features to pay attention to and a ton of functions to figure out. Fortunately, once you get the hang of it, it really is not as challenging as it first appears. I do recommend monitoring your AdWords at least once a week to be successful with bid adjustments, but after you get your initial bids set, it really is just maintenance.
Keyword bids are highly specific to the brand, business, and product you are working with. At first, you will likely need to do some guesswork in setting up your initial bids and then adjust accordingly once you have some stats specific to your account (which AdWords provides). This guide will help you, as a beginner, get your initial bids set up and adjust them accordingly within the first few weeks of having your account active.
Note: Remember that Google AdWords does offer consultations with specialists over the phone when you first set up your account. While there is much more you can do yourself once you actually get started and familiar (to go above and beyond what the Google consultants tell you) this is a good starting point to take advantage of.
Editor Note: Learn more about the latest changes in AdWords from this podcast SEJ executive editor Kelsey Jones did with WordStream's founder Larry Kim:
First Steps: Account Set-Up and Budget
Your first step is going to be to set up an AdWords account if you haven't already. Once you have a unique ID number and your account is ready to go, then you will need to make your own decisions in terms of advertising budget. AdWords is a PPC (or "pay-per-click") platform, which means that you set a budget for the maximum amount you want to spend daily, but you only pay when someone clicks on your ad. This gives you some flexibility, but you definitely don't want to set your daily budget higher than you can actually afford.
Several Ways to Bid
AdWords allows your to bid in several different ways, and what is most important is really going to depend on your business. Clicks, Impressions, Views, and Conversions are all under your control. Let's take a closer look at some of your options for each of these:
Clicks (Search & Display Ads)
Clicks are by-far one of the most important features to pay attention to, and you can control bidding at the campaign and at the keyword level. Keyword searches are often the most detail-oriented aspect to pay attention to on a regular basis, as you will want to make sure you are achieving first-page bids for keywords that are performing well. You have two ways to do your CPC Bidding:

Automatic: By setting a daily budget, you can allow AdWords to adjust your keywords based on performance, which really intends to get you the most clicks possible within your budget boundaries.
Manual: Manual bidding lets you have control of analysis and adjusting bids that mean the most to you. When a keyword has the status "eligible" that means it is able to show your ad in a search. You can adjust your MAX CPC individually as Google makes recommendations for the average bid to land on the firs page (first page ads are really what gets the most attention and clicks). Further, you can "pause" keywords that are not performing well, but may perform better in the future.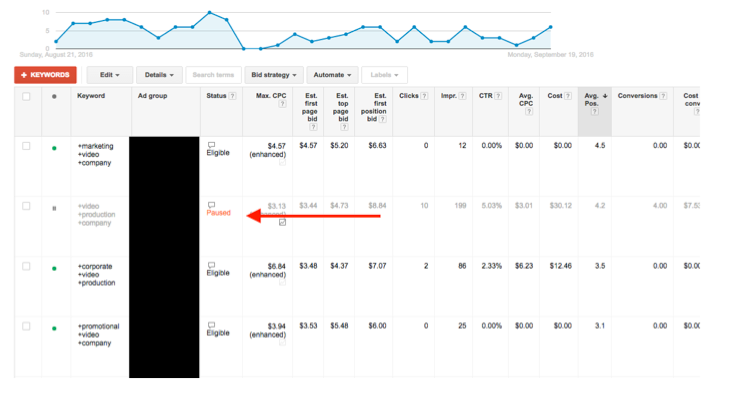 How can you tell whether you should adjust your CPC bid? Well, luckily AdWords has a lot of built-in features to do that job for you!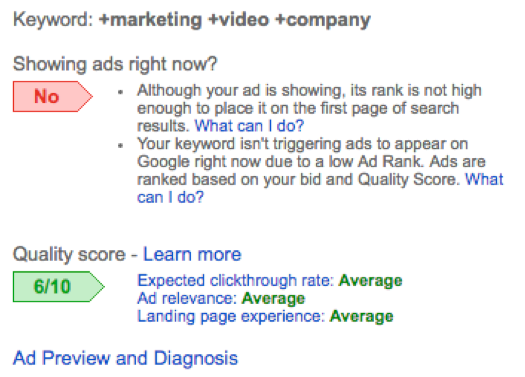 In the screenshot above you can see that clicking on the "eligible" under "status" brought up some stats on the keywords selected. You can see the quality score is average across the board, with a score of 6/10 (which is good), but the ad is not showing right now because the bid is too low to wind up the ad on the first page of a search. People rarely get clicks unless it is on the first page. By adjusting the bid, from the default bid we set ($3.00/keyword) to $7.00, it is now eligible to show on first page searches:

Of course, adjusting these to be over the default budget is really going to depend on your marketing/advertisement budget. That being said, this is where it is helpful to "pause" keywords that are not performing well, and add additional bid money to those that are.
Impressions
Rather than just paying for clicks on your ads, you can also pay for "impressions," which basically means the number of times your ad is viewable, if your campaign is targeting just the Display Network. This allows your company name to get in front of more people and can really contribute to increasing your brand's reputation. This type of bidding is called cost-per-thousand viewable impressions (or, vCPM), since you pay for every 1,000 times your ad appears and is viewable. This also offers a manual function so you can adjust ad group level or individual placements.
Views (for Video ads)
This kind of bidding really focuses on number of views for video content. CPV (or, cost-per-view) bidding you're paying for interactions with your video content directly. There are many different types of business that can benefit from video content engagement, but it is not necessarily the top priority for every new AdWords account.
Conversions (Search, Display, or Shopping Ads)
When you are ready to focus on conversions, Target CPA is a great feature of AdWords. Basically, you let Google know what you are willing to pay for a conversion—which means a user taking the action you want them to take; this could include a purchase, an email sign-up, or an enrollment. You still pay-per-click but AdWords does all the adjusting to make sure that you are getting the maximum amount of conversions possible. Before you can start with this, you need to enable conversion tracking and also consider whether Smart Bidding/automatic bidding is right for you.
The Takeaway
Google AdWords has so many features that make bidding early on easy. A word of caution: even when you do set up automatic bidding, you do not necessarily want to just sit back and let your account swim on its own. It is best to stay engaged with your account and get a sense of what is working well and what is not.
There is something to be said for manual bidding. Besides giving you more control over your account, it also allows you to monitor frequently and see how your advertisements are performing. I advise all of my clients to begin with PPC keyword and campaign adjustments and familiarize themselves with the associated tools with this first. Then you can look into the other bidding strategies such as CPV, CPA, or vCPM.
Image Credits
Featured Image: prykhodov/DepositPhotos.com
All screenshots by Sergio Aicardi. Taken September 2016.