You've heard the statistics before: blogging 16+ times per month generates 4.5x more leads and 3.5x more traffic.
Bingo! Time to write more blog posts, right?
Wrong.
Not if big-ticket clients are your goal.
Not if landing a client that could skyrocket your revenue is your goal (and it is).
Securing an elusive, high-end client requires reaching decision-makers.
And decision makers aren't reading "XX SEO Tips." They hire people to do that.
Here's why calling is more important than blogging for landing a game-changing client.
Blogging is Great for Leads, but Not Big Ones
Blogging has taken the content marketing and SEO world by storm in the past few years.
It's a core, essential component of marketing strategy for countless companies.
According to HubSpot's State of Inbound, "Blog content creation" is the second-highest priority for marketing companies right now. Among the rest include just about anything and everything relating to blogging:
Content distribution
Creating interactive content
Creating long-form content
You get the point: blogging is the high school quarterback. The head cheerleader. The "it" crowd.
Plus, data from HubSpot shows that blogging generates more leads and more traffic to sites than those that don't.
More indexed pages. More keywords covered. More traffic. Subsequently, more sales.
Seems great, right?
Not so fast…
According to the same report:
"Our respondents believe that having a website and blog is no longer enough to attract the attention of their buyers."
And they're right.
Blogging is great for bringing in tons of traffic, but blogging doesn't convert people. Blogging almost always pulls in top-of-the-funnel visitors.
Few people have read a blog post and then thought to themselves, "Wow, stunning. I'm going to give them all my business!"
Rather, blogging drives traffic that requires a constant back-and-forth to move through your funnel.
With blogging, you're also going to get a lot of junk.
The vast majority of traffic will never buy anything (see: opportunity pie).
Standard website conversion rates prove this, too.
As a result, most blog-based inbound traffic is low quality. So while it might be fine for your acquisition costs if you are converting people on a monthly subscription tool, it's not if you're trying to close $10,000 per month deals.
To add to these woes, you can bet that high-end, decision-making clients aren't reading your blog posts.
Why? They're too busy.
C-suite executives spend 50 percent of their time in meetings. That's hours every day spent in meetings, not to mention the rest of their day conversing with finance, operations, sales, and marketing.
And 21.2 percent of their time is spent solely on reviewing reports, too.
The truth is, C-suite execs aren't sitting on webinars and reading blog posts about basic topics they've already mastered.
Blogging is great for rallying up sardines, but not for landing a great white.
Instead, offline-based tactics are the place to be. Phone calls, direct mail, conferences, and face-to-face interactions.
Here's why.
Data Shows That Sales Reps Close Big Deals
Offline style tactics are the bread and butter of sales reps. They live and breathe it daily.
Research shows that sales reps spend 41 percent of their working time directly selling.
It's safe to say they are in the trenches. They know personalization and the art of the sale.
And how do they do it?
On the phone.
According to HubSpot, connecting with a high-end prospect (CEO, CMO, VP, Director) happens on the phone more often than any other channel of communication.
Email is a close competitor. While it does have a high ROI, think about how many emails you get. Is it 80? 100? More?
Reports show that leads that sales teams capture are higher in quality than marketing leads, too.
Sales reps are consistently cited as a top source of information for buyers in the B2B SaaS space.
For business purposes, the majority of people enjoy being contacted via phone calls. And if you narrow that down to just big-ticket executives, phone calls are still a top-three listing next to email and face-to-face interaction.
That's two offline tactics dominating the sales landscape for big-name clients.
The moral of the story:
Sales reps spend nearly half of their time selling. And their leads are marked as significantly stronger than inbound generated leads.
How? By focusing on intensive offline methods like face-to-face, phone calls, conferences, and direct mail.
Want to land a game-changing client? Stop blogging and start calling.
Here's how.
Go Offline & Let Blogging Supplement Your Strategy
Calling people? That's a bad joke.
Face-to-face business lunches? That's a thing still?
Direct mail? Wait, you mean going to the post office to send a letter?
Offline sales tactics seem like a dying breed. But if you trust data, you shouldn't treat them like one.
Let me prove it to you.
Sixty-five percent of people prefer contacting a business via phone call rather than lead forms. Plus, they convert at 10x the rate of site leads, according to Invoca.
Typical conversion rates? Between 30 and 50 percent. Studies show that they're more valuable than site clicks, too.
What about face-to-face meetings?
Harvard Business Review found that while travel budgets and in-person meetings have declined, their effectiveness hasn't.
For closing deals, 89 percent of those surveyed in that report stated that face-to-face meetings are essential.
Survey respondents said that reducing their face-to-face operations with big clients has caused relationships and sales to suffer.
Direct mail? Response rates are 4.4 percent while emails come in at 0.12 percent.
It's hard to replace the real, offline connections you can build with mass-produced online tactics like blogging.
A good start is using product demos and diverse content to supplement your selling to big clients.
For example, Sales Hacker labels their blog "Thought Leadership" to appeal to high-end clients. Touting their own conferences, they can leverage their sales training platform and blog as jumping off points for face-to-face interaction.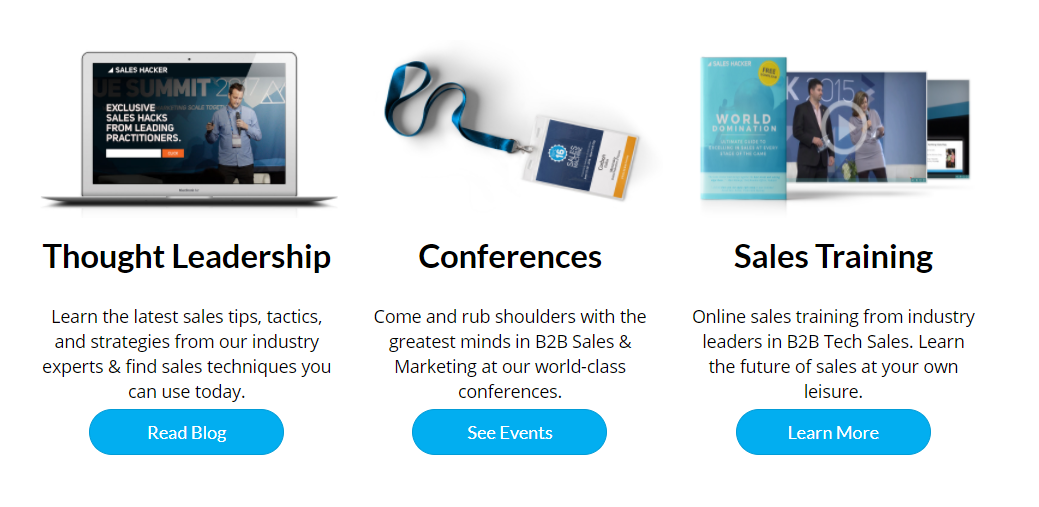 SaaStr follows a similar strategy, using team enrolling courses and diverse, high-level content from industry influencers to gain traction for real sales at their annual conference.

While it isn't feasible for everyone to create their own conference, the point is this:
Blogging and content can supplement or aid the sales process, but they shouldn't be the main driver of landing clients.
They're great for driving awareness for top-of-the-funnel users. So, let's keep it there.
To land big clients, roll up your sleeves to qualify with phone calls, nurture with direct mail, and close deals with in-person meetings.
According to Rand Fishkin at Moz, conferences have a high ROI for your sales team and overall employee health.
Use them as opportunities to create new connections and build relationships with target clients.
In a MarketingSherpa case study, one company desperately was looking to land big target accounts, but their sales reps couldn't land meetings with high-level executives. Typical tactics weren't working.
So, they took it to direct mail. Mailing packages, envelopes and clever niche gifts, they initiated a dynamic mailing campaign.
The results? A 10 percent conversion rate on meetings with high-level executives. That's 10 out of 100 agreeing to an in-person meeting, giving you unprecedented chances to drive home sales.
A few percent of the recipients who booked appointments also visited the corresponding landing page for supplemental information. So, while blogging didn't bring in the big fish, it was helpful in aiding the sales process and putting content to the brand name.
Of the total, 40 percent of recipients scheduled a phone call, too.
Offline tactics prevailed and were aided by related online content.
While blogging is great for inbound leads at scale, it isn't going to attract the attention of high-level decision-makers.
Instead, flip the script. Go with offline tactics that are proven to reach executives and then back up your brand with online content.
Conclusion
Blogging promises more keywords, indexed pages, traffic and ultimately, leads and sales.
But when conversion rates are so low, it's an indicator that blogging is too broad. It brings in low-quality traffic (as indicated by such low conversion rates).
Big-ticket clients are in meetings, reviewing reports or meeting with operational teams. They aren't sitting on Google looking for SEO tips.
Landing game-changing clients often require you to think outside of the box with a bottom-of-the-funnel sales mindset.
Let blogging supplement your sales process, and focus on reaching executives where they live and breathe.
---
Image Credits
Featured Image: Alexas_Fotos/Pixabay.com
Screenshots taken by author, February 2018