Pubcon Las Vegas 2015 is just a few days away, and I couldn't be more excited. This year, a total of ten SEJ team members will be joining thousands of other marketers for a full week of learning, networking, and fun.
Get the Guide to Pubcon!
Last year, we created a survival guide for attendees, which included info on after parties, a dining guide, and a map of the expo hall. Many of you said you found it very helpful, so we decided to create a similar guide for Pubcon Vegas 2015.
And here it is, in all its beautiful, digital glory: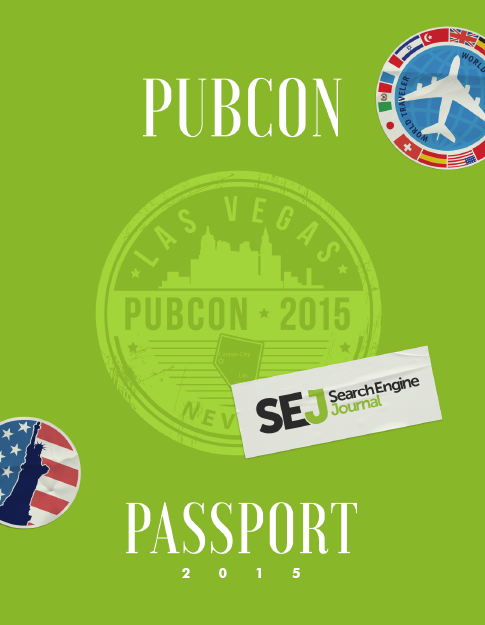 This year's guide includes a "First Timer's" section, with lots of useful info for those of you who are visiting Vegas or Pubcon for the very first time, a "Who's Who" section, with profiles of some of the biggest name at the conference, and an after party timeline, with times, dates, and locations of networking events.
The section we are most excited about is called "SEJ Staff Picks," which includes track picks by several SEJ staff members based upon their area of expertise. For example, Brent, SEJ's Chief Social Media Strategist, created a social media track, while Kelsey, our Executive Editor, created a PPC track. With over 100 sessions over three days, it can get overwhelming to know who to see, and this section should make choosing which sessions to attend much easier, based on what you learned!
We also decided to go old school and also print this guide IRL, in actual passport size. You will be able to pick up physical copies of our Passport to Pubcon 2015 at Booth #113 in the South Hall at Pubcon.
But, if you prefer digital, you can get your hands on the Passport to Pubcon right here.
Meet the SEJ Team at Pubcon Las Vegas 2015!
Heading to Pubcon? We would love to meet you! Our team will be hanging out in expo hall booth #113, so please stop by to say hello. We will be giving out super-secret swag, interviewing top marketers, and even having an open bar, sponsored by Local Site Submit. Stop by for a cocktail, soda, or just a bottle of water.
What: SEJ Open Bar
When: Tuesday, October 6th 12:30 – 3:30 pm
Where: Pubcon Expo Hall Booth #113
We can't wait to see you there!