It's hard to believe that this topic has never been discussed on Search Engine Journal, but it looks as though one of my favorite resources, The Short Cutts, managed to miss this blog. It has been the subject of discussion for many SEOs since day one, but it hasn't taken long to realize that many businesses and individuals are still in the dark about this new resource. If you haven't heard of the tool—don't sweat it. This online resource has only been around since March of this year, so many are still getting used to how it works. It takes less than 2 minutes to master because it focuses on being "easy." It's very, very easy.
Why The Short Cutts Matters
The Short Cutts works as somewhat of an online directory of videos created by the head of the Google Webspam Team himself, Matt Cutts. The website is by popular online marketing company Click Consult who saw a need to organize these videos. It was becoming clear that the very helpful videos created by Cutts were beginning to get jumbled because there were so many. Since 2009, Cutts has created over 500 videos.
To give you a little bit of background information about these videos: Cutts typically takes Google user and webmaster questions on anything ranging from SEO to web design and development to Google penalties, etc. The videos are typically only 2-3 minutes long and feature Cutts giving his best answer to the question. Despite how vague he may seem to be at times with his answers, everyone knows that hearing from the man in charge is information work noting. With this notion in mind, The Short Cutts was created.
How The Short Cutts Works
To be honest, you can probably figure out how to use the site just by looking at the page for 5 seconds, but here is a breakdown of the four different components (and a screenshot) for a little Tuesday afternoon reading:
Search an SEO Question. As with any directory, you have a search bar where you will want to type in any SEO question that you have. If Cutts has created a video about anything similar, it (or they) will pop up on the screen in a grid-like format. You can sort whether you want to see the newest or the oldest videos first.
Choose a Category. You can decide which category you want to search in to find a video. You can search all categories (which is what I usually do), but if it's something general you might want to narrow it down. A few of the categories available include Link Building, SERPs, Google Updates, and even Matt Cutts Trivia.
The Video. As you likely assumed, one part of the results is going to be the actual video, which you can click and watch right there on the same page.
Text for the Video. The second part of your results is going to be the question followed by a very short answer. In some cases, the answer will just be a simple yes or no. It's the best way for you to get what you need without having to watch the video (sometimes even 2 minutes is longer than you need!)
Below is a screenshot I took that illustrates all three parts of the site. As you can see, I typed in the search query "nofollow links" and sorted by newest first (of course feel free to be more specific, but something general will yield a lot of example results):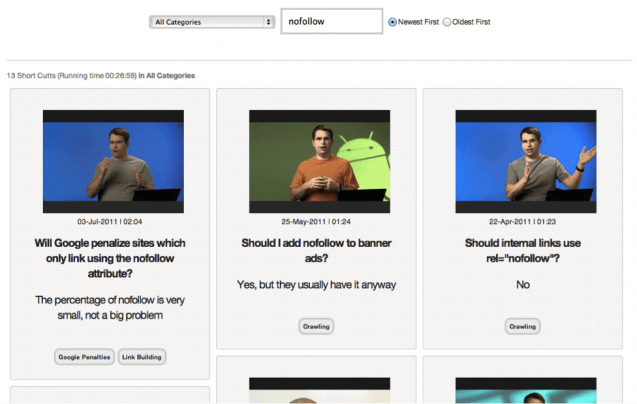 As you can see, I decided to search under "All Categories." If I wanted to change my mind, I could click the one of the categories shown under the question and then sort by that particular category. In the example above, the first video is a part of two different categories—Google Penalties and Link Building.
You can find this directory at TheShortCutts.com. Scroll down just a little bit (past the cartoon of Cutts) and you can get started searching. Let us know what you think!
Photo Credit: TheShortCutts.com