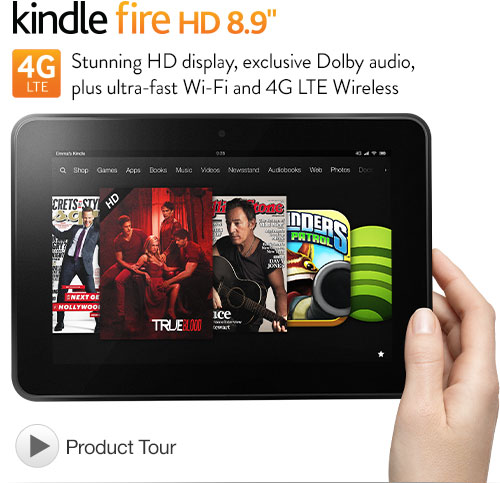 At a Thursday event held in a Santa Monica airplane hangar, Amazon.com Inc. unveiled its new line of Kindle Fire HD tablets. Although they will offer features that are not available in previous Kindle models, the new HD Kindles are aimed at luring in consumers on the basis of aggressive pricing. Amazon's pricing strategy is focused on competing with other popular tablets, primarily Apple's iPad.
At the Thursday event, Amazon CEO Jeff Bezos indicated that his company will break even or lose money on the sale of each Kindle. Mr. Bezos stated, "We want to make money when people use our devices, not when they buy our devices." Amazon's $79 annual Prime Membership, which offers fast, free shipping on physical goods as well as a large library of free movies, television show, and e-books for the Kindle, is one of the primary ways the retailer hopes to recoup its losses.
In addition to Prime memberships and various advertisement revenue streams, Amazon sells apps and entertainment options to its Kindle users. Bezos, who stated Thursday that "People don't want gadgets, they want services," believes that the Kindle's combination of competitive hardware and desirable services will compel tablet shoppers.
The new models come in a variety of sizes and price points and feature a front-facing camera and optional $49 annual data and storage plan. The entry-level Kindle Fire HD model, which features a 7-inch screen, will cost $199 and ship on Sept. 14. The 8.9-inch Kindle Fire HD will cost $299, include 16 GB of storage, and be available to ship on Nov. 20. The $499 Kindle Fire HD 4G LTE wireless tablet, which boasts 32GB of storage, will also ship on Nov. 20.
Meanwhile, Amazon's original Kindle Fire will feature more RAM, a faster processor, and see a price reduction from $199 to $159. In addition to new technology and apps available on the new family of Kindles, these HD tablets also have HDMI ports allowing connectivity to HD TVs and integration with Microsoft Exchange.
Competing with Apple by offering rock-bottom prices and recouping on apps and services is an aggressive, but risky strategy by Amazon to capture a larger share of the tablet market. With Apple rumored to launch a smaller, cheaper iPad prior to the release of the next iPhone, competition for survival in the tablet market is sure to remain fierce for Amazon and all tablet manufacturers.
Sources Include: Washington Post, Wall Street Journal, & ComputerWorld
Image Source: Amazon