When Google+ first hit the scene this past summer, I couldn't help but think about how the fledgling social network could eventually be monetized by Google. I do a lot of SEM work and know how powerful Google's AdWords platform is, as well as how much revenue it generates for Google. The AdWords platform generates approximately 97% of Google's revenue each year. Therefore, you knew it was only a matter of time before Google began to leverage Google+ to drive more paid search revenue.
About a month after Google+ launched, I wrote my first post about AdWords+, which explained how Google could be the first company to effectively tie Search with Social. Facebook can't accomplish this, since it doesn't have a strong Search component (to say the least). In my post, I laid out several possible advertising opportunities based on the release of Google+. Needless to say, combining Search and Social could be incredibly powerful for both Google and its advertisers.
Search, Plus Your World Launches
Well, on January 10th, my SEM mind started working overtime again. That's when Google rolled out Search, Plus Your World (SPYW), which personalizes your search experience based on your social activity. And as you can imagine, Google+ is heavily weighted in the search engine results pages (SERPS). This was a major shift for Google, and for Search in general. Sure, Social has been creeping its way into Search for a while now, and that can be a good thing. But, nothing has been so drastic a change as what happened with SPYW.
An example of what the personalized search results look like in Search, Plus Your World:
(Note, the red boxes highlight personalized results now appearing in the SERPs.)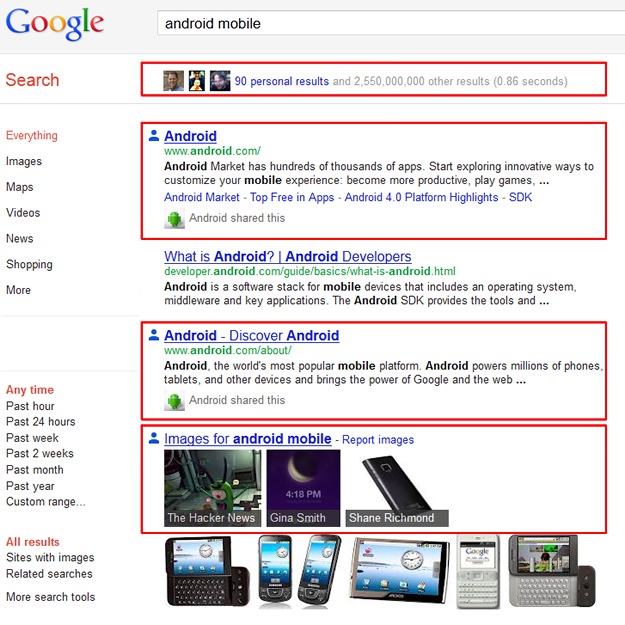 So, based on the recent changes with SPYW, I started thinking about how Google could leverage its powerful AdWords platform to provide even more opportunities for advertisers (in the SERPs). And those opportunities could lead to new sources of revenue for Google.
A Quick Primer on Search, Plus Your World
If you're not familiar with Search, Plus Your World, Google is now personalizing your search experience by leveraging your social activity, connections, etc. As I mentioned earlier, this is heavily influenced by Google+. To see how much you can influence the search results, you should check out my recent post about the power of the Google+ Outlier. The SERP impact of connecting with people that are new to Google+ was staggering.
When you search Google, the search results will now include personalized listings, including shares, comments, user profiles, photos, and related people and pages (mostly from Google+). The personalized listings are marked with a blue icon shaped like a person. See below.
When you start analyzing Search, Plus Your World, you'll realize there are three sets of search results. First, you have the default personalized results. This is where your social activity will influence your search results, but you will still have traditional search results mixed in. The second set of results, which can be accessed via a toggle button in the upper right-hand portion of the screen, is the un-personalized search results. This will clear any social personalization. The third, and most powerful, is the "pure" personalized results. This is where the entire search results are personalized via your social connections. From an AdWords perspective, each "view" provides its own advertising opportunities, and I'll cover more about this below.
The SEM Impact of Search, Plus Your World
Below, I'll explain seven ways that SPYW could impact SEM (in no specific order). Since Google is the only company that can effectively connect Search and Social, there are definitely some interesting possibilities. Let's jump in.
1. Ads Based on Interests and Search
This is the most obvious observation, and it's worth exploring further. Since Google will have access to your social activity, it can tailor ads in Search based on that activity. When you look below the surface, there is a lot of data Google can leverage. And that can be extremely powerful for advertisers. Think about it, you'll have the power of Facebook's interest targeting mixed with the power of Google's Search Marketing. That's nirvana for advertisers.
Among other things, Google will be able to leverage:
Business pages you've circled.
Your updates.
Your shares.
Your +1's.
Your comments.
People you've circled.
Photos and Video you've shared, viewed, and +1'd.
People you've "hung out" with (video meetings in G+ supporting up to 9 people).
Now mix what I listed above with the latest privacy policy update by Google, and you've got a powerful advertising cocktail. And it's got a double shot of personalization. If you're not aware, last week Google updated its privacy policy stating that information it captures about you can now be used across services. Here's a quick quote from the update, "We'll treat you as a single user across all our products". So, your activity across Google's services, like Google+, YouTube, Gmail, Google Docs, etc. can influence personalization in Search, or within Google+. This means Google will have richer data about someone, which advertisers can then leverage to target precise audiences. As a user, this concerns me, but as a marketer, I'm darn excited about the targeting opportunities.
2. Ads Tailored Based on Personalization "View"
I mentioned earlier that there are three sets of search results in Search, Plus Your World. It makes complete sense that Google would tailor the ads, based on the view you are currently in. For example, ads within the "pure" personalized results could be more tailored based on your social activity and connections (since the listings are completely based on Social). On the flip side, the un-personalized results could yield more traditional ads in Google. And the default personalized results could yield a mix of social ads and traditional search ads.
Advertisers might be able to choose which view they want their ads to be displayed in via new targeting options in AdWords. Mix these targeting options with interest-based targeting (based on social activity), and Google might be able to charge a higher CPC for "premium" targeting. Yes, more revenue for Google, which is exactly what the Search and Social giant wants.
Advertisers could have the ability to target SERP "views" in SPYW:


3. Targeting Users (and Friends of Users) That Circled a Page
Sounds Facebook-like, right? Google could enable advertisers to target Google+ users that have already circled a business page. In addition, it could enable advertisers to reach connections of those users that have circled business pages. But, unlike Facebook, which only displays ads within the social network, Google could use the SERPs to target people while searching for solutions. That can be extremely powerful.
If Google chooses to go to the level that Facebook has, it could even include user information in the ad itself. i.e. "Glenn Gabe +1'd the Amazon Kindle Fire, buy one today and receive 10% off."
In addition, Google would also know if a person searched for the Kindle Fire (along with being connected to the Business Page), which could give advertisers like Amazon even more targeting opportunities. Using an approach like this, Google could leverage deep social connections, and its search data, to provide granular targeting for advertisers.
4. Sponsored, I mean Recommended, People and Pages
For certain queries, Search, Plus Your World presents "People and Pages on Google+". See the screenshot below to see what this looks like. It makes complete sense for AdWords+ to provide an ad unit that sits within or right below that suggestion box. Twitter offers Promoted Accounts, and this would be very similar. If a company is looking to boost the number of people that circle its page, this is a great way to go. Advertisers could choose topics, categories, keywords, etc., and have their ads show up in a prominent location in the search results. Who wouldn't want to be listed there?
"People and Pages" in SPYW could include sponsored recommendations:


5. Sponsored Personalized Listings (in the left-side "organic" results)
As I mentioned earlier, personalized results show up in the search results with a small blue icon shaped like a person. What if that personalized listing also had an ad attached to it? Wait, isn't that sacred ground for Google? Not so much anymore… Google has already radically shifted its search results with Search, Plus Your World, so this is entirely possible.
If a personalized listing targets a certain subject matter, Google could add another line to the listing that's sponsored. For example, I'm a big fan of the Galaxy S II Smartphone from Samsung. Check out what a sponsored personalized listing could look like below (initiated by Samsung).
An example of what a sponsored personalized listing could look like in SPYW:


This is extremely dangerous for Google, but could be a brilliant ad unit. Since it would be attached to a personalized listing (from someone you supposedly know), it would be in the left-side "organic" listings, and could include a thumbnail, call to action, etc. Imagine a targeting option that enables you to specify "Attach to personalized result."
6. Remarketing, Plus Your World
I would love this one. Imagine targeting a prospective customer back in the Search results who visited your business page on Google+. With Google Search, Google+, and tagging visitors on your own web properties, Google would know what someone searched for, which web sites they visited, and then what they are doing in Google+. Advertisers could leverage this information to follow users from Search to web site to Social and then back to Search. Keywords don't sound that powerful anymore, do they? Just kidding, or am I?
7. New Ad Extensions
Ad Extensions in AdWords are extremely powerful, including ad sitelinks, product extensions, location extensions, phone extensions, etc. Google could easily expand its current Social Extensions to include the ability to circle a business right from an ad. Additional ad extensions could include more Google+ functionality in the ad. How about the ability to launch a hangout with a sales rep right from the ad unit? I completely expect Google to introduce more social ad extensions in the coming months, based on the growing functionality in Google+.
An example of what a Google+ ad extension could look like (the Hangout Extension):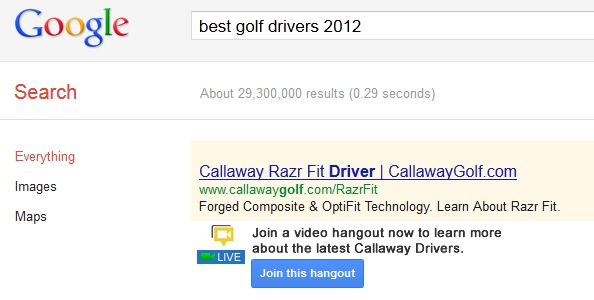 Revenue, Plus Your World
Google+ is growing rapidly, and with the addition of Search, Plus Your World, it's now hard for marketers to ignore. It's only a matter of time before ads are launched that enable advertisers to leverage the rich data Google is collecting in both Search and Social. The possibilities I listed above are only speculation, but entirely possible. One thing is for sure, though. The lines between Search and Social are blurring rapidly, and SEM will continue to evolve. Be on the lookout for new targeting capabilities based on both Social and Search data.
My recommendation is that you begin thinking about how AdWords+ could benefit your company. Pretty soon the "S" in SEM will not only mean "Search", but "Social" too. And Google is in an incredible position to drive the change.