Want to see what other books SEJ has covered? Read all our reviews in the SEJ Book Club archive.
Around this time last year, I read The Power of Habit by Charles Duhigg for SEJ Book Club. It was my first article for SEJ and after my review posted, I was so excited to receive a tweet (I wish I could remember who from!) with a book recommendation for Bernard Roth's The Achievement Habit. A year later I finally picked up a copy—I wasn't disappointed.
Bernard Roth is academic director of the Hasso Plattner Institute of Design (also known as the d.school) at Stanford University. He is also the primary developer of the Creativity Workshop, which has, for 30 years, "taken the experimental teaching he has developed at Stanford to students, faculty, and professionals around the world".
In The Achievement Habit, he's brought some of this learning to us.
Using the principles of design, Roth walks us through how to stop wishing and start doing through a concept called bias toward action.
Bias toward action: it is better to start to do something and fail than it is to do nothing and wait for the correct path of action to appear. Failure is part of the result to expect if you have a bias toward action. (121)
He writes in more of a self-help way than I usually like, but his applicable tactics intertwined with analogies he's learned over his impressive career (not to mention his reflections on how that career began) didn't feel preachy. I finished the book feeling more prepared, with actionable and not time-consuming ways to think about how I currently conduct my life.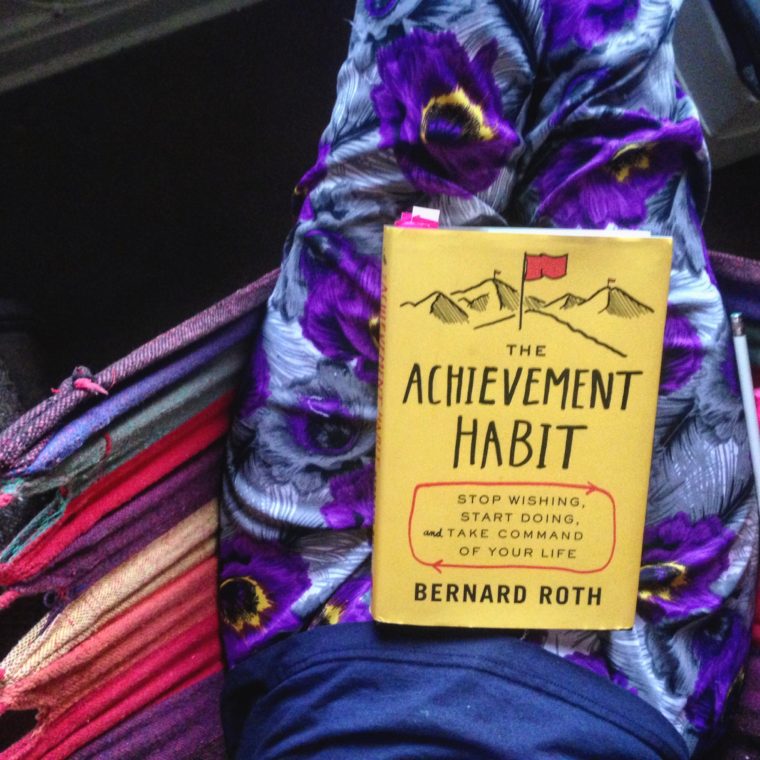 What is Achievement Anyway?
In my mind and for the purposes of this book, I define achievement as having a good life; getting the job of living done in a satisfying way that nurtures the life force within us and within those we associate with. It entails developing some self mastery to handle the difficult aspect of our lives and relationships. It involves finding something to do with our lives that engages us and gives us positive feedback. If we're doing it right, life shouldn't be a debilitating struggle, even if at times it takes considerable effort. (26)
So how do we take command of our lives? First, let's look at reasons. Our lives are full of them. And, ultimately, reasons = excuses. No matter how legitimate they are, Roth suggests our reasons are providing us with excuses to keep behaving dysfunctionally.
Take tardiness. Roth uses this as an example, and it's one that particularly resonated with me. I'm habitually late; as much as I may try I'll get caught up in a meeting or project, traffic isn't how I expect it, parking is a pain, something gets in my way. However, as Roth points out, if I really prioritized whatever it is I planned to do, wouldn't I have kept myself from getting distracted or left earlier?
These perceived obstacles are simply excuses; in almost every case, when you really dig down, it's you who are sabotaging yourself..…when you do, you are using power; when you try, you are using force. In life, if you want to get things done, it is much better to be powerful than to be forceful. (5-7)
Nothing is What You Think it is
We give everything its meaning.
Once you understand that you can choose what meaning and importance to place on something, you can also understand that it is you, not external circumstances, who determine the quality of your life. (20)
This was a powerful statement for me. Years ago I got into yoga and meditation and quickly realized the transformative experience these practices brought to both my physical and emotional life. Roth ties this into his book with self-guided meditation practices and insight into the psychology of why we do what we do.
Especially in the digital marketing world, we're constantly looking at results. Looking at analytics and analyzing why tactics performed a particular way. Often we forget about seeing why we see things a particular way.
Roth provides ways to start analyzing ourselves. How do we determine our lives? Throughout The Achievement Habit, we're provided with "Your Turn" blocks with activities to better reflect on how we frame our self-image and our day-to-day.
Your Turn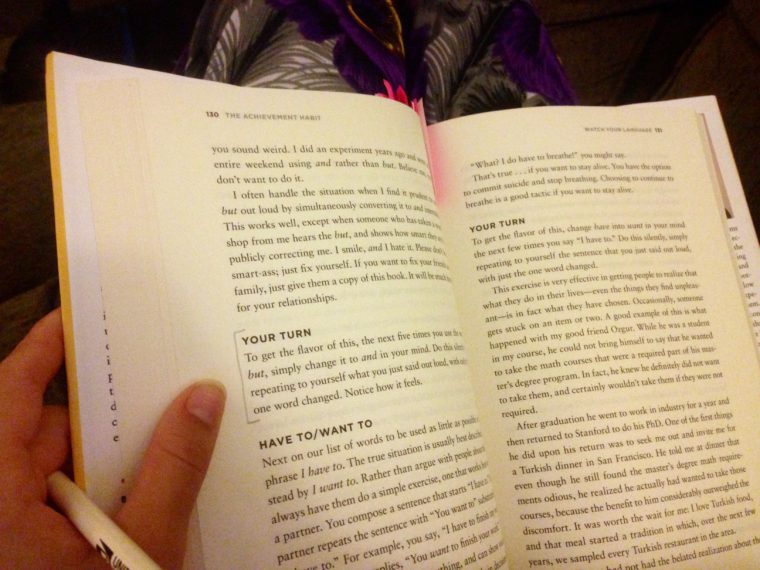 Notice how you and the people around you use reasons. Cut back on your use of reasons. Say what you have to say without justifying it.
Notice how much of what you think is a projection. Reverse the subject and object in your (internal and actual) speech. Which of these statements feel closer to the truth? Often the projection will, if you're honest with yourself.
Move on to using and in place of but. Roth provides an example. Feel free to replace "internship" with "job" and it resonates just as well.
Let's say your goal is to get a popular internship, and it requires extensive travel. 'I want to get this internship, but I'm afraid of flying,' you tell yourself. What your brain hears is, 'Oh well, c'est la vie. Guess we're not doing this internship.'

When you open up the dialogue with 'and I'm afraid of flying,' your brain gets to consider how it can deal with both parts of the sentence.
Are you blocking yourself by using but rather than and?
In a similar vein, "the simple change of can't to won't is often empowering. Can't implies helplessness; won't signifies volition and choice."
Watch Your Language
The best communicator isn't necessarily the person who know the fanciest words; it's the person who pays attention and makes others know that they've been heard. (147)
It's hard to know the line between participation and interruption (or, in some cases, monopolization of a conversation). This is especially true if you work in an environment like we do at SEJ—all of our staff is remote, which means all of our meetings are conducted via call.
Roth offers few tips on how to achieve this:
Speak from your own experiences. Say "I know", "I think", "I feel"
Listen without interrupting
Do not immediately follow with one of your own stories
Don't ask why questions
Be clear on the point of your stories
There are often times when you need to give criticism. While important, we all know the feeling of providing insight and having it taken the wrong way. Roth suggests keeping in mind of providing criticism in a supportive way. Try stating two I like statements followed by one I wish statement.
Achievement Can be Learned
That statement is what this book is all about. Roth asserts that "most of our action is more the result of habit than reasoning." Throughout the book, he provides us with "tools and concepts [we] can use to achieve a fuller, more fruitful, more satisfying life."
If you're interested in reframing your life, this is a book worth checking out.
Join Us Next Month!
Next Month on SEJ Book Club: Essentialism: The Pursuit of Less by
Greg McKeown
Next month, SEJ Features Writer, Anna Crowe, will review Essentialism: The Pursuit of Less by Greg McKeown by Greg McKeown.
Feel free to pick a copy online or from your local library and read along with us! Want to see what the SEJ Book Club has read or is planning on reading next? Check out our GoodReads profile.
Editor's Note: This post contains Amazon affiliate links. Thanks for supporting SEJ.
Image Credits
Featured Image: Paulo Bobita
In-post photos: Caitlin Rulien