On Tuesday between sessions at SMX, I had an opportunity to sit down with Ric Dragon and discuss his book, Social Marketology. Many of you are professionally involved in SEO, SEM, or SMM and are probably familiar with Ric and the work done by his company, DragonSearch.
For those of you not directly involved in the digital marketing industry, search or social, here is a little about Ric Dragon according to the bio at dragonsearchmarketing.com:
CEO and co-founder of DragonSearch, Ric Dragon has more than 20 years of extensive experience in graphic design, information architecture, web development and digital marketing. He is a sought-after speaker, having spoken at numerous marketing and technology conferences. Ric is also a regular guest columnist for Marketing Land, and Social Media Monthly.
Take note of the experience in graphic design. In many ways, Ric Dragon is a renaissance man. Along with his business success and writing accomplishments, Ric is a talented artist.
"After studying with James McDermid at Munson Williams Proctor Institute, he continued his studies with Nicholas Marsicano at SUNY Purchase. He later started the lithography workshop at the Woodstock School of Art where he taught for several years." His personal website, ricdragon.com, continues, "Has struggled to make art for 30 years. Might be getting somewhere with it. Encourage the poor bastard, buy a piece or two." Here is a sample of his work, you can judge for yourself.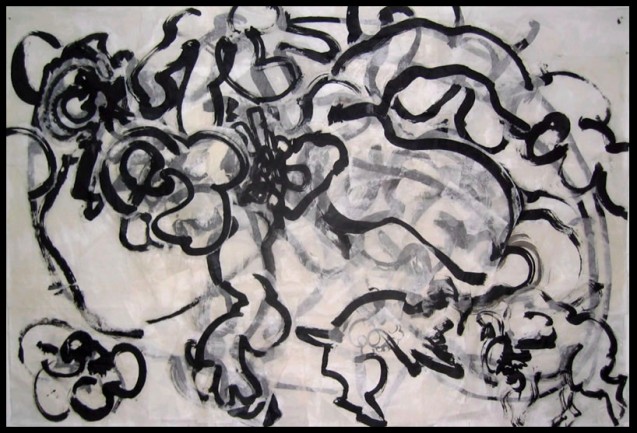 Our conversation focused on his book, Social Marketology.
Ric Dragon's Social Marketology explicates how the most distinctive features of social media marketing—dynamic and rapidly evolving patterns of customer engagement, the broad dispersal of information across a variety of fora, and the transparency and agility with which campaigns are conducted—can be brought to bear on a particular project, regardless of the platform being utilized. It is the ideal resource for the business professional looking to implement a measurable and effective social media campaign.

-From Social Marketology at dragonseachmarketing.com
SEJ: Please, tell us about the audience you had in mind when you started writing Social Marketology.
RD: I was not writing for 101s, that's for certain. I was thinking more about advanced marketing professionals that already had an understanding of the terminology and basic concepts. I was writing for CMOs and in-house marketing teams.
SEJ: What were some of the common problems/questions you set out to clarify?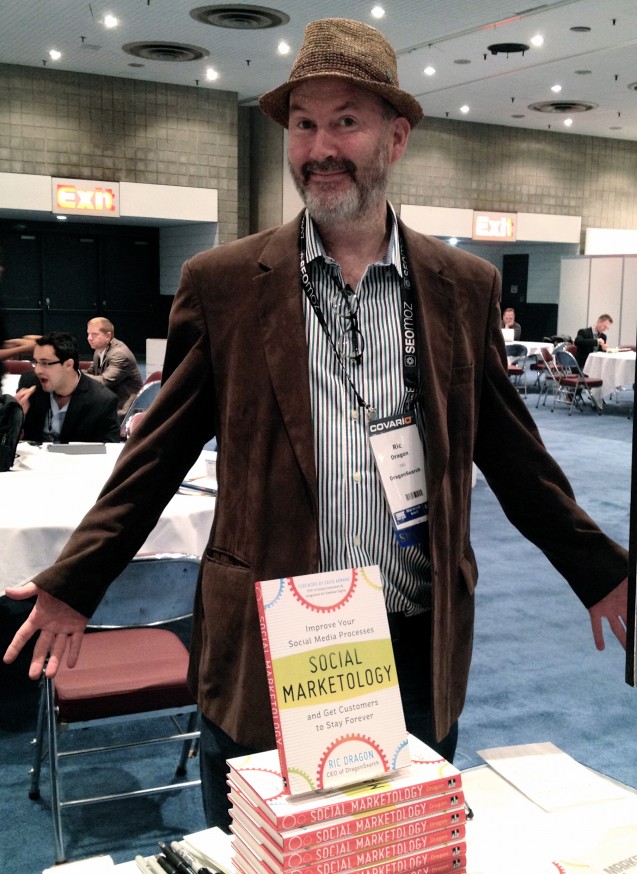 RD: Social media marketing isn't one thing, it's a many-headed hydra. By utilizing the access to customers that social media gives us, we can accomplish a wide variety of goals—everything from basic brand maintenance to big splash projects like the Old Spice campaign.
Over all, we identified five different project types that fit into the concept of social media marketing. The goal with the book was to lay out a process that would help marketing teams effectively use social media within the specifics of their own goals and projects.
Aside from that, the most common problem we seem to run into is a confusion about terms. What is community? How do we identify influencers? Is there a difference between an brand ambassador and a brand advocate? These terms get bandied about the conference circuit, but each speaker/educator uses the terms differently. I hope I've given us an opportunity to solidify some of the meaning of the terminology we all use.
SEJ: Share a few tips for social marketing teams, please.
RD: My top tips:
Desired outcomes mapping is crucial. It provides the context of organizational purpose to the metrics we use to measure success. By understanding a company's desired outcomes, we also have a basis of communication with the C-Suite.
Clarify the understanding of the brand voice. It's impossible to communicate with people when the team doesn't have a clear understanding of who they are in respect to the company they are communicating for. As defined in the book, "The brand voice is the aggregate of tone, intention, and language that is uttered wherever the brand is heard, even in text. The development of voice is another reason that an organization's vision, values, and passion need to be clearly articulated. These are the very elements that guide that voice's creation."
Do the deep drill community homework. Effective communication isn't going to happen until the team has an understanding and appreciation for the personalities of the people they are trying to connect with. We have to remember that these communities are made of PEOPLE. It's important to understand what they care about and what makes them tick.
SEJ: With Facebook and Twitter shifting to monetize their spaces, does this shift tactical decisions and the focus on influencers within communities?
RD: I don't think that the perception of walled in communities is as much of a game changer as you might think. Rather than worrying about how to get your message to jump the wall and get out beyond your community, focus on sharing the passion for the brand. That passion will cause people to jump the wall to get into your community.
Search and social aren't separate any more. You have to realize that Google is still the 900-pound gorilla in the room, and they are intent on maintaining that dominance. With the continued development of semantic search, they are providing the most relevant content to searchers. Consequently, that requires brands to actually be relevant in the way they communicate. Authorship and social signals provide the context that defines relevance.
SEJ: What do you think social marketing will look like in another five years?
RD: I think in another five years that social will become completely invisible. Mind you, I didn't say that it was going away. I think over the next few years that we will move from this contrived version of social interaction toward something that is completely seamless with the world around us, and I'm very excited to see how it plays out.
Look at it this way, right now we are experiencing the thrill of riding a surfboard on a killer wave, but its still night. We feel more of the undefined excitement than we can really see. Dawn has yet to break.