Our compilation of the best and the worst
We recently got hooked to Pinterest. What's not to like about a social site that's churning out beautiful images every second? Visuals always have a greater impact on the mind, as countless studies have shown how posts with images on other social networks garner more engagement. Pinterest allows you to subscribe to a stream of images related to topics of your interest. Brilliant! As it became the fastest growing social site ever, brands started seeing the potential. Now, you have company's official pages on Pinterest showing off their true personalities.
It's a lot of fun (mostly) browsing through brand pages on Pinterest. We've collected the nine best ones we came across which drew us right into the pinboards and one page that made us step back several paces. Here's the list: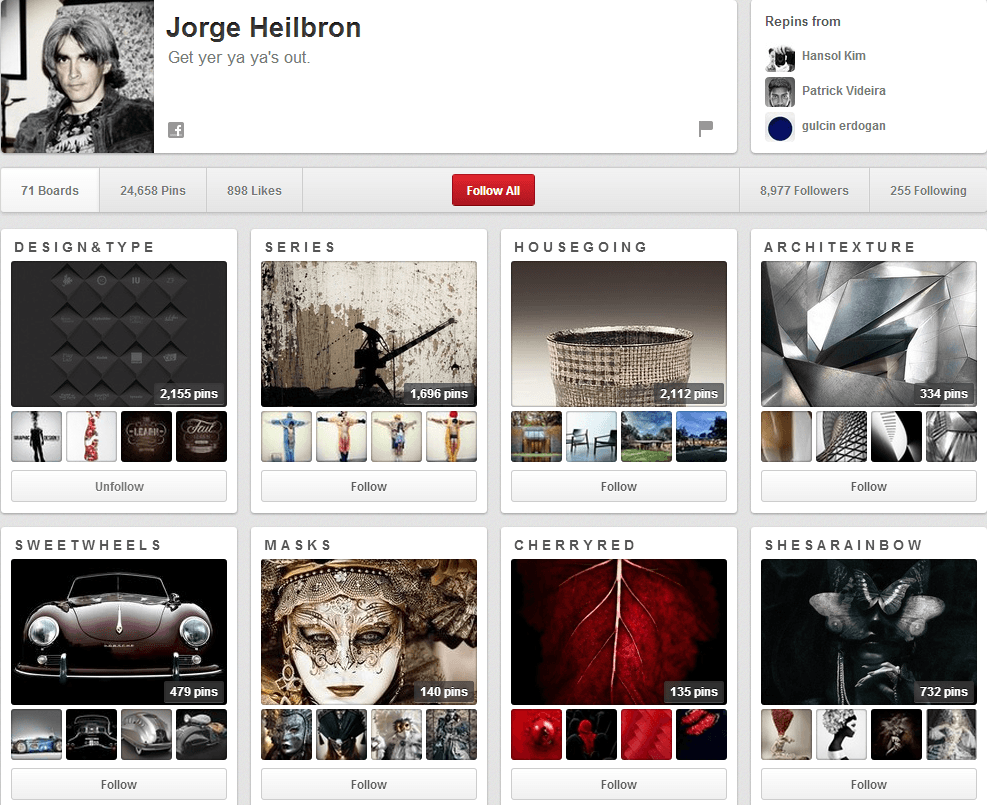 This pinner's profile is not only full of stuff we love, it is so beautifully presented that we didn't want to navigate away from his page. From the way the boards' titles are written to the cover images, this guy raises the bar of how brands should be doing it on Pinterest. Absolute eye candy.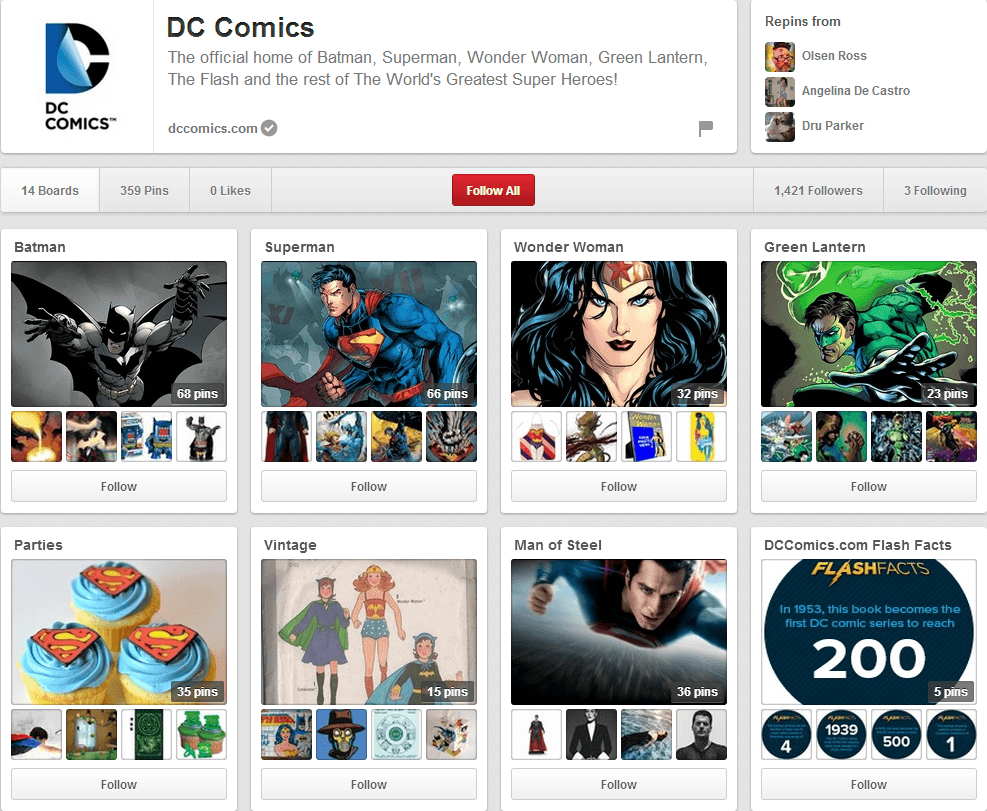 Well, well, well. Look who we have here. All the superheroes and wonder women we've loved for decades. Now, they're presented in high-contrast illustrations for you to drool over.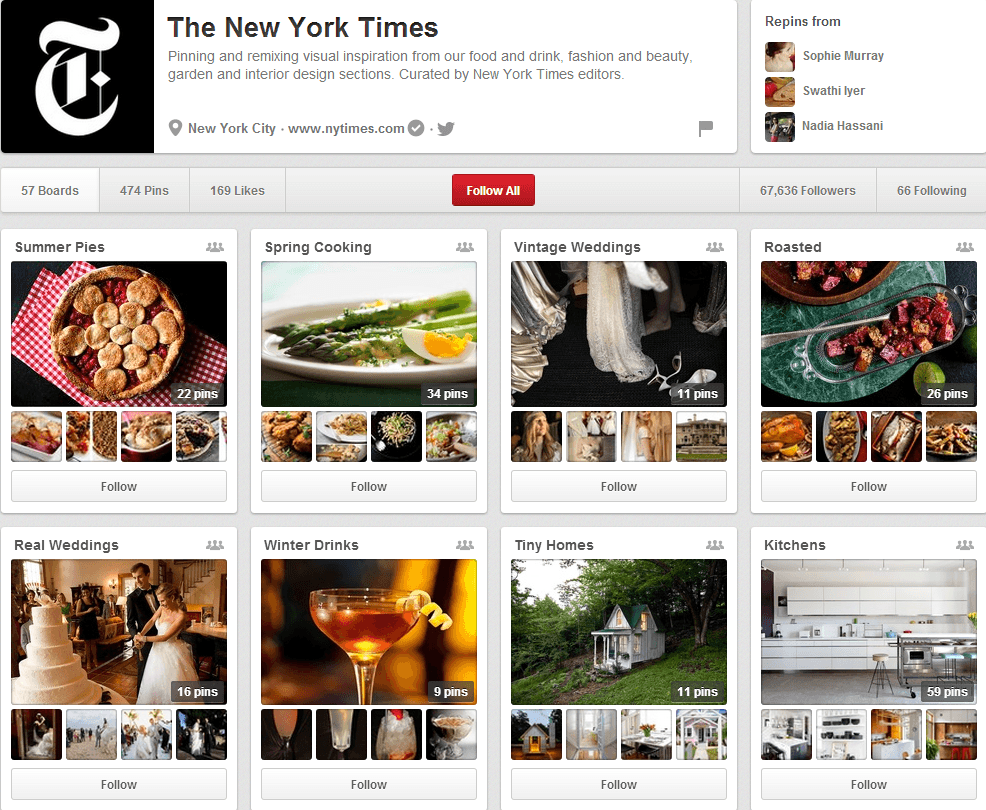 The New York Times shows that it truly understands the Pinterest demographic. Instead of piling up their Pinterest page with all kinds of articles, news stories and interviews, they handpicked visual inspirations from their "food and drink, fashion and beauty, garden and interior design section." The cover images are sharp and focused.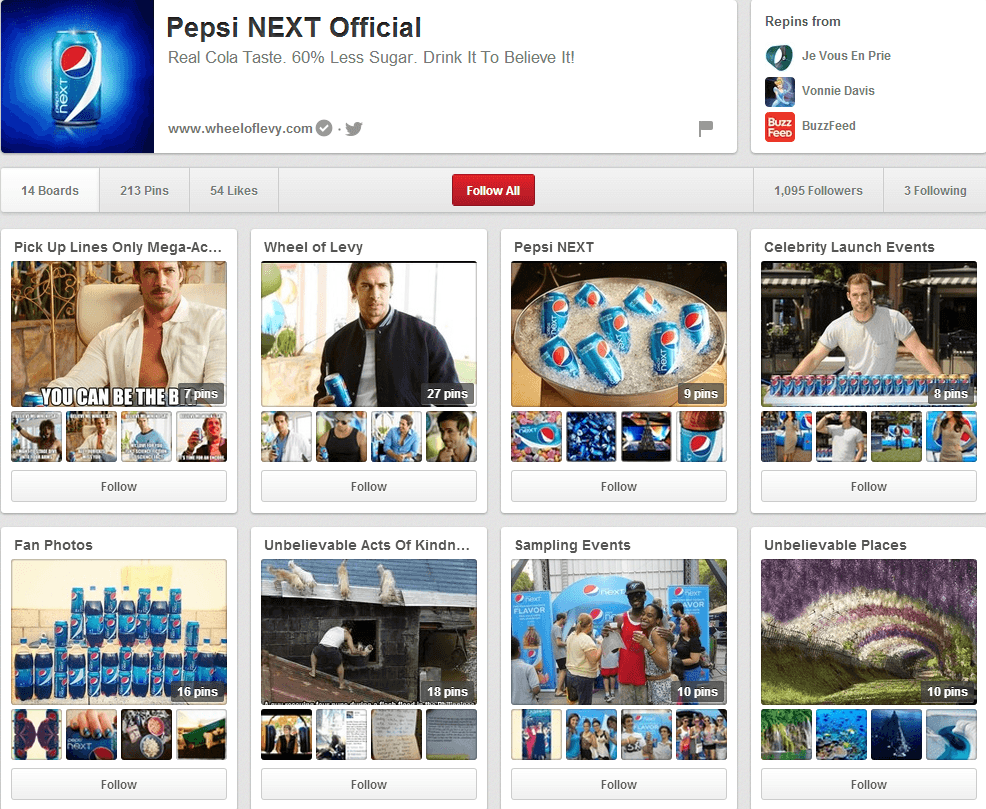 Pepsi NEXT's Pinterest page is all about their fans. They've shared stuff they know will inspire people to repin and share with others. Pick up lines, celebrities, fan photos and acts of kindness… they've tailored it well.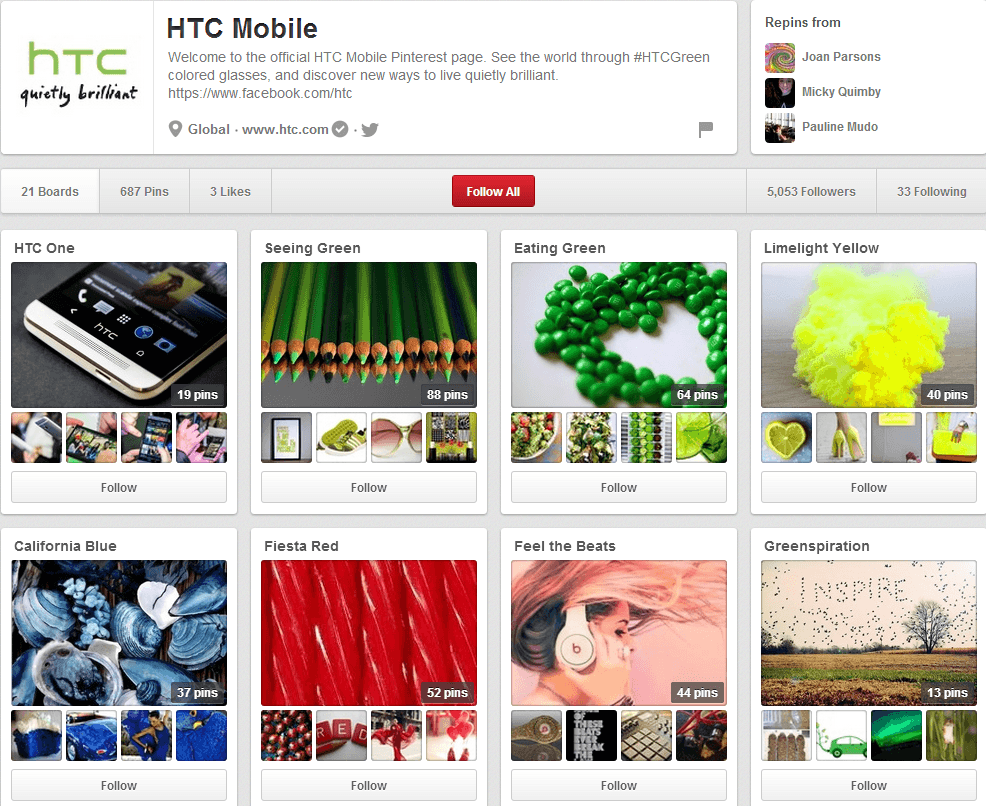 More you, less them. Here's another brand that puts its brands first and understands subtle marketing. Since a lot of pinners create moodboards, HTC Mobile joins in the conversation by posting stunning boards for its brand colours. There's a hint of beats audio and promotion of its flagship phone, HTC One.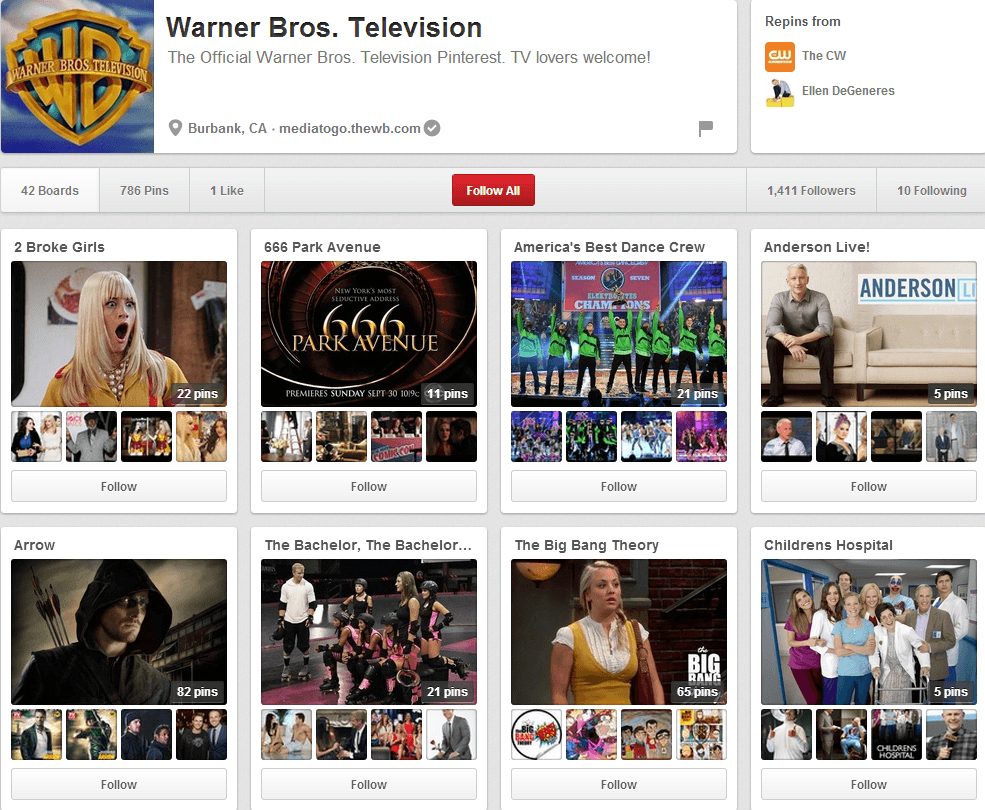 Warner Brothers Television page focuses on its shows – which makes sense since so many of them have huge fanbases. It puts the most popular broadcasts above the fold so pinners can easily relate with the brand. We also like the fact that there's a certain consistency with the cover images: all of them (except one) feature people. It creates a visual harmony even though all the boards are very different.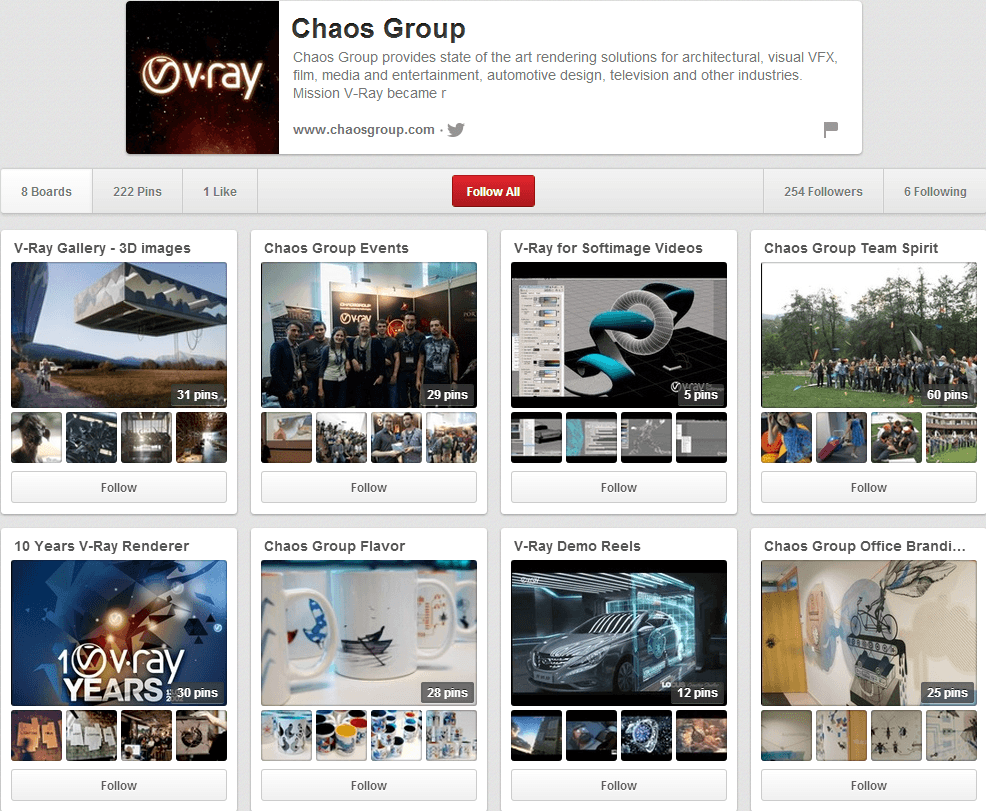 The rendering engine provider, Chaos Group, has a Pinterest page that not only boasts its products with stunning galleries but promotes its company values as well. At a glance, you can know what it would be like to work with (or for) Chaos Group.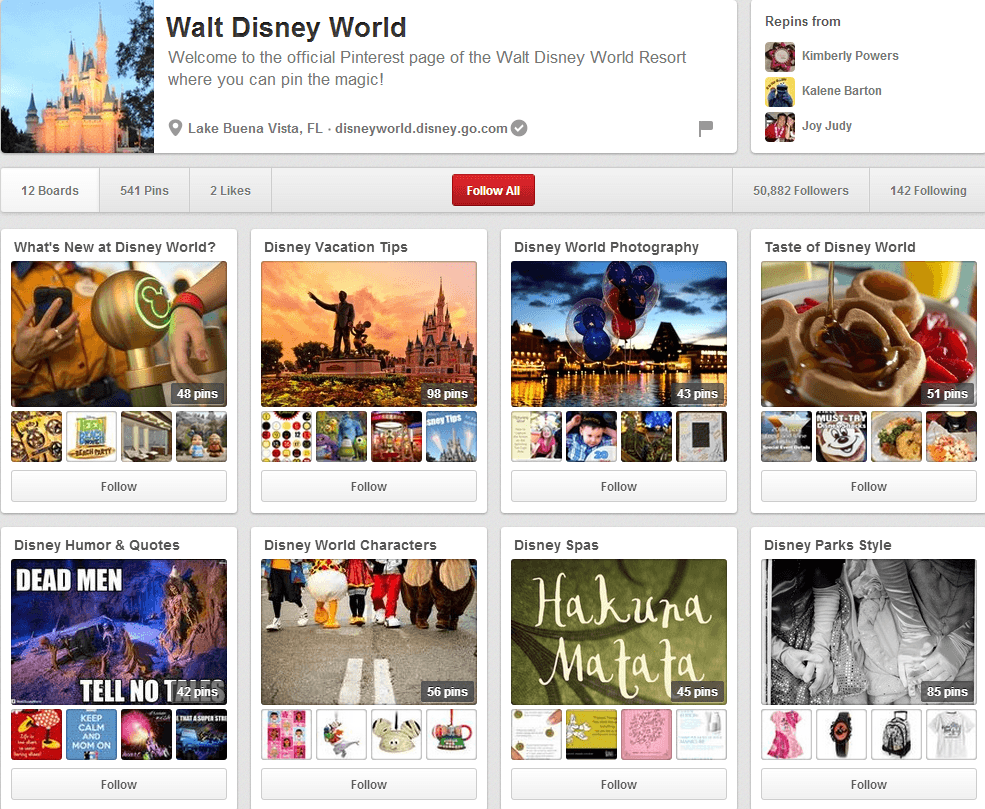 The Walt Disney World's pinterest page offers people enticing photos of what they can enjoy at the resort. We found the first four boards quite hard to resist. When they say, "where you can pin the magic!" they mean it.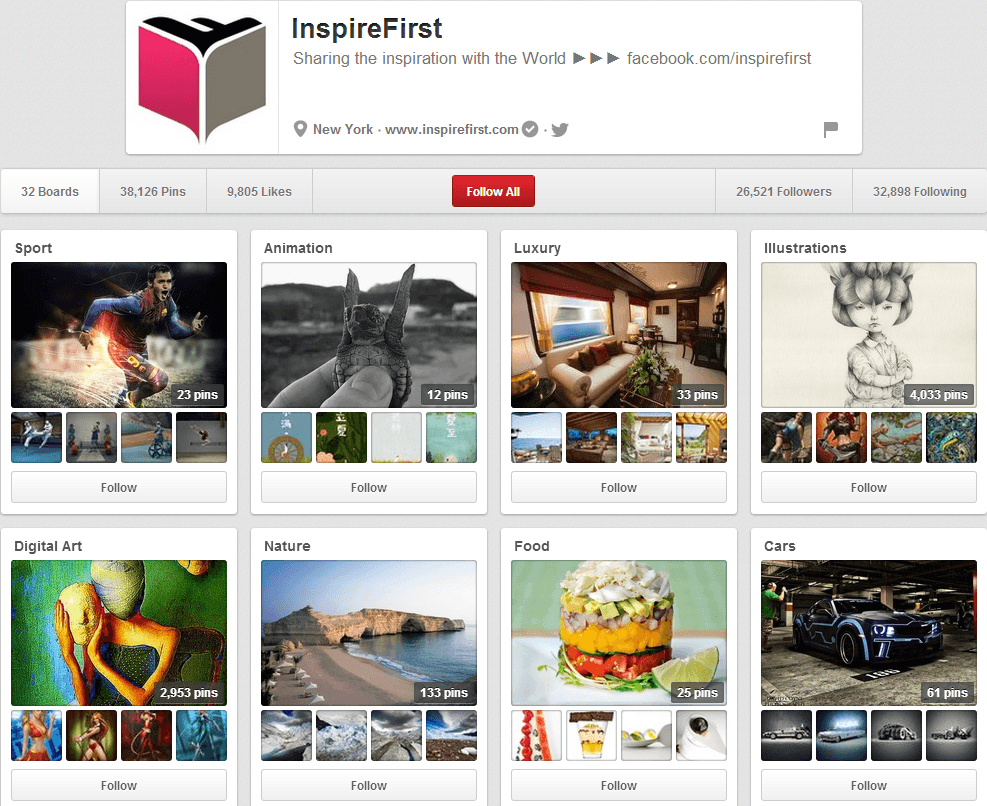 When you're pinning dozens of different images, it's hard to create breathing space. That's why the Inspire First page was love at first sight. It is so clean and simple that it draws you in automatically. Board titles are single words and the cover images aren't chaotic as well. Did we say it's clean and simple?
Now, it's time for the one page that made us gasp and choke. And it isn't a small brand either. Drumroll please.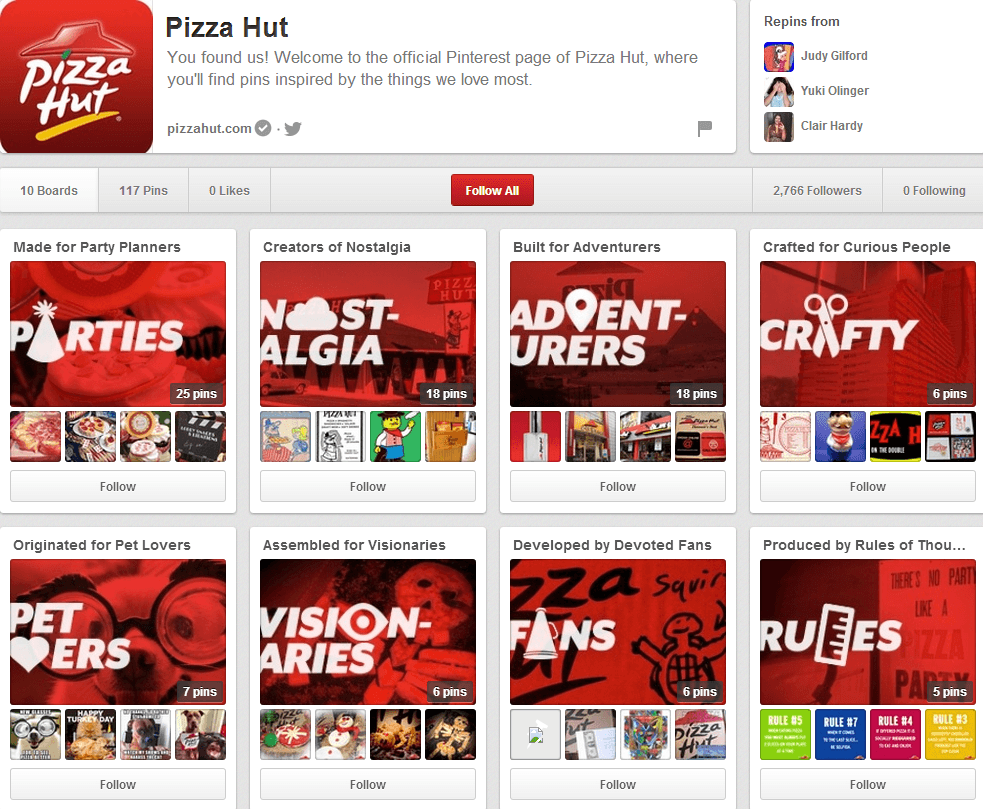 Oh boy! Where do we begin? Too much red maybe? The cover photos are so similar that the whole page looks like a waste of space. Why create eight boards with almost the same cover images? Second, we're not sure if the cut-off text was intentional or not, but it isn't helping. At all.
Pinterest is a purely visual social network so a sense of design is essential. Your Pinterest page is where you can show off your brand's personality, so get creative. We hope you'll enjoy surfing through these pages as much as we did. Oh, and here's our page: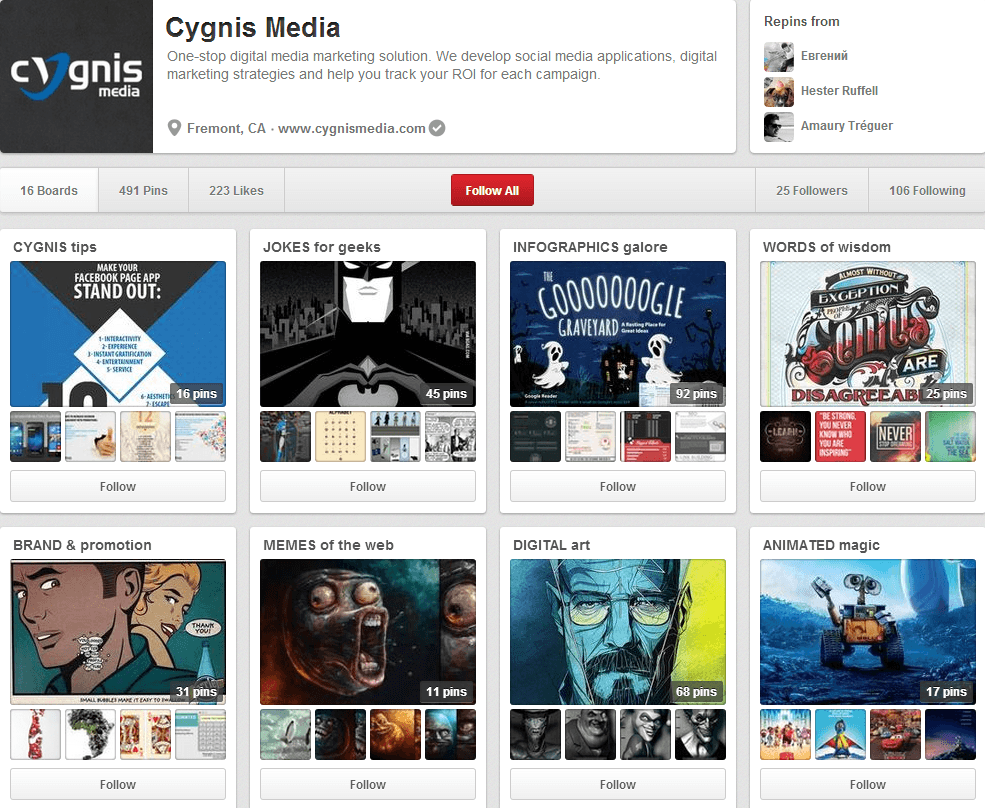 Let us know what you think of it and if you have inspiring Pinterest pages in mind, please share them. We love looking at great designs! Simply send a tweet to @CygnisMedia.