Aside from Twitter and Social Networking apps, another interesting set of apps available right now on the iPad App Store are search-related. I scoured through the App Store to get the most significant of these search-related iPad apps – and found 8 of them. Here are 8 search-related apps that you might want to check out.
Zillow Real Estate Search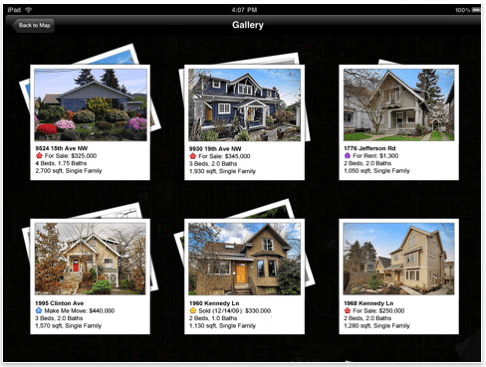 This iPad app lets you view photo galleries of home's on the iPad's large screen and tap, swipe, pinch and drag to see Zestimate home values , homes for sale, homes for rent, and more. The app also lets you filter searches by price, beds, baths, and other filters, search by monthly payment, view full-screen color photos, save searches, get push notifications, email homes to friend as well as share homes on Facebook. (Free) iTunes link.
Yellowbook.com Mobile Search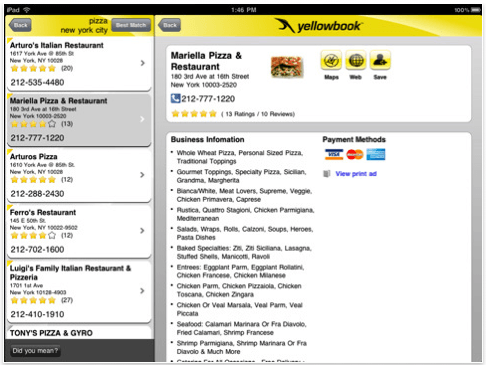 If you need to find local businesses and other related information while on the move, you might want to get this app from the iPad App Store. This app features local business search, GPS location, maps and driving directions. It lets you view business websites and videos, save business details to your Contacts and sort items alphabetically or by distance to your current location. (Free) iTunes link.
Meta Flavor Restaurant Search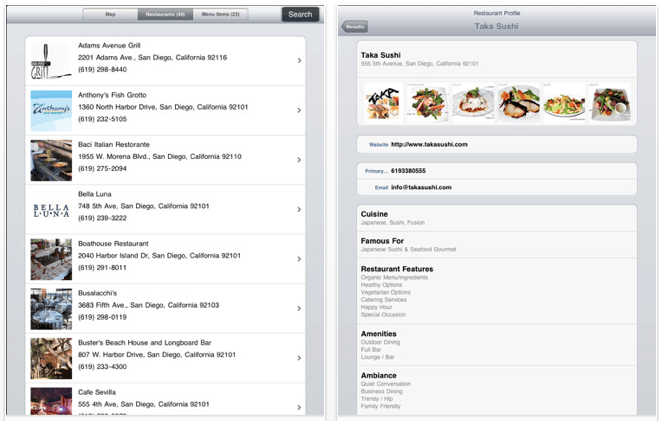 This is a pretty useful app for searching and comparing millions of restaurants and dishes. It lets you search by cuisine, restaurant's name, and even by ingredient. The app also remembers your preferences and makes smart recommendations the next time you use the app. (Free) iTunes link.
Search Maestro (For Google)
Simply put, this iPad app lets you do Google searches on your iPad. It allows you save your searches and then browse them later. It also lets you save web pages, browse the internet fast, view current page in Safari and view searches even while your iPad is offline. (Price: $1.99) iTunes link.
DishFinders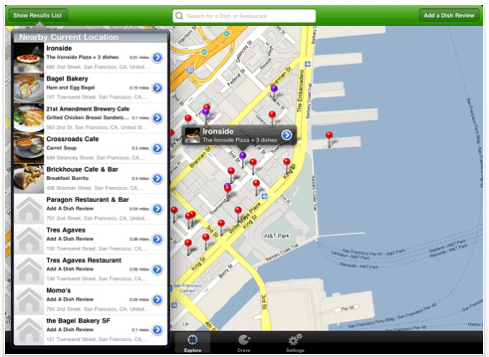 Like Meta-Flavor, this app lets you search for specific dish and discover what other people have to say about this dish. You can browse through all the dishes that have been reviewed on a particular restaurant as well as submit your own reviews. The app also encourages users to share their dishes including photos of the finish product. (Free) iTunes link.
Searcher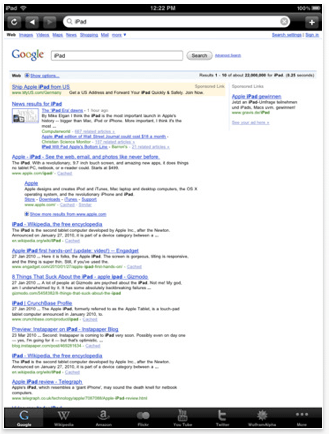 Searcher is a fast web search tool for your iPad. It currently supports Google.com, google.de, google.fr, Wikipedia, Amazon.com, Amazon.uk, amazon.de, amazon.fr, YouTube, Twitter, Wolfram Alpha, Yaho and Leo.org for translation. (Price: $1.99) iTunes link.
QuickFind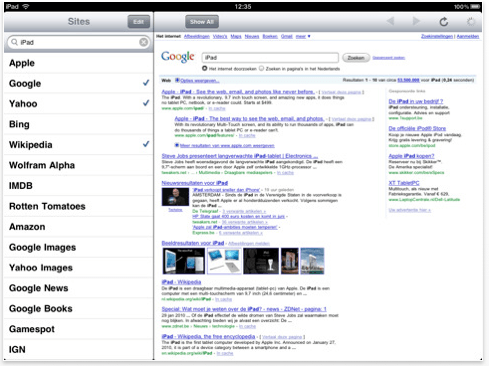 QuickFind is a pretty straightforward search tool for your iPad. It lets you search popular multiple sites at the same time. The app utilizes the iPad's huge screen to come up with two column interface where the right column serves as display for your web browser. (Free) iTunes link.
JobServe Connect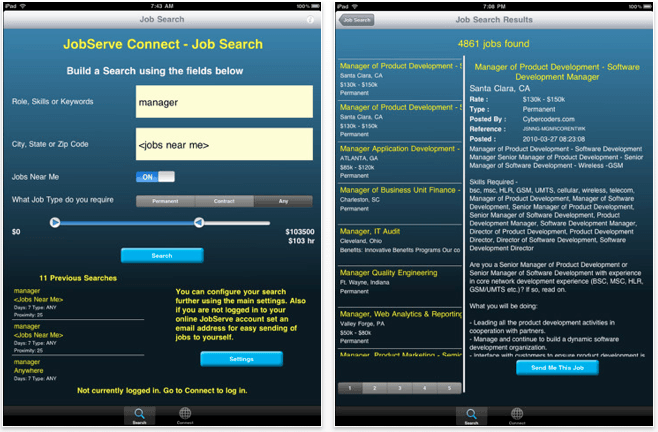 One of the few, if not the only Job search tool available for your iPad. This app lets you search for jobs from a global database of over 40,000 job openings. It also lets you apply for a job quickly. And if you register for an account at Jobserve, you can view your latest jobs applied for, save and run searches, and get useful candidate messages from your online Jobserve account. (Free) iTunes link.