We all want more social shares, but creating quality content, hitting the submit button, and hoping for the best just isn't enough. With over 1.3 billion users on Facebook and another few hundred million spread across LinkedIn, Twitter, Pinterest, and other platforms, you simply can't afford not to pay attention social media.
Everyone talks about the importance of social media and engaging with your audience, but only a very small percentage of sites and brands are actually doing it right.
In this post I am going to take a look at seven different examples of what's working right now when it comes to getting your audience to share more content on your site. After reading this post, you should have the tools you need to open the flood gates, potentially sending you thousands of quality visitors for the amazing cost of nothing… but your time and expertise!
1. Write a Super Detailed Tutorial that Provides Value
There are many different ways to build content of "quality" — but the most effective way is always going to be creating something of value that your blog readers can put into action right away. Over the years I've written a lot of tutorials, and these types of posts have always been the most time-consuming, but they've also been most rewarding. A good rule of thumb when creating content is to always try to do it better than your competition. If someone is doing text only, you need to do video…if they are doing text and video, do a better video!
A perfect example of this can be seen through a series of posts offered by Brian Dean over at Backlinko.com, which details his process for ranking for any keyword. It starts with a simple blog post and a video, which then captures the user's email to deliver them the rest of the content. In this example, Brian collects email, but he could actually be using social buttons to unlock the content as well.
Long story short, it's a ton of great information that offers value and provides them with exactly what they are looking for. The result is thousands of new visitors to his site, backlinks galore from reliable sources (like this one!), and, of course, social networking shares as well.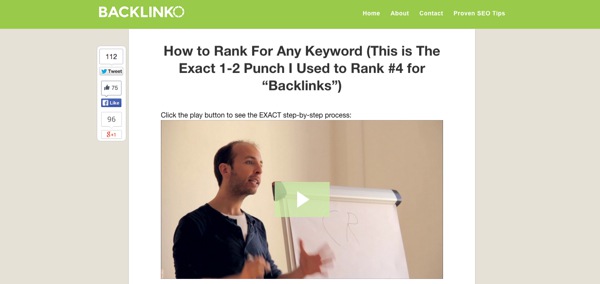 2. Create an Infographic Your Audience Will Love
Infographic creation can take a lot of time and if you aren't a designer you might think you need to shell out a lot of money in the process. While this is usually the case if you are outsourcing, another option is to use the various applications and tools on the internet that make the process of creating an infographic simply a matter of plugging in data and using different templates and images. It takes time, but infographics are one of the best ways to get social sharing across your site. When going live with an infographic on your site, be sure to also include a good amount of text to help your site rank in the search results as well.
Last year Blogging.org launched their best free web hosting infographic, which went on to get a few hundred social shares, as well as mentions on some of the top web hosting and design resource sites on the internet. This was very beneficial to their site's content strategy, as their target market is new bloggers. This infographic was the perfect way for Blogging.org to provide value while reaching their target audience.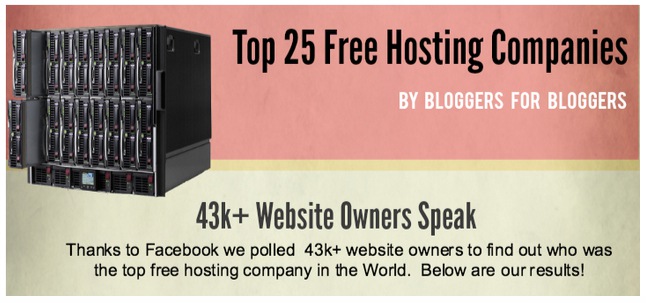 3. Offer a Free Bonus for a Social Share
WordPress has made the concept of creating content extremely easy, and through the use of plugins we can do a lot of cool things to get people to notice and share our content. While many of us are using social buttons placed at the top of bottom of our blog posts, there are other and more effective ways to get social shares as well.
One such plugin, called the One Press Social Locker, is being used by Matthew Woodward, and has helped him double his social networking traffic for his site. Throughout the content on his site, you will also see a box like the one below that allows the visitor to download a PDF of the individual post. All it takes is a simple click of one of the social buttons and after the update is sent out to the person's social network, the free PDF is then downloadable for the user. Super easy… and super effective!

4. Profile Experts in Your Industry
Who are some of the most notable people within your industry…and when they have something important to say, are you listening? Of course you are!
A great way to bring social shares to your site, in addition to a slew of backlinks and traffic, is by creating link bait posts by interviewing some of the top experts within your industry. The concept is simple, but the process is quite time-consuming and lengthy. Reach out to as many experts in your niche market (think outside of just online marketing) and create a detailed compilation of their responses. Once the post goes live, contact all of the people you profiled and watch them kick your blog post into gear as they all start to share your post through their own social media outlets.
You can see an example of this method in action through Loz's recent post on the Wordtracker blog, where he profiled 33 SEO experts and their favorite link building tools.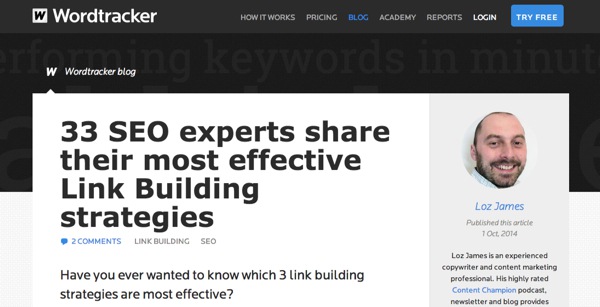 5. Weekly Interviews to Rock Your Social World
In the above example we showcased how you can put all of your efforts into one big mega post, but what if you wanted to get social activity flowing on a weekly basis? A great way to do this would be through the use of a multi-part or weekly/monthly interview series. Everyone loves a good ego trip, and when you send an email to someone who is quite important or is short on time, you need to offer them value in the process — nothing works better than some good, old-fashioned flattering by asking for an interview to be featured on your blog. This actually works out well for both sides…the person you are interviewing gets exposure, and your blog gets to showcase a notable figure and will probably get retweeted by them as well.
This is something that BloggingTips.com has done very well with through their Meet the Bloggers interview series. Every weekend they interview two different bloggers and get to showcase their story of how they got started with their blog, along with where it's got them to today. This provides great content for the audience and a continuous supply of new social shares from notable bloggers in the process.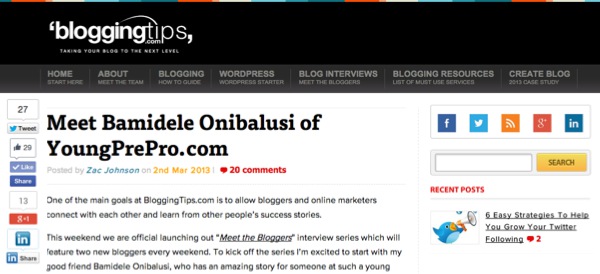 6. Create a "Recommended Tools" List
As bloggers and internet marketers, there is nothing we love more than tools and applications to make our lives easier. What's the first thing that any of us do when trying to find a new and useful tool online? We search for it and look at user reviews in Google, of course!
There are two ways you can benefit from creating a recommended tools list on your site; the first being organic search rankings and the second being social shares. This is the type of content that Google loves to rank, and also the type of content people love to look through and share with their audience. When you share a useful article or resource with your social audience, you get the feeling that you are also providing value in the process.
This can clearly be seen in this example from Ian Cleary at RazorSocial.com and his 29 Powerful Tools for Every Social Marketer post. Notice how it has over 2,000 social shares!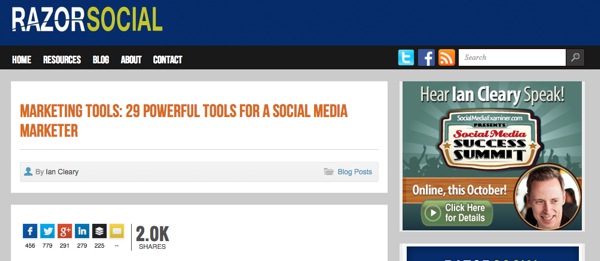 7. Click to Tweet Quotes
Everyone loves a good quote…especially when it's from your favorite celebrity, online marketer, or just something that resonates with you personally! Quotes have always been a big inspiration for entrepreneurs, and they are also a growing trend in the world of podcasting. Many blogs with podcasts will take the time to translate their episodes into text posts or provide show notes to their readers. Interview based podcasts will often repeat quotes that were mentioned in the show as well.
Lewis Howes has a great podcast on iTunes with thousands of listeners, and through his blog he also posts show notes for each episode. One of the cool things he does in his show notes is he lists some of the quotes from the guests on his show and then uses a "Click to Tweet" feature to get others to spread the inspiration — while also bringing new traffic back to his blog and social awareness in the process!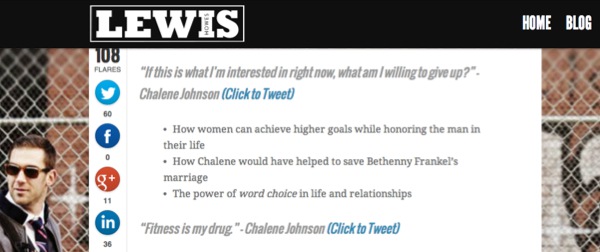 Millions of Social Users Are Waiting to Share Your Content
The great thing about social media is that it's growing non-stop and none of the content is standing still. This means there is a never-ending supply of people who are constantly sharing new information, while a constantly fresh audience is seeing it for the very first time.
Gone are the days when you can throw up "decent" content on your blog! With millions of new sites going live every month, you need to be better than the rest. If you want to take over the social marketing world, start by creating content that engages with your audience, while giving them something worthy of being shared.
Image Credits
Featured Image: Shutterstock
All screenshots taken October 2014