Is it surprising that one of the most popular apps, for both iPhones and Androids, are image apps?
If you happen to be addicted to your phone, or just like to geek out with the latest tech news, this isn't exactly a startling development. Over the last couple of years, image apps have continued to dominate iTunes and Google Play . But, how exactly did these apps become so in-demand? There's actually a very simple explanation. Image apps make each and every one of us a professional photographer.
Since essentially everyone on the planet has a smartphone, capturing moments has never been so easy. Whether it's a couple on a romantic night out on the town, a group of friends attending a ball game or throwing a couple of cold ones back, pictures are constantly being taken and then shared for the entire world to see.
Of course, these pics aren't exactly the highest of quality, which is where apps come in. Thanks to apps like Instagram, a normal and unflattering image can be transformed into a piece of memorable art that can gain you some much-appreciated Facebook likes.
Since there are literally hundreds of image apps available for download, we decided to take a brief glance at our favorite eight image apps.
8. Camera+
The worst part apart the Camera+ app is that it will set you back a whopping $0.99. Other than that, there's not a lot to complain about. This app stands out because of the nifty features that it comes equipped with. These include a focus that allows you to choose how light or dark you want an image, a grid which allows you to set up your image and digital zoom that can up to 6x. And, the app also happens to snap some extremely clear images.
7. SnapChat
We really dig SnapChat because it allows people to capture a moment for only a matter of seconds and then disappears. A perfect weapon when you have a momentary lapse of judgement. If only people like Anthony Weiner and Brett Favre downloaded SnapChat they probably wouldn't have gotten in so much trouble.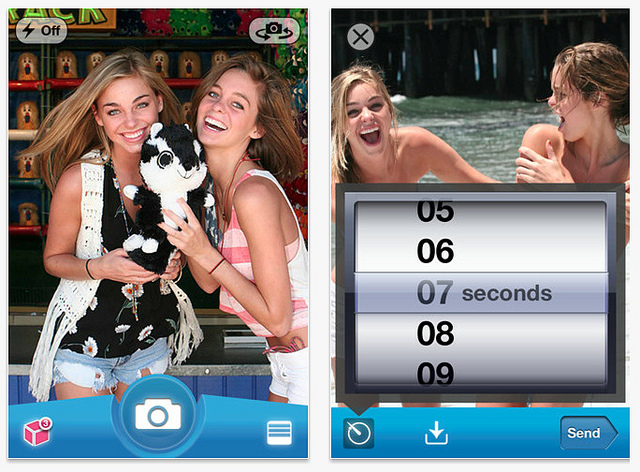 6. Aviary
Aviary works on both iPhones and Androids, always a bonus, and is one of the more powerful image apps available. Some of the features includes frames, stickers and modifying everything from the size of the pic to removing blemishes and red eye. Best of all? It's free. But, users can purchase additional content features for a premium upgrade experience.
5. Pixlr Express
Here's another free app that can be downloaded on the iPhone or Android. Pixlr Express boasts that it has more than 600 effects, overlays, and borders, so that users can personalize any image. The app can also crop, re-size, and fix any picture, remove red-eye, and even whiten teeth. We're sold.
4. Snapseed
Since Snapseed was developed by the people behind the most widely used professional tools for digital photography, there should be high expectations for this app. And, Snapseed does in fact rise to the occasion. Besides delivering beautiful images, the app not only lets you make adjustments to transform an average image to a stellar image, it also lets you compare the images so you can select your favorite pic.
3. On.com
Unlike the other apps we mentioned, On.com actually uses images to meet new people. Basically, you just post a pic of yourself and others can like, comment or share that image. Maybe you'll meet a new friend, or even someone who's more than a friend. Sounds a bit shallow at first, but it's definitely a unique spin on taking, editing and sharing images.
2. Imgur
It looks like for Imgur the sixth time's the charm. The uber-popular image service finally became available as a mobile app after Apple previously rejected the proposal five separate times. Thankfully, Apple wised up and Imgur can further continue its conquest as the hottest image service on every format.
1. Instagram
Is it cliche to have Instagram on this list? Probably. But, Instagram is one of the best image apps you can download because it's simple, efficient and is used by pretty much everyone. Why else did Facebook drop an astounding $1 billion to acquire its services in 2012? It's just that good.