If "Content is King" and "Links are Queen" when it comes to SEO, ecommerce sites must be like America – no king and no queen (but there is opportunity)! To put it another way, the typical medium or large e-commerce website faces substantial challenges to SEO – both from a content and a link perspective. Allow me to explain…
The Inherent Challenges Of SEO For Ecommerce Sites
Content Challenges
From an SEO standpoint, most of the pages on a typical ecommerce website can be considered to be one of two types:
Navigational – these are pages such as the homepage, category pages, and tag pages. These pages are primarily navigational in nature and usually contain images, product names, and links. These pages usually do not have much textual content on them, and the content they have (i.e. product names) is usually duplicated on many other websites.
Product – these pages are the product detail pages; they usually contain the product image, description, price, and other product data. The textual content on these pages is usually solid, relevant content, but most websites use the manufacturer-provided description and product data, which means that the content is typically duplicated across many other websites.
In summary, most ecommerce websites are comprised largely of pages that have little or no unique, relevant content. This issue is especially problematic for the "little guy" who will almost certainly be outperformed by websites using the same content, but who have much stronger link graphs.
Linkability Challenges
Making the issue of duplicate content worse is the fact that ecommerce websites are inherently harder to gain editorial-type links for. This is for several reasons:
Ecommerce website pages are typically not very linkable. Unless the product being sold is unusual or interesting, linkerati are less likely to link to an ecommerce page. After all, why should they? They want to link to interesting and valuable content, not promote your products for you.
When another website editorially links to an ecommerce page, the webmaster will typically link to a better known website, such as Amazon.com. This again makes it very hard for the "little guy" – any editorial links being given out are probably being given to your better-known competitors.
7 Ways To Beat The Challenges Of SEO For Ecommerce Sites
As I mentioned, while there are challenges to SEO for ecommerce sites, there is also a large window of opportunity. Namely, many ecommerce sites have hundreds or thousands of pages that could be ranked for keywords with strong commercial intent. But first we must overcome the challenges.
I will assume that you have already implemented SEO basics, such as optimizing title tags and inserting relevant alt tags, much of which can be done programmatically instead of manually. The following tips are methods you can use to beat the content and link-related issues outlined in the first half of this article.
Add Category Descriptions
Purpose: Increase Unique Content
For many ecommerce sites, the category pages will be the highest priority pages for SEO rankings. These pages can be greatly improved by adding a 100 (or greater) word description. The description, of course, should be unique and include the target keywords for that category page. A good example of this is Zappos: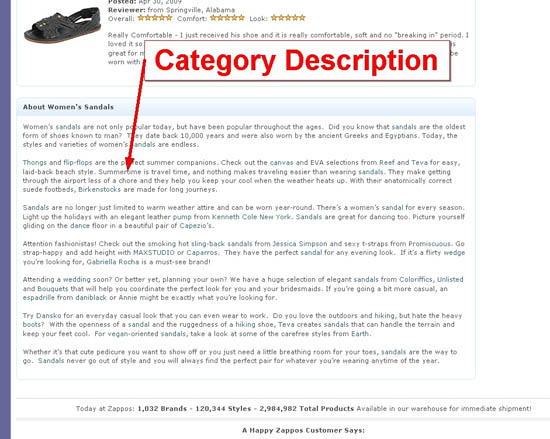 Add Expert Product Reviews
Purpose: Increase Unique Content & Linkability
Creating expert reviews of products is an excellent way to add unique content, increase linkability, and improve user experience. These reviews should include substantial textual content (at least 300 words) but can also include images and video. An excellent example is CNET's product reviews: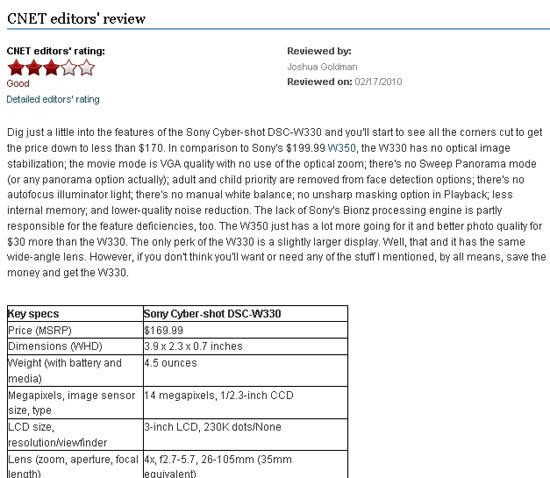 Rewrite Product Descriptions
Purpose: Increase Unique Content
One simple, yet time consuming tactic is to rewrite your product descriptions so that they are each unique content. While it may not be practical to rewrite all the product descriptions on your website at first, you could start with your top 100 products. (Not necessarily your top 100 sellers, but rather choose the 100 products you believe have the most potential for sales if they were top ranked.)
Encourage User Input
Purpose: Increase Unique Content
Many top ecommerce websites rely strongly on leveraging user-generated content. Amazon.com is an excellent example of this – notice how strongly they leverage user-generated product reviews and recommendations, allowing them to display unique content for nearly every product.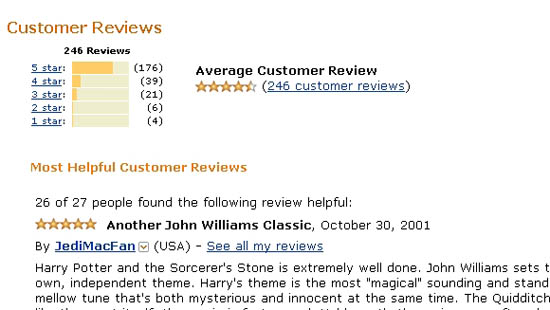 Add Buyer's Guides
Purpose: Increase Unique Content & Linkability
Somewhat similar to the expert product reviews, but at the category level, are buyer's guides. These are informative, unique articles designed to educate potential buyers about particular product categories or types. An excellent example is Cabela's buyer's guides such as this one: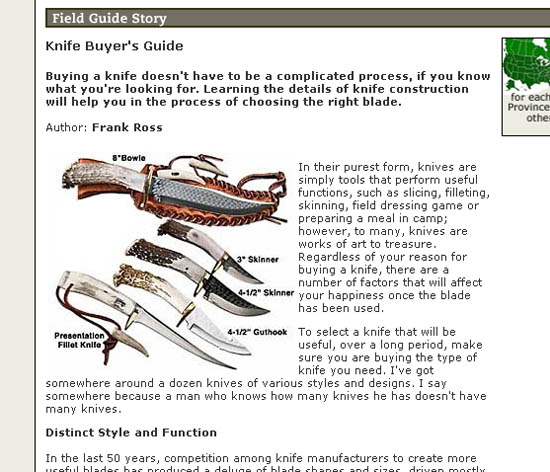 Add An Education Or Information Section
Purpose: Increase Unique Content & Linkability
Most ecommerce websites could benefit by adding a section to their website to publish unique and linkable content related to their industry (or a particular topic within it). For example, a website that sells cosmetics could launch a section of the website devoted to how-to articles and videos related to beauty and makeup. (Extra linkability points if they could tie in celebrities!)
Present Your Data Differently
Purpose: Increase Linkability
I can't really give you specifics on this strategy, because it will be different for every site. You'll need to take the time to sit down and brainstorm. Think of ways that you could change your user's experience that would be so cool or helpful that others would want to link to your website. Example: If your website sold pet toys, perhaps you could create a fun tool that would determine a pet's personality, display a personality analysis, and recommend toys based on that.
How To Add Content Pages
If your ecommerce platform does not support adding content pages for product reviews, buyer's guides, etc, a simple solution would be to use Drupal or WordPress. Either of these softwares could be installed and visually integrated with your ecommerce software. They would allow you to create extra content pages with text, images, and video, then link to these pages from the appropriate ecommerce page(s).
Getting The Content Written
If you don't have the resources to write or re-write the content you need, you can always outsource the work. RentACoder and oDesk are good options, or you could contract with a firm that offers web content writing services. In either case, I would recommend hiring native writers. (i.e. if your website is in English and targets the USA, use American writers). Depending on the content at hand, you may also want a writer with experience writing effective sales copy (not just web content).
Summary
Ecommerce websites can be challenging for SEO, but using methods such as these, excellent results can be achieved.
Have you used any of these methods? What other methods have you used?
Adam J Thompson is Senior Partner at RYP Marketing, providing search engine optimization, conversion optimization, and online marketing results to clients around the globe since 2006.