Once you have developed a business blog, you want to make sure it reaches as many eyes as possible, and most know that Twitter is certainly one of the best platforms to promote your blog and brand as a whole (and if you don't, check out what Twitter says here).
Naturally, your next step after creating great content is increasing those tweets for your blog articles so more people can view them, like them, comment on them, become an active participant in your online network, and hopefully turn into a loyal customer and conversion somewhere down the line.
It seems like a lot, but it can all really start with just increasing the number of tweets for your blog.
Top 7 Ways to Increase the Number of Tweets for Your Blog Content
The act of increasing Tweets ultimately involves producing content your viewers want to share, and then giving them a push to share it. Some of the ways to make that happen include:
1. Add a Twitter Sharing Button to Your Blog
This is definitely a basic tip but it's still one many companies are missing. If you don't have a Twitter sharing button on your blog it is going to be a lot harder for people to share in the first place. I recommend adding it to the very bottom of each individual blog post so when people finish reading it is right there for them to share with their audience immediately.
The three most common places to add a share button are (1) immediately after the headline, (2) at the end of the post, or (3) on left sidebar.
Putting sharing buttons on the side of an article or at the top works as well because it makes it so easy to find, so it's really up to you. You may even want to A/B test your different options, which you can learn more about here. See what gets you the most shares and go with that (Hint: It may involve you putting sharing buttons more than once on each page).
2. Make Sure Your Blog is Optimized for Mobile
Again, another basic here, but in order to increase your social shares, your blog site really does need to be optimized for mobile devices.
Why? The majority of people tend to use their social media accounts, especially Twitter, on their mobile devices. When they go to share, they are already linked into these accounts, which makes the sharing incredibly easy. Your goal is to not only make people want to share your content, but also make it an easy process.
Having a blog that is optimized for mobile obviously does more than just make tweeting easy, and it starts with responsive web design. I can't stress this enough.
3. Create a Catchy Title
Obviously, writing good content should be your goal in blogging, but coming up with a catchy title is also important. Think about what you primarily see when you scroll through your Twitter feed. More or less, when people retweet articles, they use the original title of the piece.
Titles that are eye-catching and draw people in are certainly going to get more reads and ultimately more Tweets than those that do not have the same impact. It goes both ways—a catchy title makes a reader more likely to share, and that catchy title shown on Twitter makes it easier for a user to re-share.
4. Utilize Experts in Your Field
Quoting, linking, or interviewing experts in your field is a great way to grab attention. This lends credibility because they see other experts in the field you work in agree with you and support your ideas.
Use this to your advantage! Here are some ideas of how you can utilize experts in your field:
Offer opportunities to guest blog on your platform to an expert
Link to another article by another brand or expert within your own article
Quote some of the content that was addressed by someone else to make the case in your own content
Interview another expert on the topic that you want to discuss at length on your blog.
As always, when you use someone else's content give them credit where credit is due. If you mention someone personally in your tweet, there is a chance they will do the same in the future; thus helping your content earn more visibility with their audience.
5. Use Videos and Images to Your Advantage
When people come across interesting video or image content within a blog post, they are far more likely to Tweet and share with their own audience. Visually appealing content should add to your already well-developed written content.
If you aren't convinced, take a look at this infographic by Digital Marketing Philippines that shows the 12 reasons to implement a visual content marketing campaign, statistics included. In their infographic, they make it clear that visual content certainly helps to increase shares, including 140 million Tweets every day that are linked to visual content alone.
6. Ask for a Retweet as "Thank You"
One way to increase the number of Tweets that your posts are getting is to actually ask for them. A clever way to ask for a share is in the form of a thank you (usually shown on your Thank You page). Consider the example below by Freemake: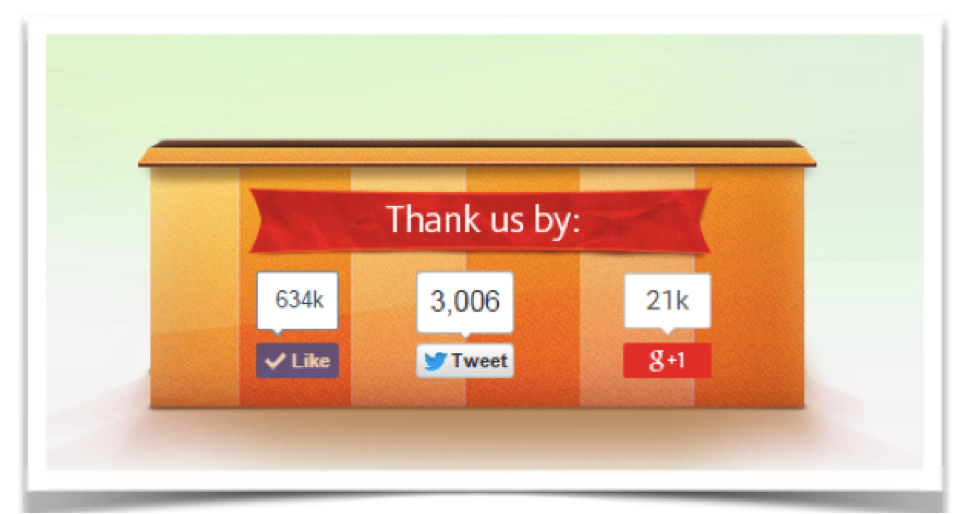 You may or may not want the tally of shares displayed, but overall this is a good example of an eye-catching display for a "thank you" share.
You can also set up the tweet to ask for a retweet when the user shares your post (see the example below). This has shown to actually increase Tweets of the content, and all of these shares are included in the counter you'll have on your website.
7. Make it Worth Their While by Offering Incentives
The six tips above are useful when people are excited and willing to share your content. However, another strategy is to offer some sort of incentive for sharing. This is mutually beneficial because you get a share on Twitter, and they receive something in return.
You don't want it to be a bribe of course, and quality content is still your number one priority, but it could help get the ball rolling for new websites or websites that are at a standstill. Some incentive ideas that may work well for your brand's blog include:
A discount to your online store (i.e, 10% off at check out).
A FREE copy of an eBook you have created.
An invitation to shop a sale you are launching early or pre-order new products before anyone else has the opportunity.
Monthly discount coupons via post or email.
Exclusive offers of one kind or another.
There is really no limit to what you can do with incentives. This benefits both your brand and the customer—so why not use this to your advantage? For example, if you're almost to 5000 Twitter followers, you may be able to use that to sway people into tweeting on your page to help you gain exposure.
The Takeaway
The key to getting more tweets is offering content users want to share, making it easy for them to share it, and possibly even offering something in return for the shout-out.
Increasing the amount of shares your posts receive not only makes developing the content worthwhile, but also brings you more exposure. Ultimately, more shares and more interest taken in your post is going to increase your social marketing success.
Do you have additional tips for increasing Tweets on your blog post? Share your thoughts in the comments section below.
Image Credits
Featured Image: Yeamake/Shutterstock.com
All screenshots by Sergio Aicardi. Taken September 2015.