Deepening ties between organic search, social, and content-related traffic drivers makes it increasingly important to coordinate efforts among channels. Basically, you're not likely to sustain good social traffic without some good search and content practices, and vice-versa.
In this article we'll go over some insights you can gather from search and content efforts that will amp up your organic reach on social.
Know What Keywords are Already Driving Traffic to Your Site
A good place to start improving your efforts is by going over what's already organically working for your site and that means digging into some keyword research (a topic we discussed on Found Fridays via Google Hangouts on Air). Since keywords aren't just words—they're the phrases and topics that people are naturally searching for in your industry—explore both broad and specific terms. For example, if you're marketing running shoes, you might have keywords that range from general topics like "women's running shoes" to very specific things such as "women's cold weather trail running shoe".
Once you find out which keywords are driving traffic to your content from search, ensure you're weaving those throughout your social posts. This is a great way to tie into the existing way your audience is finding your brand and amplify it throughout additional marketing efforts.
Take it a step further by monitoring search volume for your keywords. Using search volume data, you can see what keywords are increasing or decreasing in search volume among your audiences and then tailor social media efforts to mirror audience interest. Having access to daily crawl data will give you the added advantage of responding to changes in audience interest as it happens.
Know the Corresponding Content for Those Keywords
Chances are you've already created good content that your audiences are finding based on search efforts. Understanding which of your content is driving the most traffic organically (via search) helps you know where you're meeting audience needs without paid efforts—which highlights a good pairing between content and keywords.
For each piece of top-performing content, determine the ranking keywords to discover what words and phrases people are using to ask questions or to seek solutions when they are finding your content. That content and keyword pair is something that search engines already deem a good match—and chances are your audience does too. Take that keyword/phrase and content pairing use it for your engagement and posts on social. Make sure you include the keyword in the post or as a hashtag to capture audience attention and assist in measurement later.
Figure Out What Keywords and Content Are Working for Your Competitors
Beyond the keywords and content that are working well for you, are the keywords and content that are helping your competition take traffic from you. By discovering what they're doing well in search and content, you can see how they're meeting audience's needs and then use that information to boost your social media engagement.
If you're already monitoring social media engagement and conversations, this is a great layer to add, looping in your competitor's top keywords and content topics from search and turning them into discussions on social channels.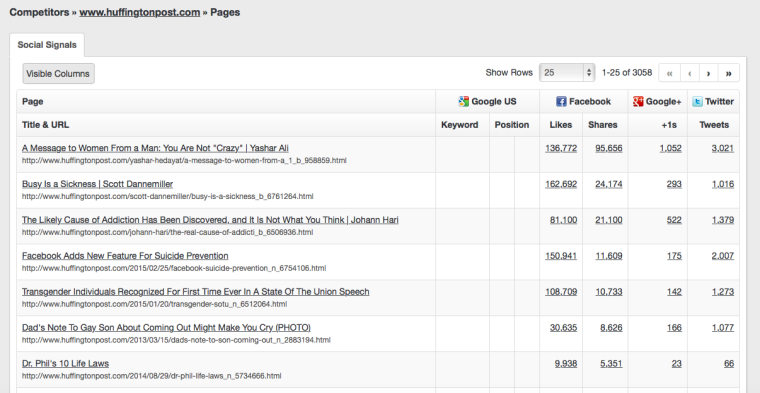 If you're not currently using a competitor discovery feature, consider checking one out this year—it will automate the process of finding new competitors, tracking their top performing keywords, and highlighting their top content across search and social. Besides, you'll want to track any brand that is competing with you for audience share, not just the competitors you're already watching. Using a competitor discovery tool, you'll be getting the larger view—all the content that's competing for your audience's attention. This leads us to our next point…
Discover Peripheral Competitors and Understand Where Your Audience, Traffic, and Content Overlap
Move beyond the "big competitors" to understand the surrounding conversations that could convert your audiences. In addition to the two or three direct competitors that you're already keeping an eye on, look at the peripheral conversations, including other brands that may offer adjacent products, that are taking traffic for your target keywords. Although not all of these sites are considered direct competitors, they may be taking audience share with some great engagement ideas that you can use.
Using the trail running shoe example from before, I can gather ideas about what to engage my audience around beyond just what other shoe manufacturers are saying. Expanding to parks and recreation areas, sports medicine, weather monitoring, and safety tips, I can engage my audience around all the topics related to the sport they're interested in, beyond my own product line. Answering the questions your audience is asking and providing resources for them builds a deeper audience relationship. Joining in on the conversations your audience is already having gives you insight into the topics of greatest importance to your target and inspiration for more relevant content creation, social media reach, and, ultimately, higher conversion rates.
Track Social Engagement for Content by Group
Creating keyword groups based on campaigns, products, features, etc., allows you to segment the keywords and social posts to match those groups and align social media efforts to your marketing needs.
For most of us, we're not just talking about one facet of a single topic all day. There are nuances to our topics that may be as widespread as different product types, features, geographies, or campaigns, or it may simply be the difference between a sales inquiry and a support topic. Either way, you probably have room to group content and keywords by type to match those subgroups.
What this allows you to do, for your content as well as your competitors, is dive into the specific topic group that you're targeting for social and see how people are talking about it, what content is being created, and how it's performing in search and social. You can compare and contrast group performance to determine what's resonating across campaigns, product types, messaging strategies, etc. and then make smarter decisions about resource allocation accordingly.
Update Your Content and Social Engagement to Mirror Changes in Audience Language
We've been talking about monitoring keywords and competitor content to mine for topic ideas to use on social. Beyond monitoring for new ideas, track keywords and content to keep up with the nuanced changes in language your audience undergoes over time.
Popular words and phrases, descriptions of products or features, and general conversation style tend to change over time, and often more quickly than we realize—making it important to stay relevant by speaking to your audience in the same vocabulary they're using. If you notice a sudden drop off in a keyword—before abandoning its importance, see if people are simply referring to the same feature/solution/issue in a different way. Then update your content and social engagement to reflect the new lingo.
Being on top of shifts in terminology and understanding how audiences are referring to their wants and needs makes you a more effective conversationalist and will lead to more conversions.
Vary Your Content Types on All Social Channels
For most of us, it makes sense to post images on Pinterest, videos on YouTube, and text on Twitter—but you don't have to be constrained by these established norms. There are many ways to weave in different content types across social channels to set yourself apart. For instance, consider what we've been talking about with regard to trending topics for your industry. If you notice a keyword or topic is rising in popularity for you and your competitors, consider creating content in multiple formats and mixing up which content is shared on each channel. If you've traditionally left case studies to be sent out via LinkedIn and email, considering linking to them on Twitter, or adding great graphics and post on Pinterest. If you normally post blogs on Twitter, post a video or image, put an ebook on Pinterest, post an infographic on Instagram. Offering people a unique way to consume content on a channel where most of it looks the same can yield surprising results.
Once you discover a popular topic and keyword string, create a variety of assets based on the same keywords, including: blog posts, videos, slide decks, images, webinars, case studies, etc. to engage your audience. Having multiple content formats to share and to engage your audience on social means you'll be able to bring larger amounts of content to each channel as well as use the correct keywords in your posts to attract attention.
If you're not leveraging your search and content data to extend your social media reach, this a great time to start. Using the tips in this article, you can get better engagement with existing audiences and extend to new targets as well. Be sure to measure your efforts and share data with team members who may be working on SEO and content creation tasks—everyone can benefit from understanding the full organic marketing ecosystem.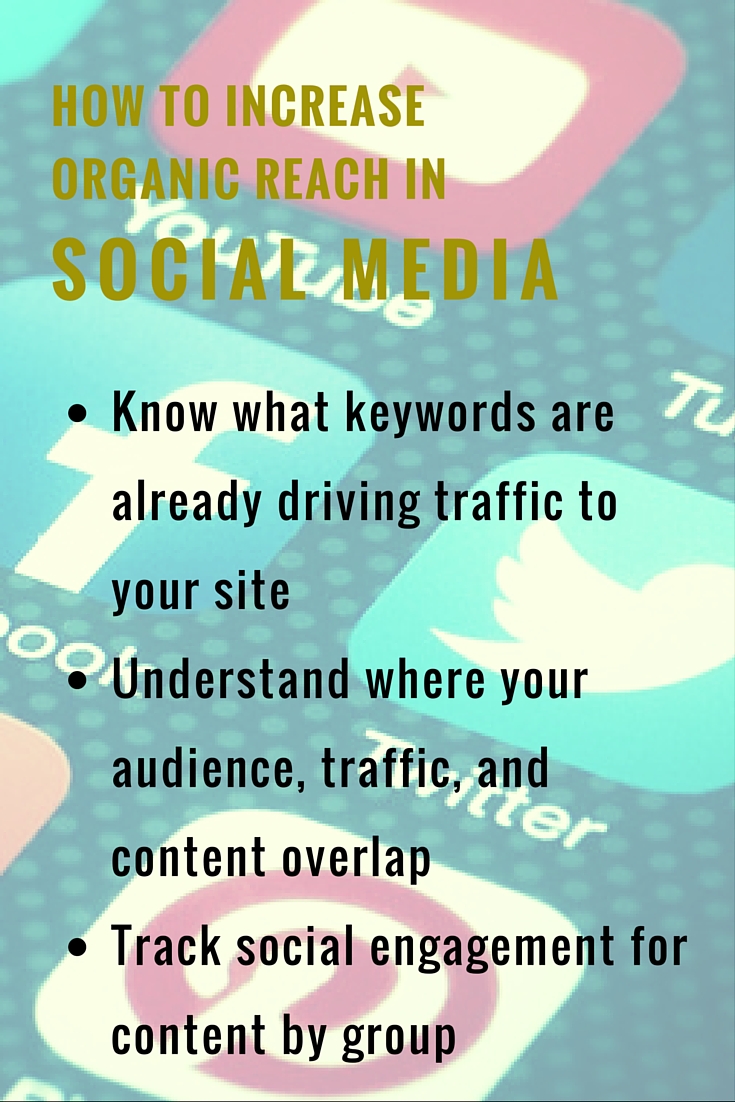 Image Credits
Featured Image: Image by Erin Robbins O'Brien
In-post Photo: Screenshot by Erin Robbin O'Brien. Taken January 2016.