Let's face it. Coming up with share worthy content is difficult. The problem is, everyone else is doing it. Yes, I am talking about your competitors, who are publishing one shareworthy piece after another. If you are finding it difficult to come up with such pieces, you need to ask yourself one important question – "What am I doing wrong?" and follow it up with another one – "How can I come up with share worthy content?"
What you need to do is take a good, hard look at the best content creators in business and do what they are doing. Now, no two content creators think alike, which is the reason why no two pieces of content are the same. But if you dig deep into their content creation strategies, you'll find the methodologies or great content creators are pretty similar.
Here are seven things good content creators do to come up with share worthy content:
1. Ideation
You can't pluck content ideas out of thin air. You need to set aside quite a bit of time for ideation. Your content marketing team needs to brainstorm ideas for your next content piece.
For that to happen, you need to consider:
The questions nobody in your industry is willing to answer.
Controversies in your niche that aren't being discussed.
The way you think your niche will change in the years ahead (this gives rise to thought leadership content).
The conversations happening among your target audience specifically related to your niche.
The kind of content your competitors are pushing out, what is working for them, and more importantly, what isn't.
The latest news in your niche and how these changes can be applied (this allows you to come up with 'how to' articles).
The best creators take time to track the goings-on in their domain. They visit discussion forums, they follow thought leaders, attend webinars, have conversations with their target audience, and do a whole lot more to keep on top of the latest news.
Brainstorming for ideas doesn't come easy. You can't just sit around a table and throw ideas at each other. You need to build awareness of the niche you are writing for, and then set about ideating.
2. Focus on Titles
Back in 2012, Content Marketing Institute published an article that offered a 10-point checklist for coming up with great titles. This checklist is as important today as it was when it was first published.
Once, you come up with an idea you feel has all the makings of share worthy content, you need to come up with a great title. Your titles need to be irresistible and viral. This is important because your content will compete with lots of other content, and a great title will help ensure your target audience clicks on your work.
The best content creators take time to create good titles. The basis of great content is an amazing title – that's what starts its march towards virality.
Take a look at the following titles:
How Do You Become a Better Content Marketer?
And
7 Killer Tips that will See You Rock Content Marketing
There is nothing really wrong with the first title and it gives a very clear indication of what the article is going to talk about, but think very carefully – would you click on it if you see the other title staring at you? Probably not!
That's the magic of a viral title. Of course, a viral title is just the beginning; it needs to be followed by useful, actionable content.
3. Research
A great idea doesn't necessarily mean it will translate into great content. Each piece of content must be backed by great research. You can't afford to come up with thin content; this defeats the purpose of coming up with content altogether. Buffer has an excellent post on the content research process they follow, and it's a must read.
So why is research such an important part of coming up with a share worthy post?
One word – credibility.
If your content doesn't come across as well-researched, it loses all credibility in the minds of your readers.
For example, let's say you've mentioned a set of figures and can't substantiate them with a link to the study that actually quotes these figures. What happens then? Will the reader take your word for it? Of course not! Also, the reader is less likely to share your content with their friends and followers, because they have doubts about the points you made.
Share worthy content = research driven content. With focused research, you will be able to understand the topic you are writing on and approach it confidently. This confidence will come out very strongly in your content, which, incidentally, is a quality appreciated by your readers.
4. Take The Time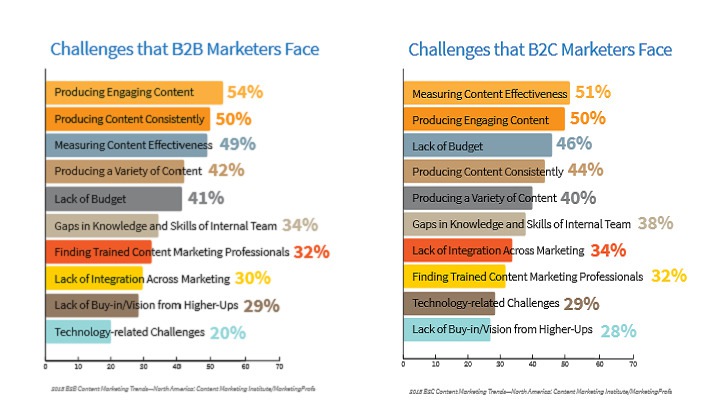 A great piece of content needs a lot of effort and time. Share worthy content isn't fast food. You must offer your target audience a fine dining experience; it will take time to cook up a meal your audience will enjoy.
It's clearly evident, from the two graphs above, that producing engaging content consistently is one of the biggest challenges of B2B and B2C marketers. One of the reasons is they put too much pressure on themselves and the content team to push out content quickly.
Consistency doesn't mean publishing a truckload of content every day. It means publishing content of very high quality with regularity. This takes time.
So, give yourself time to come up with an excellent post on a fantastic idea that is a product of a meaningful brainstorming session. Think about it for a second. Why come up with run of the mill content quickly, when you can spend some time and come up with content that actually gets your audience engaged?
5. Get Feedback
Once the first draft is ready, pass it around. Ask different people from the marketing team to take a look at it, but don't restrict yourself. Why not ask your R&D or even the human resource team to look at the content. Ask them for feedback. What you are essentially doing is trying to get the opinion and suggestions of different stakeholders.
Make no mistake – the whole organization needs to be involved in your content marketing plan. Every department must feel invested in the content in order to get the best advice in respect to content's quality, engagement potential and share-worthiness.
6. Strive for Excellence
Leave nothing to chance and don't take your target audience for granted. Mundane content doesn't get shared, so your job is to create high-quality content that is absolutely unique. It's important to understand your content is going to face stiff competition for grabbing reader eyeballs; it will be competing with the best, and to win it needs to be the best.
7. Take Steps to Improve Visibility
Your content cannot exist in isolation. There is plenty of amazing content out there on the web that is lost or waiting to be discovered because the marketing team didn't do enough to improve its visibility.
Your content creation needs to be complemented with optimal distribution efforts.
So, once you've created content, share the link on Twitter, target influencers and check if they can promote your content on their blog or mention it on their social media profiles. You could even go through various discussion forums and share a link to your article, if you think it can contribute to a discussion or answer a specific question that a user has. In short, leverage your content to the hilt. Your target readers aren't just going to stumble across your content. You need to take steps to ensure your content reaches your audience.
After all, they are only going to share your content if it reaches them.
Conclusion
Truly successful content creators take great pride in their work and feel an innate sense of responsibility towards their readers. This fact helps them come up with exceptional content that is extremely share worthy. Follow the steps above to become one of those top-notch content creators.
Image Credits
Featured Image: Created by author for Search Engine Journal
Screenshot taken April 2015