Staying ahead of upcoming SEO trends will help you plan, budget, strategize, and implement a successful online business. Our industry will continue to build on the buzz and technological advancements around how end users engage with your online content.
With that said, let's take a look at the seven most important SEO trends you should keep an eye on!
1. User Experience & Content Will Blur SEO
Our industry will continue to experience a content explosion. This means that your online content will have more competition, and your audience is going to have less patience for online content with a poor user experience.
Your SEO strategy needs to look beyond just the technical aspect of optimization efforts if you want your online marketing strategy to succeed.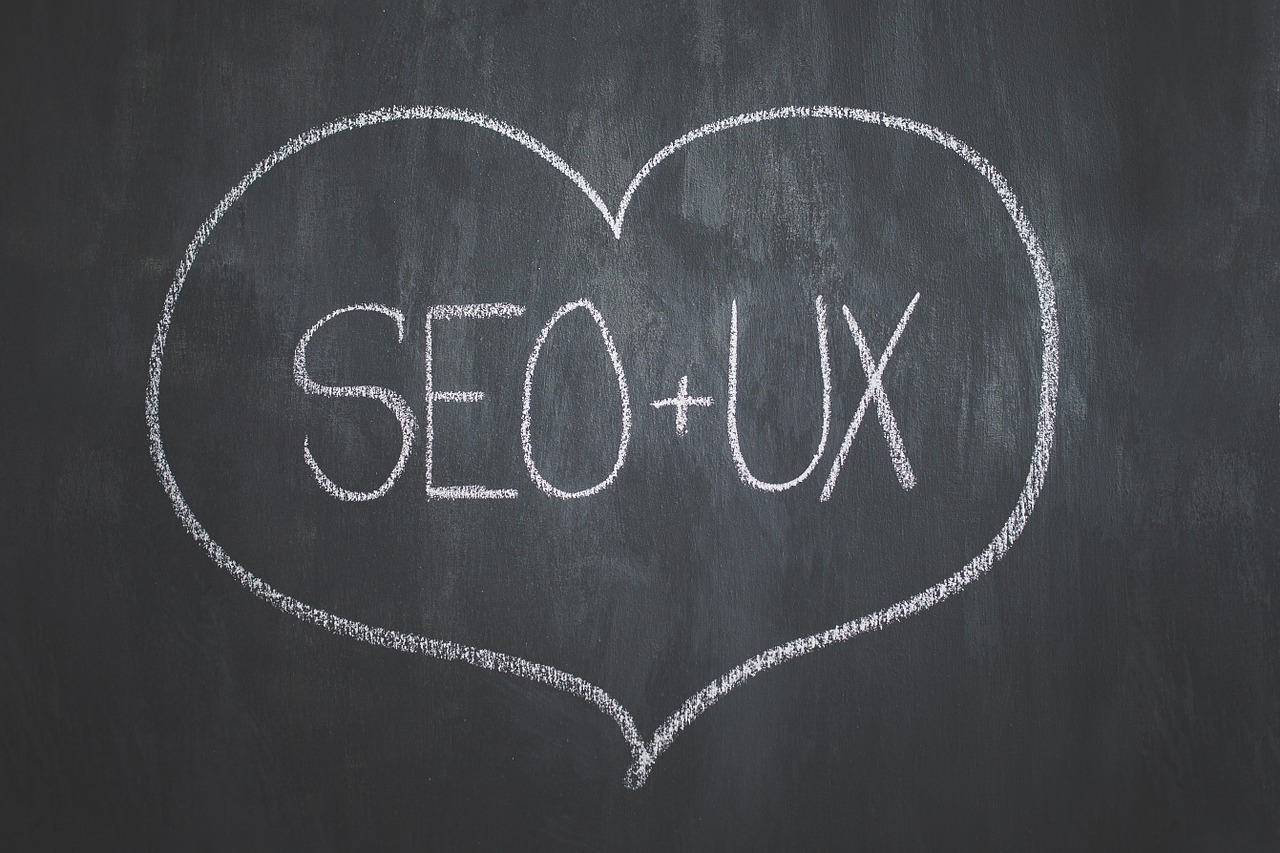 Google has been tweaking their algorithm to prefer online experiences for mobile devices that load quickly and are easy to navigate.
Some ways you can prepare for the upcoming user experience push includes:
Design websites and apps with a mobile-first mind frame.
Websites need to load quickly and reduce resource requirements.
Online content must be easy to navigate, use, and understand.
Since more content will be consumed on mobile, your content must be actionable and relevant to the search query.
Shorter paragraphs with 2-3 sentences. This makes content easier to scan.
Bold important text and ideas to draw the attention of your audience. Plus, when you bold text, you break up the visual appeal of the content.
Align text on the left side of images. Depending on your audience, some countries read from left to right. This will make your content easier to understand and help your audience consume the information.
Understanding the needs and patterns of your customers is the single biggest contribution to profits. It's one thing to drive lots of traffic to your site, but if your content doesn't meet the expectations of your readers, then they will leave in a hurry.
Not only does this hurt metrics like Time On Page, but more importantly, it minimizes conversions and potential revenue.
Finding a way to align your content creation process to meet the needs of your customers will benefit your online marketing strategy. SEOs need to work with their entire marketing team to drive a holistic marketing plan that is focused on the needs of your customer.
2. Optimize for User Intent, Not Just Keyword Volume
I know, I know. You are probably thinking "this guy is crazy because keyword volume is crucial." And you know what?
You are 100% right.
Keyword volume is still an essential component for SEO. However, finding the right keywords are even more important.
You can use advanced tools like Ahrefs to understand what your customers are searching for through keyword research. This keyword research tool provides third-party insight into keyword information that can help your business understand your clients beyond their simple search terms.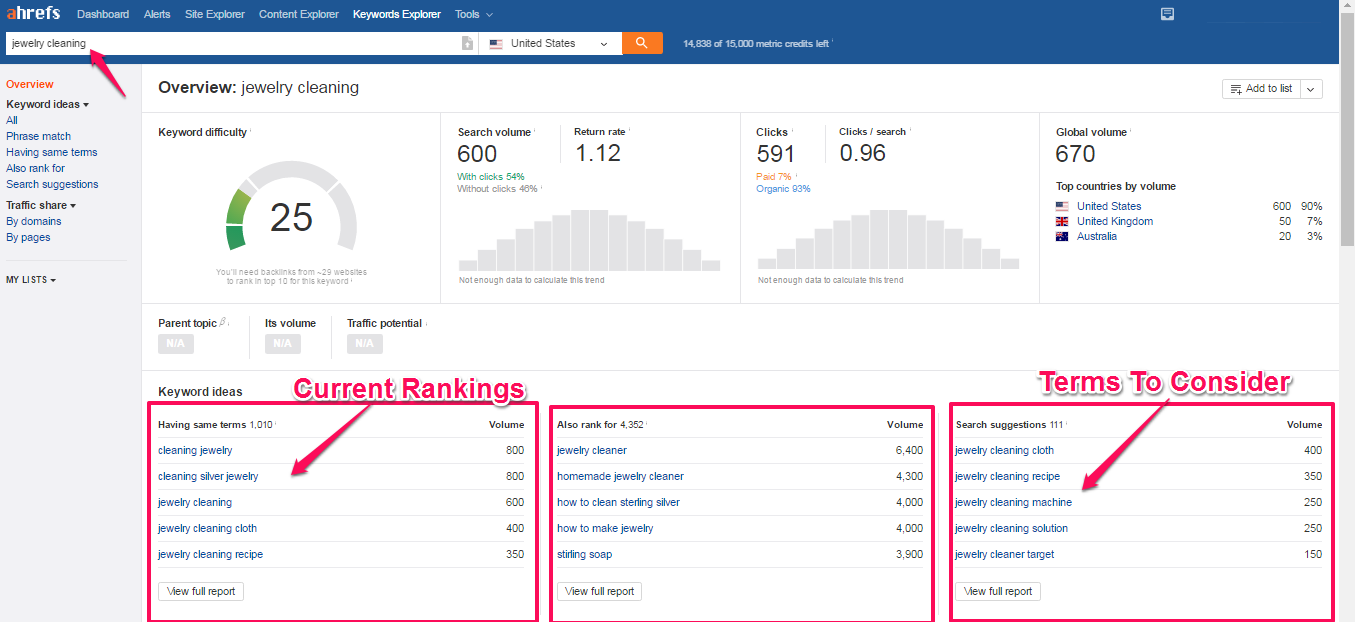 Industry leaders look to user intent to direct their SEO strategy because Google continues to employ skilled programmers and psychologists to understand what people want from their search engine. You won't be able to brute force your content to the top of search rankings anymore, and your SEO campaigns need to adapt to the new user-centric SEO trends.
Google differentiates between the quality and quantity of keyword in your content. Instead of focusing only on the volume of content, you will need to consider the context, historical evidence, and market segmentation of your demographic.
Since consumers know what they are looking for, you can optimize your content around the core needs and problems your target audience experiences. It is your job to build an SEO strategy by knowing what your customers are looking for.
This will allow you to create relevant content that your customers want to read, and as a result, your content will rank higher in Google.
Using long-tail keywords and integrating semantic keywords will help you rank for relevant terms and searches. This approach will help your content stand out in the sea of online content and meet the expectations of your customers.
SEOs will need to work closely with the entire marketing team to align the marketing plan with their SEO strategy. Here are some quick steps you can take to identify, optimize, and build on user intent for your SEO strategy:
Discover: Who is your target audience, and what are they looking for that brings them to your content? What problems do they have, what questions do they ask? How do they consume your content and how can you solve their problems based on your business goals?
Optimize: Once you understand the above questions, you can optimize content in an ongoing fashion. You can gather data from campaigns that are running and make changes to boost ratings and increase quality traffic. This information should contribute to your understanding of your customers and help you improve your customer personas.
Adjust: It is important to be a data-driven for successful marketing strategies. Look beyond traditional analytics to use systems that allow you to see how your customers interact with your content in real-time. Also, focus on User Flow to see how your audience interacts with your content.
3. Voice Search Will Be the Next Search Engine Revolution
Since 2014, voice search has been changing how users find information. Voice search has been shaping SEO, even moreso today. Voice search will like prove to have the biggest impact on your SEO strategy in the coming years.
Voice search is an attractive alternative to manually typing a question because it is more convenient in many situations. The capabilities of voice search will continue to grow in popularity as the quality of results improve. We will continue to move towards interpretation and not just recognition.
The popularity of voice search can't be ignored, and continued work by Google to connect data means that 2017 is going to be a turning year for marketers and SEOs to optimize content beyond keywords.
Here are a few ideas to get your marketing strategy up-to-date:
Update business information for local search capabilities.
Improve your FAQ pages to include common questions and long-tail keywords. This will help your business appear when specific questions are asked through voice search.
Optimize Schema and microdata to provide additional context to your content beyond personal read information.
While SEO is still very much a text-driven world, it is vital to optimize your content for upcoming trends like voice search.
As mobile devices continue to define how we engage with online content, your business can take steps now while voice search technology is in its infancy to position your brand for future success!
4. Local Search Will Grow in a Big Way
Local SEO is still crucial for many small and medium-sized businesses. If your company wants to attract more qualified traffic and boost your sales, then you can't go wrong by focusing on local SEO strategies.
It is no secret that more searchers are turning to their mobile devices to access online content. As more people use their mobile devices to retrieve information, they are also searching for information about local businesses.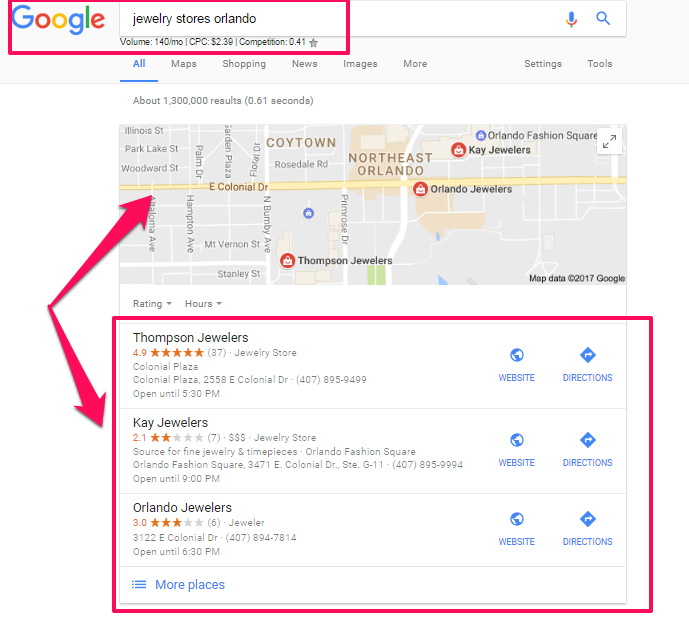 The key strategy to succeed in local SEO is to target your optimization efforts for a particular group of people in a specific geographic area. Google, Bing, Facebook, and Yelp are working to make online search a personal experience.
If your business wants to take advantage of local SEO trends, you need to take measured steps to ensure dominance of your local market.
Set up your Google My Business account.
Optimize landing pages with long-tail keywords that include content with local keyword data.
Ensure your name, address, phone number, and other contact information are updated across your site.
Provide accurate geographic Schema information. The Local Business section (http://schema.org/LocalBusiness) on Schema.org has templates and categories you can use for your business.
Write content relevant to residents. Since you are a local business, you can show your thought leadership for the area by connecting the unique needs of your community to your business.
Participate in local events and focus on local PR strategies. Since local news sources have a limited geographic reach, your business will find increased relevancy through local news outlets.
Focus on local link building campaigns. This will keep your business name centered around your geolocation, and help search engines understand the context of your content.
Increase legitimate reviews from customers on Google and Yelp. These not only provide social proof, but they also help search engines understand the quality and relevancy of your services based on a particular search query.
5. Cross-channel Marketing Strategies
Your audience looks for content throughout the day. The days of desktop computers are over, and with the rise of mobile devices, you can optimize your content for consumption on different devices.
If you want to grow your online presence with cross-channel marketing, you will need to focus on more than one platform. Some of the valuable channels you can look to for a multi-channel marketing strategy include:
Email
Social Media
Paid Search (PPC, Paid Social, Display, etc.)
Mobile App Integration
Content Marketing (Webinars, Blog Posts, Whitepapers, etc.)
Once you understand what your customers are looking for and how they find that information, you will be able to optimize the overall experience of consuming your content. Knowing where your customers drop off the client's journey will help you make better content suited for their needs and devices used to engage with your brand.
This likely will prove that the only way to reach your audience is to offer specific content based on the device, consumption patterns, and user intent.
6. Rise of "Dense" Content
The online community is getting sick of reading short, fluffy content that lacks sustenance. While BuzzFeed and other news outlets have built their success on bite-sized content, there is a shift towards longer pieces of "epic" content.
However, as mobile consumption increases, I believe online searches will benefit from denser content. The length of content will mean less than the quality and ease of use on mobile devices.
You can take advantage of dense content by focusing on solutions and then build content in a simple and approachable fashion.
It's easy to draw out ideas and explanations for the sake of increasing word count, but there are several ways to make your content more relevant while also limiting the length:
Use shorter paragraphs to improve readability on mobile devices.
Unless it is necessary, you should remove technical jargon. These types of words only slow down your readers and limit their ability to interpret your content.
Include information from expert partners in your field. Leveraging insight from other industry leaders will benefit your audience, while also strengthening your brand and marketing strategy at the same time.
Use Table of Contents and other mobile-friendly tools to assist readers to get to desired information quickly without having to read through content that does not matter to them.
When planning content, build an experience unique for mobile users. This might include accordions and other elements that organize content in a more concise manner for a mobile device.
Creating concise content that is easy for your audience to understand will reduce the amount of content needed to communicate your idea. Choosing the right medium to share that message is important too, and these factors decide on the quality and value of your content.
7. Personal Branding Will Drive Business SEO Strategy
People are social creatures who value a connection beyond the economic benefits your business provides.
Personal branding has been an influential strategy for many online businesses, but this is going to be the year when personal branding establishes itself as a core piece of SEO.
Today, your customers want personalized content that connects with them on an emotional level. Instead of relying on generic content that sounds robotic, your business needs to produce content that includes emotion and personable traits to make your content rank better in search engines.
A personal brand allows you to make your content more attractive, so you can connect with people on social media and drive them to your website for more interactions.
You can also embed personalized appeal in your content on various pages like your About Us page, FAQs, and of course, customer support content.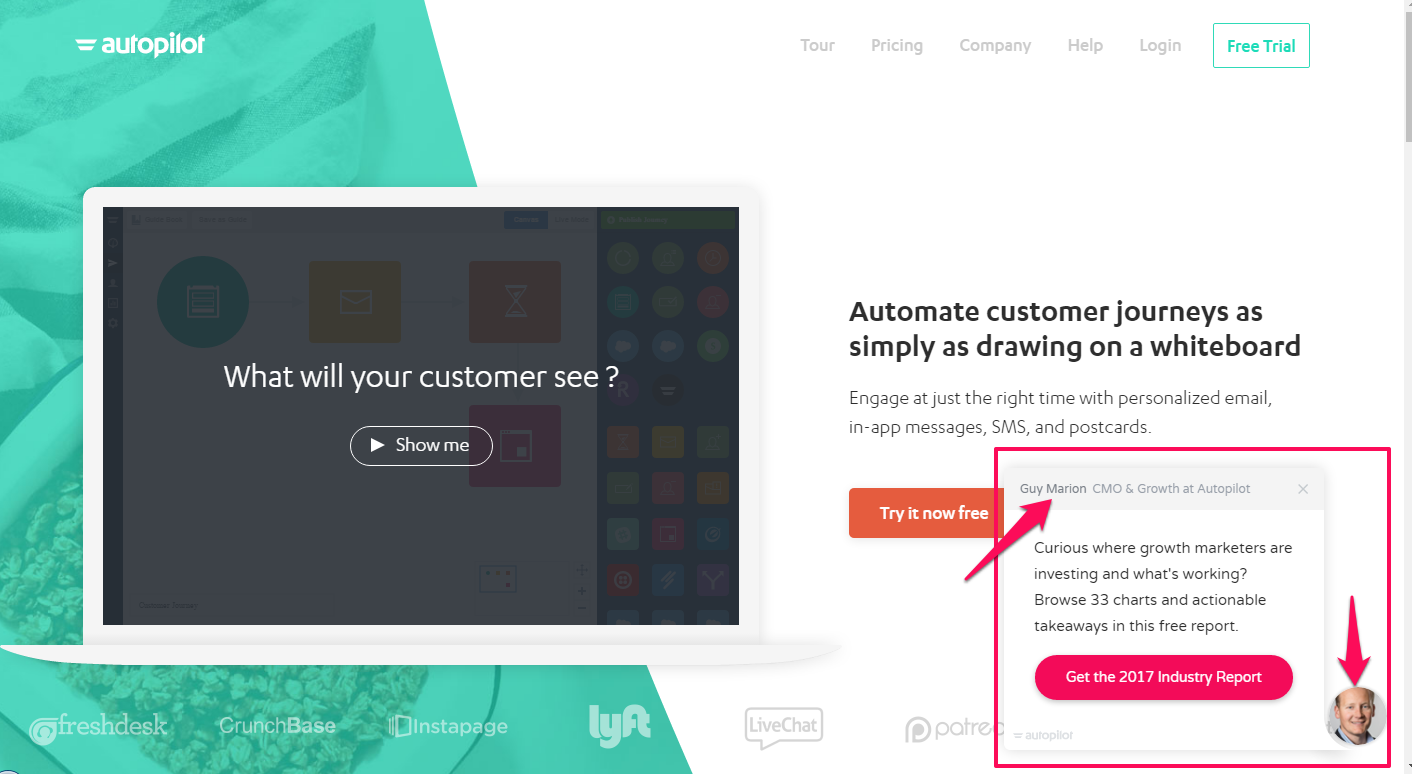 Showing your personal brand in your content will also help your business increase your online footprint with a better backlink strategy. If you want to grow your search engine rankings, focus on building quality backlinks from reputable sources.
One way I have been successful in this area is by reaching out to relevant websites to share my personal brand and knowledge.
Since your market is getting more competitive, your business needs to use every tool at its disposal to attract and convert your audience. Presenting your online audience with personal brands helps establish trust and makes your entire company look more human.
Putting the Pieces Together
As you continue to optimize your online presence, be sure to take all the above SEO trends into consideration. How your customers are searching and consuming content is changing, so you need to change how you create and optimize content for them. Use the above tips to ensure that your SEO strategy continues to run strong!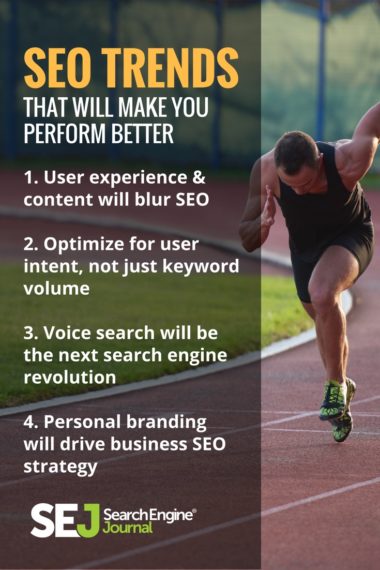 Image Credits
Featured Image: WDnetStudio/Pixabay
In-Post Photo #1: Pixabay
Screenshots by Chris Giarratana. February 2017