Some brands are inherently sexy, like the Ford Mustang.
The name evokes an immediate feeling of caution-to-the-wind youth and speed. Even though it's been around for ages, Ford does a pretty good job of keeping the Mustang image fresh and current. There's a lot of material to work with: history, style, engineering, innovation (not to mention that it's a sports car).
Sadly, we don't all write content for Ford's Mustang. Most brands are pretty darn boring. Marketers are called on to create compelling stories for things like toilet paper or tile grout and for companies that rent out heavy equipment or manufacture parts that go inside other products.
How do you work with that? And how do you convince an old-school CEO that the company's story is worth telling?
Creating a great story means digging right into the heart of what makes a company or a product special. Here are some examples of brands big and small making it happen.
Speak the Native Language
Getting inside the mind of your customers is practically the mantra of marketing, and it's all about listening, pain points, and knowing how to work your data.
While most companies were busy looking at demographics, Duluth Trading Company® really listened to its customers. Their story is about hard-working, blue-collar men and women who buy American and work jobs that require comfort. They built their astoundingly unfashionable clothing line on features like comfy crouch gusset that give the boys room to breathe. Let me repeat that. Crouch gusset.
The language they use on the website, in their advertising, and on their social media accounts is consistently funny, down-to-earth, and just a little salty without being obscene.

Getting the language right is going to take dedicated listening. You'll need to find consumer pain points and address them in the same language your customers use. Duluth Trading also sells tees shirts with longer tails to cover plumber's crack. Their brand story is authenticity.
If you're not gathering data in a feature-centric CRM with social media integration, consider making a switch. It will help you organize and segment your customer list, analyze their pain points and learn to speak the language. Deep understanding of your customers will help you build an authentic story.
Use Humor to Approach Delicate Subjects
While few products have less sex appeal than toilet paper, Charmin really manages to own it. Rather than sidestep the issue, they use funny tweets and cartoon images to make shameless skidmark and bear butt jokes, and even Homeland Security gets a tongue-in-cheek jab when an agent checks Daddy bear's behind for cleanliness (ewwww).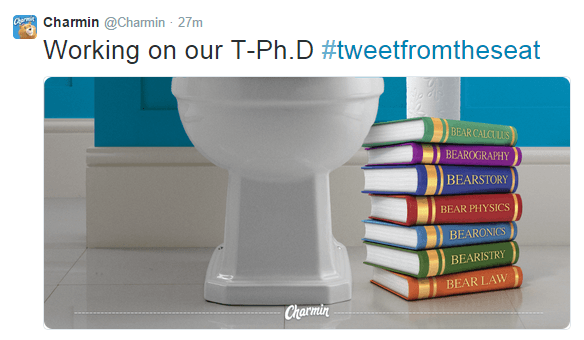 Poop humor is a far cry from hapless Mr. Whipple, who could never resist squeezing his own Charmin, but it works in today's market. The underlying story is one of product quality and function, with a side of sheer creature comfort.
Humor is a universal language. Companies that take a lighthearted approach create a positive, inviting impression.
Can a small brand create buzz with humor? Eau Gallie Veterinary Hospital in Melbourne, Florida, created a viral sensation with clever signs, and social media is still laughing about it.
Create a New Story
Giving back to the community, participating in disaster relief efforts, or hiring returning veterans are all opportunities to create buzz around a brand. For companies struggling to overcome a negative image, invest in brand recognition, or simply make their brand more interesting, building a humanitarian event around their brand is a great start.
When you think about natural disasters, help in the form of basic necessities comes to mind. Water, food, and blankets top the list. So when Tide outfitted a truck 32 with washers and dryers and drove to areas affected by hurricane Katrina, the effort was both novel and welcome. Since then, Tide rolls to help out during every major disaster and part of the proceeds from yellow-cap Tide goes to disaster relief. Let's face it. Laundry is boring. But the Tide Loads of Hope story is something we can all relate to.
Creating your story doesn't have to be on such a large-scale. Local businesses can hold food or toy drives, collect school supplies for teachers or fill backpacks for children in need. Getting involved in the needs of your community is a great way to show customers you are caring and trustworthy…the kind of company they want to do business with. That's great storytelling for any company.
Make Your Customers the Stars
Telling customer stories is a great way to connect and create buzz. Soap isn't very exciting, but Dove makes an impact by taking a stand on real beauty, showcasing average-looking women in all their glory. Ten years have elapsed since the beginning of the award-winning Real Beauty campaign, and Dove has expanded the idea to include men…and their stories.
Giving your customers the spotlight is easy. Ask them to submit stories, photos, or videos featuring your product, and then share their stories on social media. By showcasing your customers, you build good will and get the benefit of their reach.
Project Walk Orlando is a tiny non-profit business operating on a shoestring. They use social media in the smartest possible way by spotlighting clients and inviting you to watch them progress. Their active social presence, newsletter, and website all feature the tribulations and successes of patients learning to walk again following spinal injuries.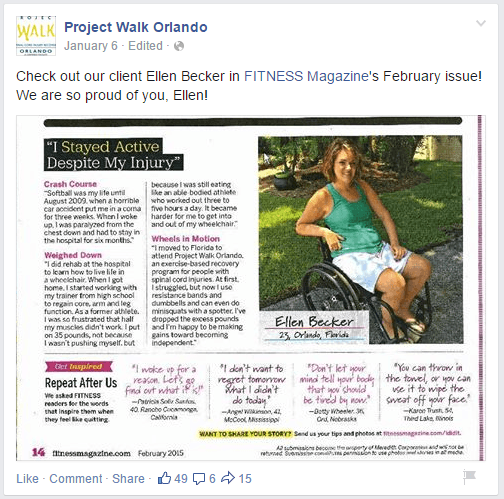 The story of their clients is also Project Walk Orlando's story, and solid reputation built on caring for every client has helped the organization grow exponentially over the last few years.
Treat Your Employees Right
Your brand story may be about taking care of your employees. Costco has a great reputation for high pay, great benefits, and respect for its workforce. What's more, it's a low price store with big profits. And that's their story. Happy workers make for happy customers.
Costco cuts corners by limiting choices, cross-training employees for multiple roles, running few promotions, and limiting waste. Efficiency allows them to pay a full 40% more than most of the store's competitors and still make a healthy profit.
Great brand storytelling is not limited to product, or company, or even to the people running the company. Brand stories are about how the product affects the lives of its customers. About a company that cares for its employees, the community, and the world in general. Think beyond an uninspiring product or an uneventful history to an emotional connection from your brand to your audience.
Image Credits
Header image by brilliant cartoonist Tom Fishburne
All screenshots taken February 2015