I love to travel. A lot. Which means I put a good deal of thought into striking the perfect balance between "I have five suitcases and have to pay $300 in checked luggage fees." and "Holy crap, I only brought one pair of shoes."
With Vegas just a few short days away, I decided to give you a look into my Pubcon suitcase – including some essentials you might not have thought to pack.
Power Strip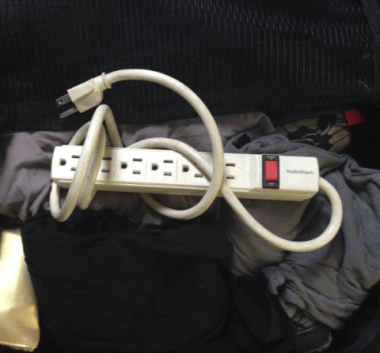 Kelsey and I are rooming together and I really want to avoid a power struggle over the power outlets. (See what I did there?) The extra outlets should also come in handy at the convention center. Who's got two thumbs, a power strip, and a few new best friends? This girl.
Multiple Pairs of Shoes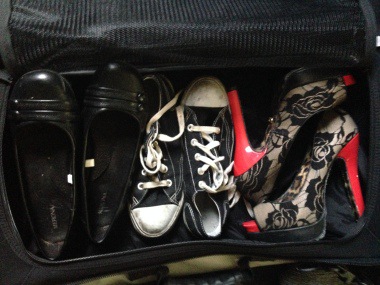 This isn't about fashion. This is about standing and walking for hours on end. This is about shoving my swollen feet back into the same shoes two days in a row. Ouch. After bartending for 10 years, I know the value of swapping out shoes. (The Betsy Johnson heels…well those might be about fashion.)
Snacks
Being hungry sucks. Having to smile and talk to people while you just want to stuff your face sucks even worse. Snacks will be a savior during those times when we eat dinner really late or I don't have time to grab breakfast.
Wired Mouse
I expect to be working (at least a little!) on my laptop while at Pubcon, and the trackpad makes it hard to highlight, copy, and, paste when I am editing. Seems insignificant, but my mouse makes life a lot easier on the road. Definitely worth the space in my bag.
I take this bad boy everywhere, and it should really come in handy in Vegas. As a Floridian, I am used to an extremely humid climate, so I expect the dry Vegas air to hit me pretty hard. The built-in filter makes all water tastes like bottled water, so I won't spend a ton of money staying hydrated.
The SEJ Pubcon Survival Guide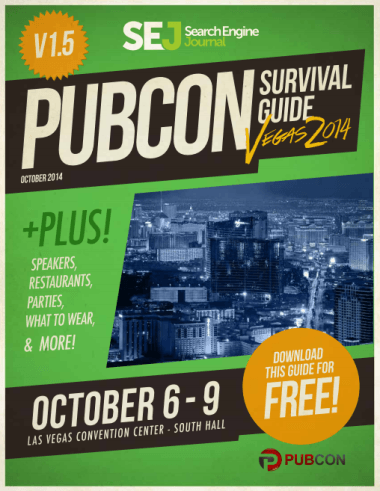 This is a must-have item! Sure, I might be a little biased, since our team did put this fantastic e-book together. Our guide has all the vital info you need to get around Vegas – including restaurants, a map of TI, a list of important Pubcon sessions, and tons of #ProTips. Plus, it is free and easy to download – which means you won't have to struggle with overwhelmed wi-fi at the conference.
Are you ready for Pubcon? Are there any items you would add to my list? Feel free to share them in the comments below.