Domain extensions are not just for your website anymore. They represent and provide an online connection for a company or individual, a marketing campaign, a tracking device, a delivery device, and redirection from one to another. Domain extensions can be many things.
Have you tried to register a domain name and found that it is not available? Let me rephrase, are you trying to register a .COM/.NET domain and finding they are already registered? Also probably a ton of other extensions, too right?
Do you have a handful of "project" domains you have not used? Maybe it is time to get creative with all of those domains. Over the years, I've had the pleasure of playing in the domain market and have seen some pretty clever uses and alternatives when you can't get the one you want. Remember these are just starting points for ideas.
Geo Domains
Recently I was speaking with a friend, Joseph Peterson, who is a Branding Consultant and Domain Investor, about this article on alternative domain strategies. He summarized my thoughts exactly.
"We expect domains to act as website names, home addresses for brands online. Bank of America is found at BankofAmerica.com; and that's that, right? Actually, there's more. Type in Loans.com, and you'll find a specialized landing page – also for Bank of America. In fact, that single company owns upwards of 13,500 domain names. International companies can segment their audience by country or language and build local credibility using .AU for Australia, .CA for Canada, .UK for the UK, or even .ES and .FR for a Spanish or French version of their website."
My suggestion is that you really need to think out all options and the long-term goals more when getting started.
Vanity Domains
If you are in the market and already have equity value in your current domain extension, consider a vanity. These are much like a custom license plate. The purpose can be to express individuality of the person on whose behalf it is registered.
Alternative Domain Extensions
Much like domain hacking it's a good idea to consider other domain extensions. With the release of many new TLD's (top-level domains) in the past few years there is opportunity to gain some traction. In fact there could be over 1,300 new "strings" available in the next few years. Some examples are .NINJA, .TRAVEL and .CLUB.
Some things to keep in mind
Legal: Make sure no one else has their name attached to it already. At Uspto.gov, you can search Trademarks and see if there are any filed, in application, pending, issued or in dispute.
Relevant: It should speak of what you are or what you do, in some way, shape or form.
Short: The shorter the better. Try to avoid dashes too unless necessary and relevant.
Simplicity: Get the ideas down on paper and talk to friends, family and people to get opinions. One simple way is to send out a survey and analyze that feedback. If they don't really get your "get" idea, then chances are most will not either.
Social Networks: Are the Twitter and Instagram handle available for your star domain?
Unambiguous: Ask some people to say it and spell it back to you.
Trendy or Timeless: which category does the domain fit in?
Try to use keywords and look natural. For example, if you are a Detroit legal firm you could use the name Detroit.attorney as it may be more brandable and natural looking. Same with Detroit.agency. Any links you may get could look more natural to search engines which is a good thing.
Alternative Websites
Many domain extensions don't necessary need to go to an actual personal website. An option would be to point them over to you blog or social media account. In fact, I've seen strategies where a company had popular social channels and devised a naming convention to their main domain name. Example: NAMEmusic.com forwarding to their Soundcloud account, NAMEtweet.com forwarding to their Twitter account and NAMEface.com forwarding to their Facebook account. This could be done in a number of creative ways and useful for certain industries, markets, and, of course, advertising mediums. You have probably seen this used before as well in promotions for companies for a contest or specific promotion to drive the public to a specific site online while maintain branding and a funnel to a goal.
Domain "Hacking
One of my favorite go-to starting points when I cannot get the domain I want or need ideas is XONA's tool on domain hacks. This tool allows you to type in a word or phrase then presents to you various options for a number of domain extensions and sub domain suggestions.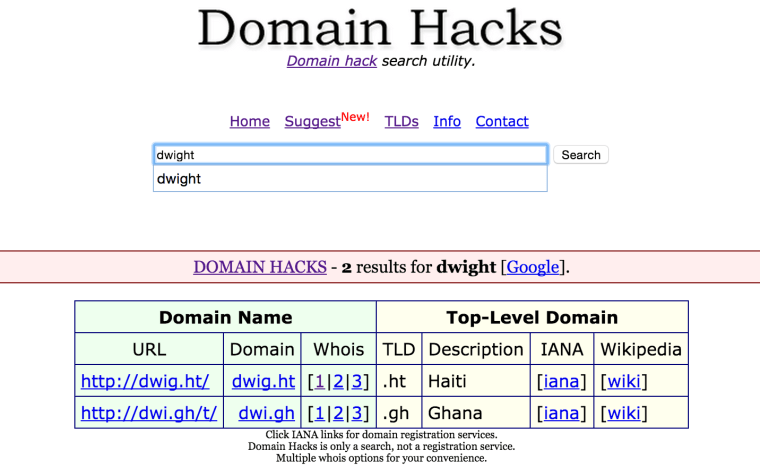 They also provide email hacks as well. As you can see above that while Dwight.com is taken, another option would be to use Dwig.ht which would be registering the Haiti country extension. Remember that some countries and extensions have very specific registration regulations so you need to do your homework.
Company/Brand Domain
Consider the company and brand names and maybe even consider applying for your own company extension if you have the funding available. I cannot speak to the application process, as I've only experienced this second-hand. There is a wealth of information, articles, and videos available over at ICANN.
Subdomains
These can be helpful when you are considering making specific sites as a part of a domain. Examples would be shoes.nike.com, store.nike.com, and clothing.nike.com.
Conclusion
Whichever options you choose, it is not hard to come up with alternative uses for a domain name or extension with some creativity. Take ample time and explore all options based on your long-term goals. With a proper plan, you can cover all your bases and be more aware of potential upside and pitfalls, giving you the ability to have a Plan B, C, and D.
Images via author.