How do you compare against your competitors?
That is never an easy question to answer.
Whether you realize it or not, competition is a good thing. It pushes you to expand and become better. But, competition is a business catalyst only if you know how to approach competitive research properly.
Have you ever wondered how your favorite tools compare to their alternatives? Are you sure you are using the software that best fits your needs? Do you have a great tool idea to build and you are not sure what the competition looks like?
There are a few tools and tricks that can answer all of these questions:
Google Search and Suggest
Google search is an obvious top choice here. We always start there and it never fails to work. Type almost any brand name into the search box and chances are, one of the more popular suggestions will be "… alternatives" (That's probably happening to your brand too, so go ahead and see what is there).
However Google Suggest is also a great (or even better) source of that data. Type [Brand Name vs] and here you go: A good list of most popular alternatives ranked by how often people search for them: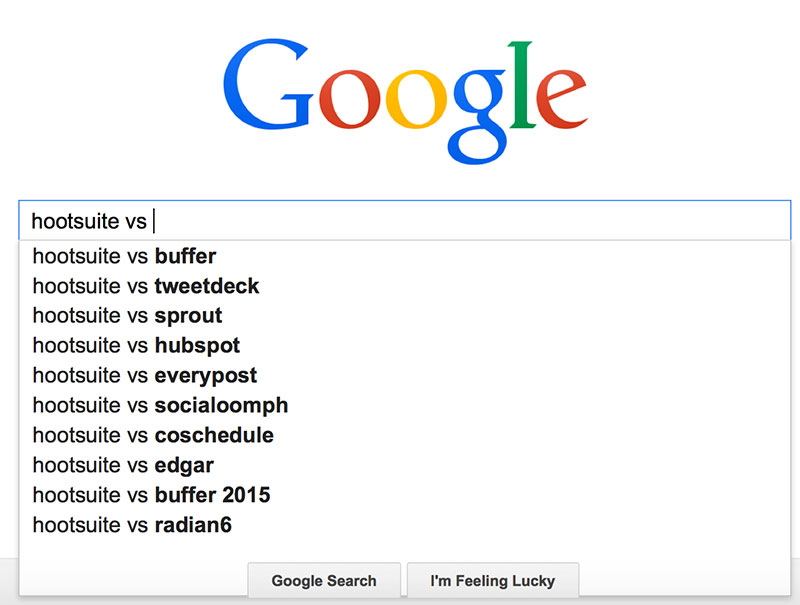 I recommend you go one step further and use this tool from SEO Chat to run this search for every letter of the alphabet and in four search engines (Google, Bing, YouTube, Amazon) at once: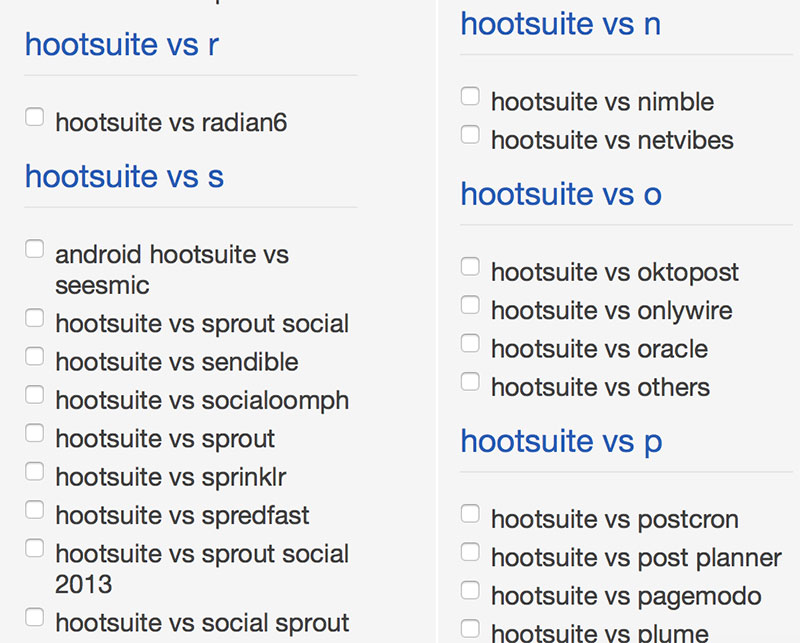 Now that you have discovered alternatives, make sure you search to find the actual comparison and reviews. Blogger reviews will give you loads of competitive data to go through and compare details you might not think of. Remember, comparisons come in all forms, including videos and infographics. Here's a great example: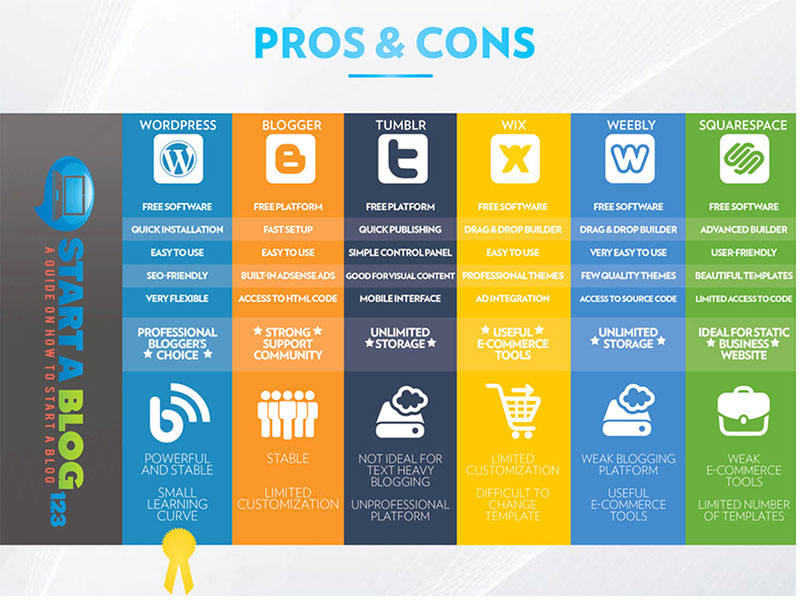 Here's another great example: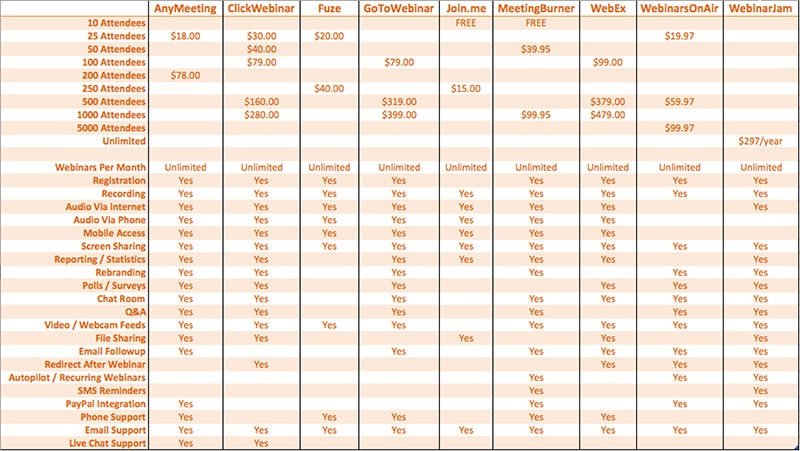 Competitive research using blogger reviews is great for outreach strategy too: If you come up with the product that solves some issues in the chart above, you are almost guaranteed to get a review or mention from that blogger!
G2Crowd
G2Crowd is the "Yelp" for software. It collects unbiased reviews from verified users and presents them in a very clear, searchable format. What's more important, it's also a discover and comparison search engine.
Take a look at "social media management" category for example: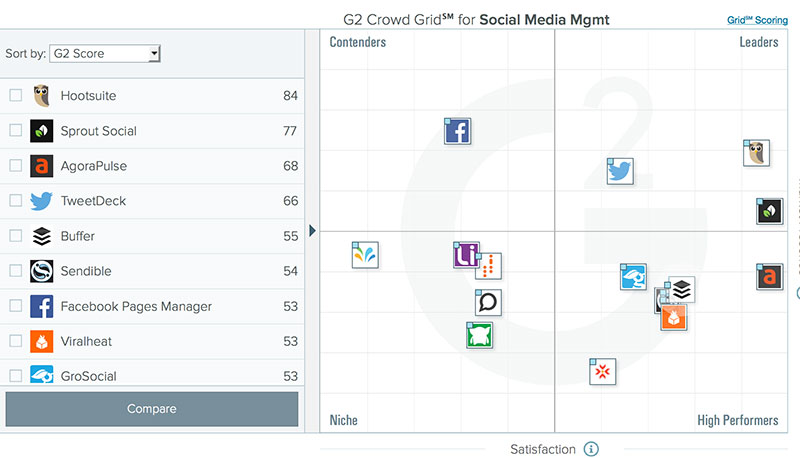 Here you can see the major players in that sector visualized in a Satisfaction versus Market Presence graph. All the tools are ranked based on the G2 Score:
G2 Crowd rates products and vendors based on ratings and reviews gathered from our user community, as well as data aggregated from online sources and social networks
Checking any boxes in the left-hand column lets you compare the selected software: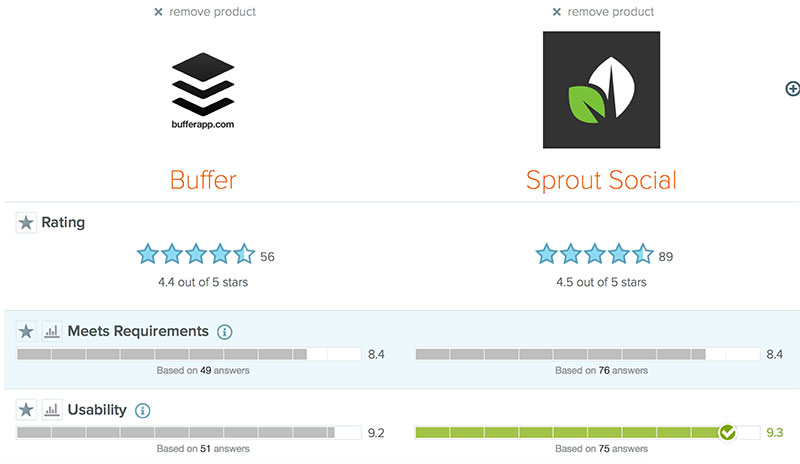 Notice how in-depth and multi-layered the comparison is. You can compare the two apps based on Demographics, Pricing and Terms, Reviewers' Roles and Experience, User Adoption and ROI, specific social management tasks they implement: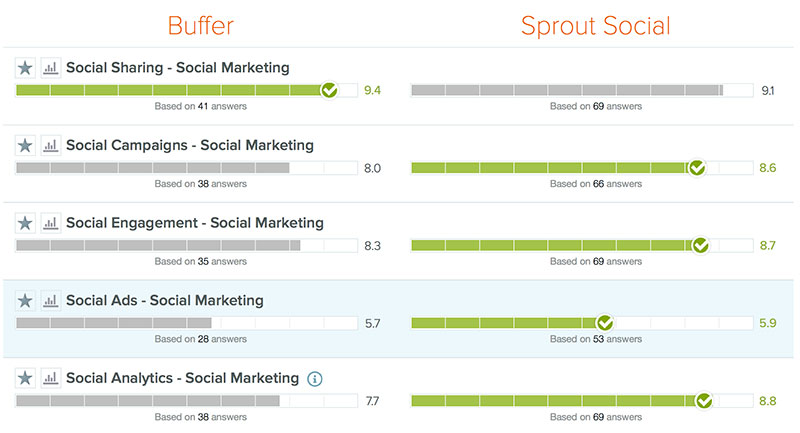 Back to the main grid, you are also able to see what is most frequently compared to what within that category which gives you a good clue as to which tools tend to be closer alternatives: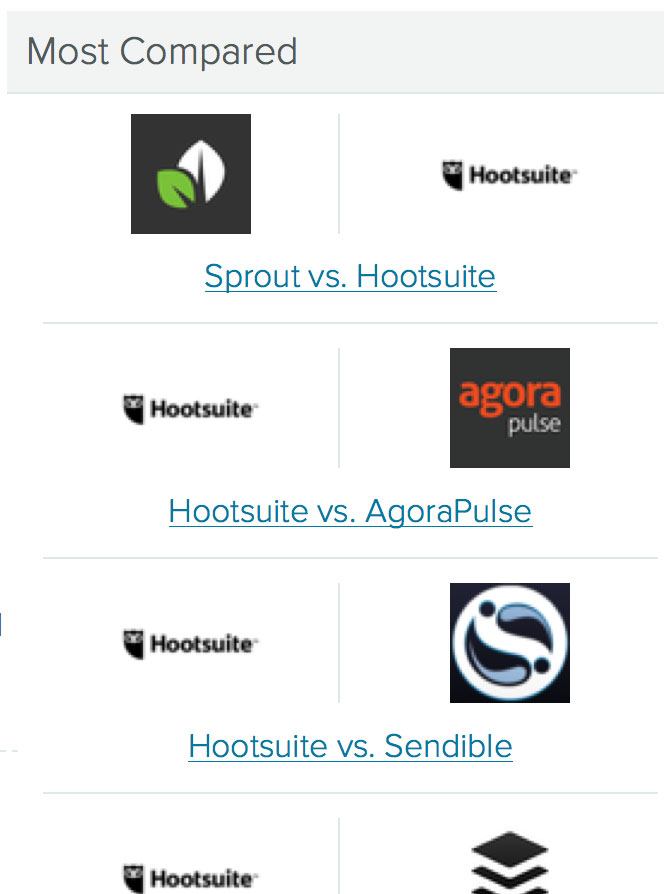 G2Crowd lets you discover new tools and sites by showing you most popular comparison data showing which sets of tools tend to be compared more often with each other.
Now if I were planning to develop a social media management app, imagine how useful this free research could be for me. Similarly, if I were a company with no clue which social media management software best suits my needs, I'd have all my questions answered here!
DiscoverCloud
DiscoverCloud collects reviews of B2B software. I really like their search filters allowing you to see tools based on the category (naturally), customer type (freelancers, enterprise, small business, startup, agency), integrated products (e.g. Amazon, Evernote, Zendesk, Zoho, etc), pricing types (free, freemium, monthly subscription, etc).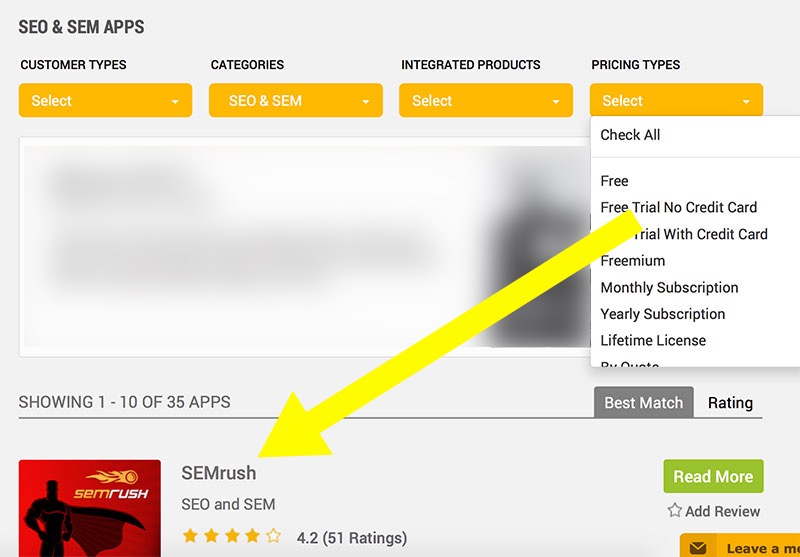 Each individual product page lists multiple alternatives (I couldn't figure how those alternatives are selected but the alternatives are on-spot) and you can compare your current product with any of those by clicking "Compare" (you can compare up to three products max):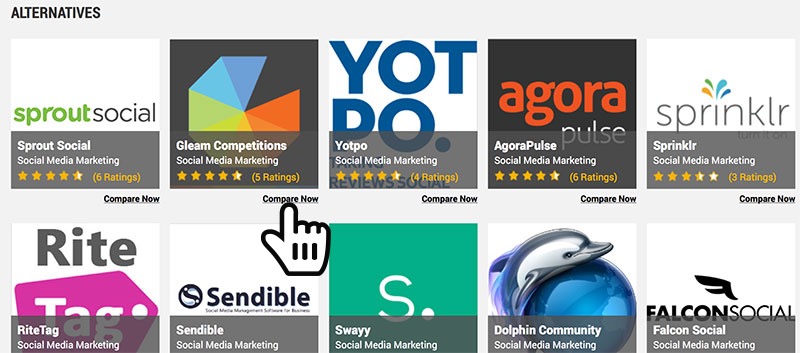 The comparison is a very handy grid showing reviews, customer type, integrated products, and pricing types head-to-head: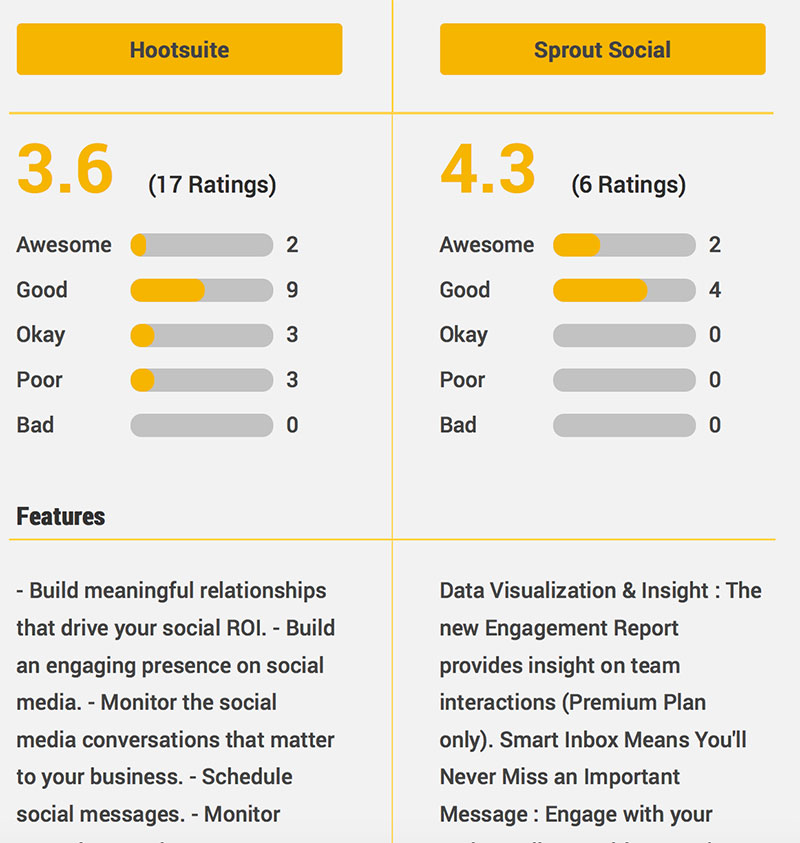 To discover alternative tools, open the one you are looking to replace at DiscoverCloud and click "Alternatives" tab.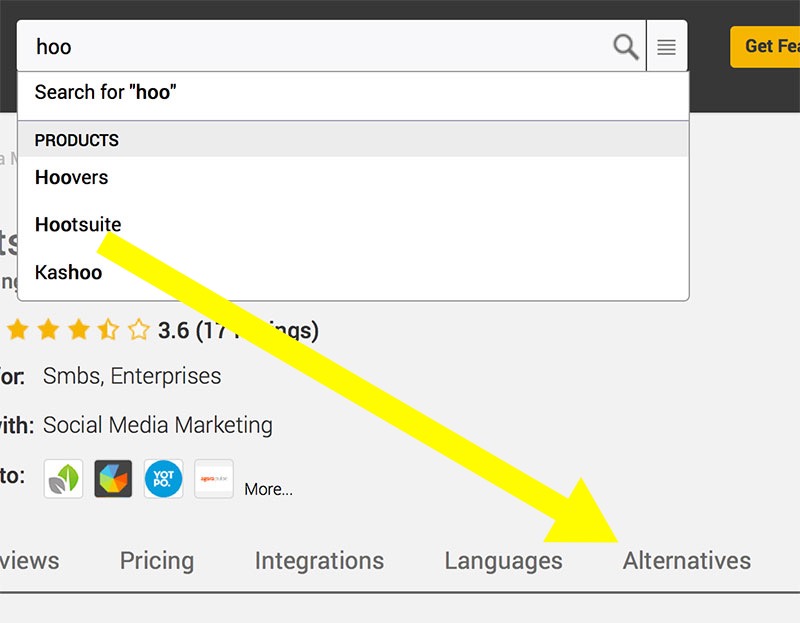 SimilarWeb
SimilarWeb offers a solid traffic and exposure analysis on any site they have in their index. The more important part for us is "Similar sites" section:

SimilarWeb uses a combination of factors to determine similar sites:
The ability to return a list of related websites according to a specific website or topic was SimilarWeb's first breakthrough. Search engines will return websites based on a specific query, but will not recognize that users who visit NBA.com would also find relevant content on ESPN's website. The similarity system is based on a number of inputs including website structure, link analysis, user surfing behavior and a large community of user rankings (source).
SimilarWeb also offers a FireFox plugin and the Chrome Extension letting you discover alternative sites very easily.
E-Commerce Comparison Tools
Comparison shopping search engines have been around for a while but it used to be an optional marketing component. If you could afford to be a low-price player in your industry, being listed there was going to be a great thing. However, of you were not willing to match the lower price offers, you could just skip it.
The recent trends clearly show it's not going to be as easy and straightforward as it used to be:
Google Compare making it into search results is a good sign that Google is going into the comparison business. There's no reason to assume they will stop at insurance companies.
With comparison search engines evolving beyond price comparison, not paying attention means you are missing a great market where you could stand out
This infographic by Godatafeed gives a solid overview of the most recent and innovative shopping comparison tools: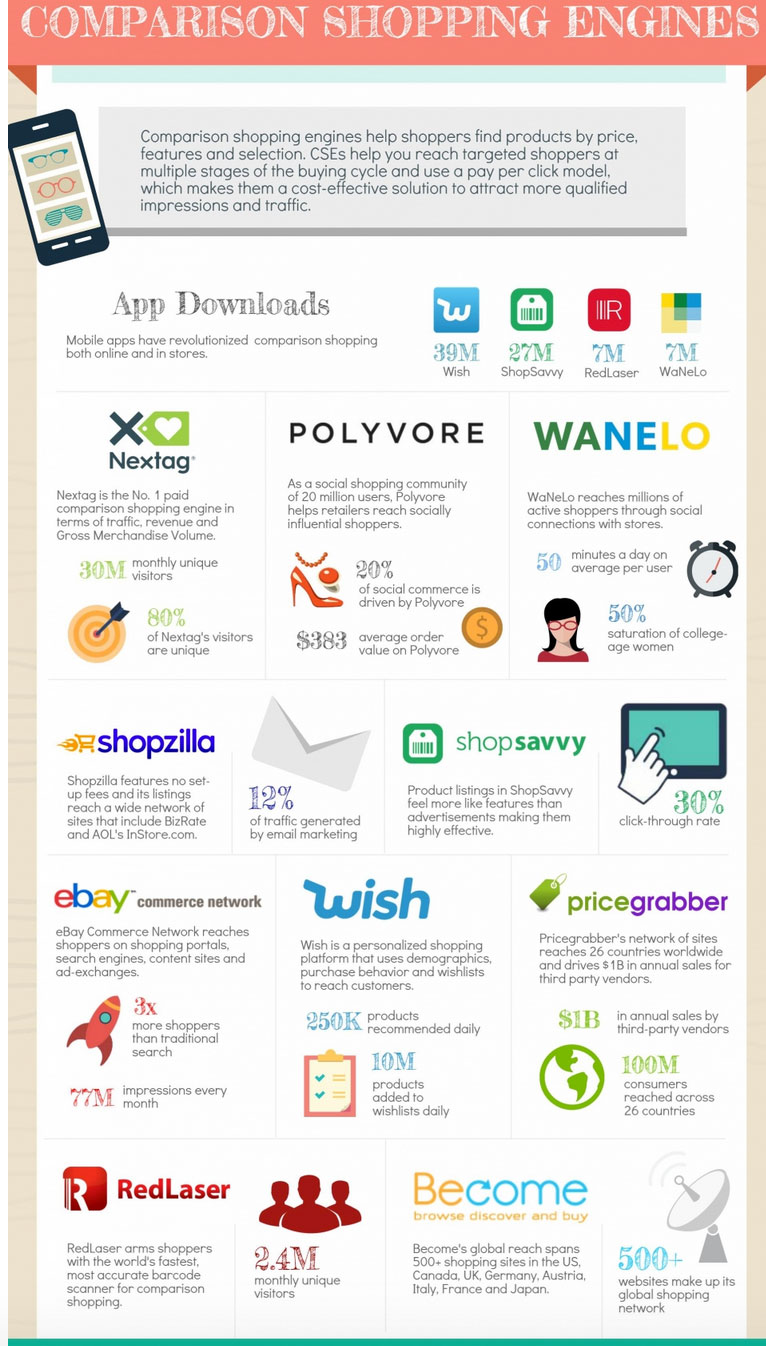 Conclusion
The Internet gives us lots of possibilities, but it also opens up those same possibilities to our competitors who may be smarter and faster than we are. You are already being compared online, the question is – is your business is ready to be compared? These tools give you tons of data to use to discover your competitive advantage.
Image Credits
Featured Image: Created by author for SEJ via Smart Photostock
All screenshots taken May 2015