I love Pinterest.
I can't help it. Recipes? DIY Projects? Craft ideas? Sign me up!
Then again, I am the definition of a typical Pinterest user. And by typical I mean a female, cooking-and-crafting-loving mom (check out these user stats).
So, your company doesn't come up with DIY holiday crafts or fall pumpkin recipes. Think that means your brand doesn't have a place on this 70 million-strong social network?
Think again. If brands like Pork, the Marines, and Petplan Pet Insurance can kick social media marketing hiney on Pinterest, so can you. According to Digitas, 70% of brand engagement on Pinterest is user-driven, which means brands must leverage user engagement and interaction by going beyond pinning photos from their websites and really doing something special.
Let's take a look at 5 surprising brands that are having great success on Pinterest and what they are doing to get users excited.
It's the other white meat! And they sure are making a name for themselves on Pinterest with close to 5,000 followers. Now, I am not a huge pork eater by any means (it tastes so…porky) but I have to admit some of these recipes are irresistible, like this one: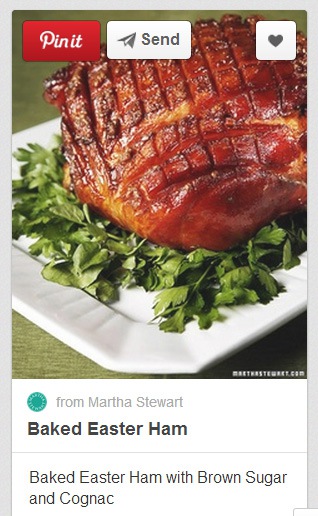 (Image Source)
Use humor to up your "cool factor."
It's not just the smorgasbord of delectable recipes that makes this brand successful. They are positioning themselves as quirky, fun and plain old cool, despite the fact that their brand is, well, pork.
The titles alone make me want to follow their boards, which goes to show that having fun with your content can go a long way. My personal favorites: "Get in my Pork Belly!" "Ham-tastic" and "Om Nom Nom!"
Encourage user interaction with group boards.
This is a great way to get your fans and followers interested in your brand – invite them to contribute to one of your boards, like in the below example: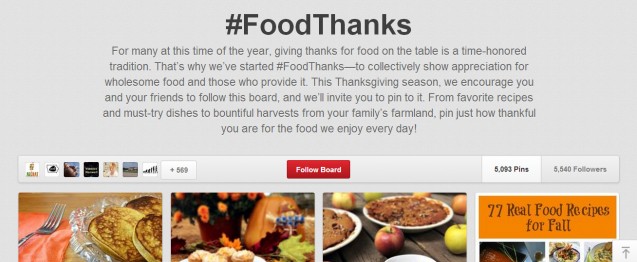 (Image Source)
This helps to establish camaraderie with your followers; once they start pinning to your boards, you've got them engaged with your brand!
Host sweepstakes or contests to get people excited.
Okay, I'll admit it – it's not that hard to get people excited about bacon. But if you can offer prizes or free giveaways, that's a great way to get people to start following you on Pinterest. Make sure the prizes represent your brand and show off what you have to offer (like a bacon press….yes, please).
Considering that 80% of Pinterest users are women (source), and only 6% of enlisted, active duty Marines are women, you would think the U.S. Marines Pinterest page might be a little sparse. Not so.
Appeal to a broader audience base.
The U.S. Marines Pinterest account has over 23,000 followers – and counting. Perhaps this is because many of their boards appeal to Marines and their families, friends, supporters, etc. They're not just limiting themselves to their primary target market – by appealing to a wider audience, their reach is much greater.
Appeal to human emotion.
The ability to tap into the emotional side of consumers is a surefire way to get their interest. The Marines does a great job of this with boards like Marine Deployment Toolkit (a group board where users can pin care package ideas), semper fI Do (about marine weddings), and my favorite: Marines with Dogs and Kids.
I mean, who can resist a picture of a fellow American soldier with a puppy dog or a baby? No one, that's who.
When in doubt, Pin about fitness and/or weight loss.
People love pinning fitness and weight loss tips, and the Marines certainly capitalized on this. Think about what people want to pin (take a look at what things are getting repinned a lot) and take advantage of it with one of your brand's boards.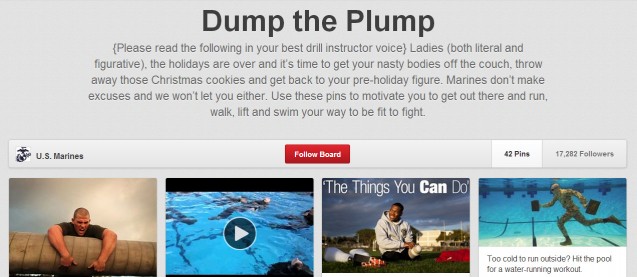 (Image Source)
4.5 million followers. Yup, it's a social media marketer's dream come true. So, why are they so successful? It's more than just pretty photos. It's the way they present this amazing jetsetter lifestyle as attainable.
Give your followers an ego boost.
Make them feel special and important. Jetsetter does this via their Curator boards, for example: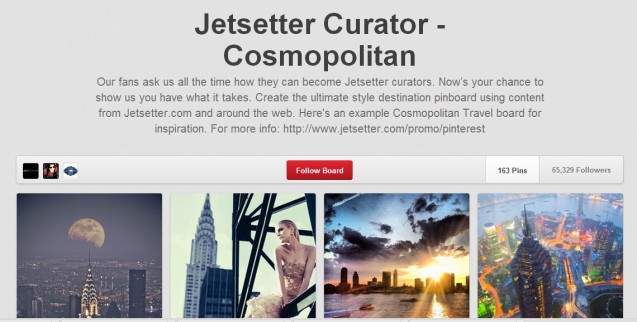 (Image Source)
They also have a Fan-Picked Top 10 board, which puts the power in the hands of their followers. Giving your target market a chance to prove their worth is a great way to spark their interest.
Find the great deals in your industry and let your followers in on the action.
I love Jetsetter's "Summer on Sale" board, which includes pins for top travel deals in absolutely gorgeous locales, like Casa Chameleon in Costa Rica, which got 124 repins. Win the trust and respect of your followers by finding them great deals.
Know what gets your target market pumped up.
In Texas, there's nothing more important than football, especially college football. Texas A&M capitalizes on this by thinking of all the ways they appeal to their target market's passionate school pride, like pinning tailgating recipes and game day fashion.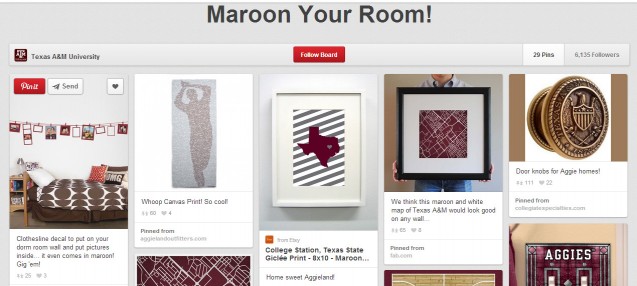 (Image Source)
Be creative, and step beyond your product/service offerings.
Texas A&M could just pin campus photos and college gear (which a lot of universities do), but they're finding opportunities to insert their brand into other markets, like for example college room decorating ideas (Maroon Your Room), Aggie-themed DIY ideas and a board entitled "Aggie Man Zone."
There's nothing more irresistible than puppies. Petplan Pet Insurance knows this, and they know people are passionate about their pets. So, instead of pinning about their insurance policies, they're embracing what their users love most – their "furry people."
What do your followers love? Find out, and turn it into a Pinterest board.
By far Petplan's most popular pins are on their "Breed All About It" boards, each featuring a different beloved doggie breed. They don't even try to sell their product, they're just like "We know you think Fluffy is the cutest thing ever – and we do, too. Let's all say 'awwwww' together."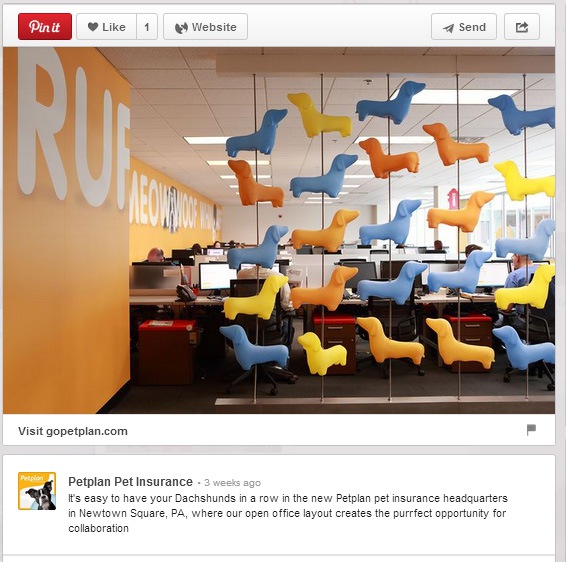 Let your followers have a sneak peek at the real people behind the company.
I love that Petplan has both a Meet the Team (which includes photos of the staff AND their pets) and a Day at the Office board, which really humanizes them as bona fide pet lovers.
Appeal to human emotion. (Yup, on here twice – it's that important.)
Remember Sarah McLaughlin's "I will remember you" homeless pet commercial? Did it make you cry? (Be honest). Similarly, Petplan really tugs on your heartstrings with their "Rescue Me" pet adoption board. Think about what stirs up the emotions of your customers and turn it into a Pinterest board. This is also a great place to highlight your company's non-profit relief or community service efforts.
What's the bottom line here? On Pinterest, it's all about your customers. The products or services you are selling are not nearly as important as how creative you can be in promoting your brand – and not just your brand, your brand's lifestyle.
Pinterest is where online users go to get inspiration, dream, and imagine the life they want to have. So, it's your job to get creative and find a way to inspire the people you want to reach. What are their hobbies? What do they love? What gets them excited? View your followers as pals, rather than dollar signs, and you'll see success.