We exchange plenty of documents daily: we send reports to our clients, exchange ideas and information with our colleagues and team members. Email is the major method to exchange information. However most of us also use various tools that allow to upload documents for easier viewing and / or collaboration.
This post looks at 5 of those tools. Hopefully they will make your SEO reporting and knowledge exchange easier:
| | | |
| --- | --- | --- |
| Service | Best feature | Registration required |
| Docstoc | Powerful social media integration | Yes |
| TwitDoc | Quick and easy | No |
| Zoho Viewer | Instant and easy-to-use | No |
| Calameo | Readership statistics | Yes |
| Google Docs | We know it so well, that we can't even tell why we love it | No, unless you don't have an account with Google |
Docstoc
Docstoc gives you two options: to either make your doc public or private (which means only those will see it who you send the link). After uploading, the document can be given:
Title;
Category and tags;
Description.
You can also organize your docs by folder, specify licensing and protection, choose the template.

More features that you may love:
Give your AdSense ID to earn commissions on people's clicks on your documents;
Tweet, share on Facebook and email the documents right after uploading them;
Enjoy powerful LinkedIn integration: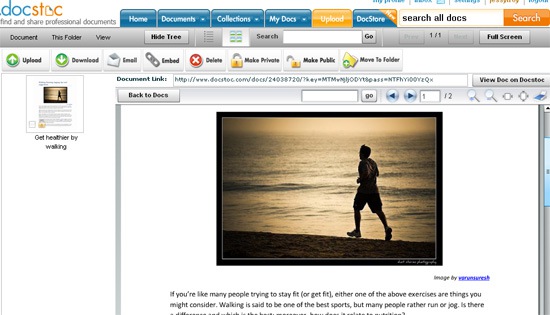 TwitDoc
TwitDoc is a simple Twitter-based tool for instant document uploading and sharing on Twitter. It needs no sign-up but naturally requires Twitter login. This is really a one-click process.
The Tweeted document looks like this when opened: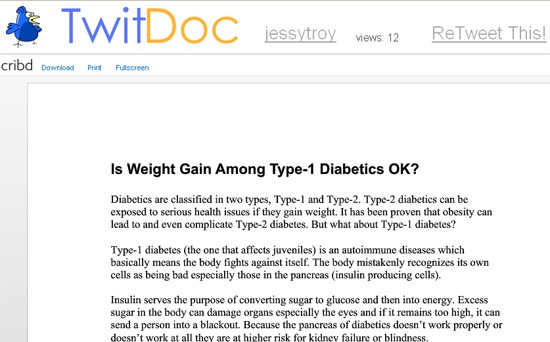 The document has a very basic hit counter which helps you see how popular your tweet was.
Zoho Viewer
Zoho Viewer is an instant doc-sharing site that will offer you to create a document link which will expire in a day, week, month or never. The overall tool interface is very usable and easy-to-use which makes the tool my favorite: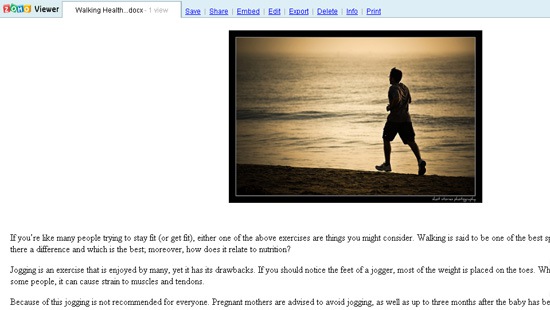 Calameo
Calameo is a bit more advanced document sharing site that takes more effort to register than the above tools but it is well worth it. The tool supports multiple doc types and has several design templates for uploaded documents.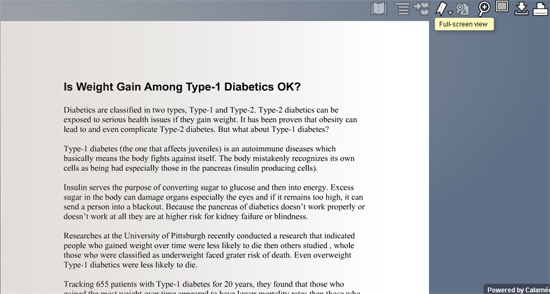 Features you will enjoy:
Detailed statistics on clicks, downloads, favorites and comments all your docs;
Slick interface: read the documents in a magazine-like interface.
Google Docs
Google Docs: listed the last here, this is obviously not the least important to me. In fact, I use Google Docs more often than any other tool for the simple reason that I don't need to login, I am already there.
I guess you are well aware of the tool benefits: it is rather reliable, publishes docs as web pages, and is easily shared and managed.