You might think there has been too much buzz around Twitter this year, but love it or hate it, there is no denying the fact that it is an awesome tool the full potential of which is yet to be discovered. This time I am listing some tools that will help you evaluate your Twitter activity.
Twitterholic creates a handy chart showing how your following has been growing over time. Besides that, it lets you see your daily stats in form of a table where you can find your followers, friends and updates numbers each day throughout the current month.
You will also be able to learn how many people signed up for Twitter before you.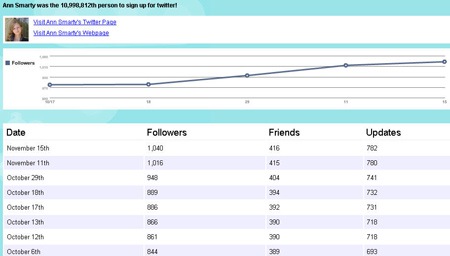 TwitGraph will tell you:
your most favorite (often tweeted) words;
your most active Tweet-days;
your most favorite Twitterers (those you talk to most often);
your most favorite links.

TweetStats.com creates charts and tables showing:
your tweet timeline (when you were most active);
your most active hours pr day;
your most favorite Twitterers (friends you most often reply to).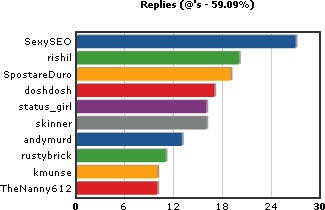 Twitter Grader is like a Website grader for your Twitter page. It will give your profile a grade based on your following, update rate, the power of your followers, the completeness of your profile, etc (other sources are not disclosed).
I liked the Twit cloud feature showing my most favorite terms (I turned out to love to smile 🙂 most of all).
Surprisingly, having only "2,071 Overall rank, out of 527,902" I managed to get 99,6 out of 100 Twitter grade (am I that bad at mathematics?).

Follow cost will calculate how annoying you are (and how annoying it will be for others to follow you). The "follow cost" is measured in milliscobles (if you are interested to know what it is please investigate).