With the impending implosion of Yahoo's disappointing Panama project and seeming overnight surrender of search to the big boys of Google and Microsoft it's time we all started paying a little more attention to Bing and particularly Microsoft adCenter.
Just the other day I was talking with some bright minds in the search space and when we got to the topic of Bing the lights were on but no one was home. Which got me think about how since its launch most of us have largely ignored the MSN/Bing advertising platform, as illustrated by the small number of advertisers on Bing compared against Google's estimated 1.5 million advertisers, due in large part to the limited consumer reach and previously very poor functionality. And while it's still a few months away I think it is high time we start thinking about how we manage search in Bing and want to share with you 5 things you'll need to know to find success with Bing.
Dynamic Text Insertion: Most advertisers are familiar with Google's dynamic keyword insertion function that allows an advertiser to take the search query and dynamically insert it into ad text. Bing takes this feature to a whole new level. Not only can you dynamically insert the search query into the ad but you can also conditionally insert other pieces of text into the ad or display url. For example, if the search query is red roses you could insert the word red rose into the ad text but could also make a condition that shows a price of $24.99 when the search query is red roses but $19.99 if the search query is yellow roses. Proper use of this should improve relevance which will help improve CTR and/or conversion rates.
Scheduled Bid Adjustments: On both a campaign and ad group level advertisers can both increase or decrease their bid levels based on geography (by city, metro,. state/province, country/region), demographics (age and gender), day of week, user device (mobile or desktop/laptop) and time of day. This requires marketers to really understand their underlying core business metrics but the marketers that know their metrics and understand these features can heavily skew the Bing search landscape in their favor.
Bing Uses Quality Score Metric: While this doesn't come as a surprise to many it is important to note that Bing also uses a similar metric to Google's Quality Score and Yahoo's Quality Index (they call their metric Quality Score Unfortunately this is one area that is pretty crappy in Bing. At this stage Bing doesn't display quality score that ties to a keyword, ad, or account. However, there have been some instances we've heard of that in order to establish high quality scores bids have been increased by 2x which have driven bids down in the mid to long term. Note that everything we're hearing is that Bing is in alpha or beta of rolling out Quality Score for advertisers.
Search Management Tools: Microsoft's adCenter has a tool similar to Google's desktop tool (Adwords Editor) that resides on an advertiser's local machine. The name of the tool isn't the most original – Microsoft adCenter Desktop but the tool has some great functionality

Extract keywords for your ad group based on a URL or MSN's keyword tools

Ad distribution (search vs. content) and geo-targeting and add ad group-level negative keywords
Similar functionality to the excel plug-in described below.
On top of their desktop application adCenter also offers an excel plug-in feature with features that provide deep keyword research insights. Learn more about Microsoft Advertising Intelligence.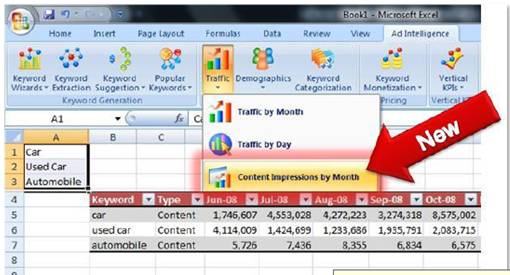 Screenshot of Microsoft Advertising Intelligence
Dedicated Time and Resources: Once Bing is powering the organic and paid search results for Yahoo there reach will be extended and their resources will be more heavily focused on improving their advertising tools to allow them to increase monetization per query. The advertisers who will win in the land grab for search real estate are those who are willing to dedicate their time and resources to test and optimize Bing early and often.
It's going to be rocky at first and there are lots of things that adCenter needs to fix such as exposing their quality index, improving their reporting interface, and many more items but with nearly 30% market share (Yahoo+Bing combined) we can't afford to ignore Bing any longer. Check for more information about Bing in the upcoming weeks. I think you're going to love Bing!