If you want to separate your content from your competitors, storytelling is a great tactic to add to your content marketing strategy. Several interesting case studies have shown how the implementation of storytelling can triple sales within one year. The best part is that any business can use storytelling in their content marketing strategy by following these five best practices.
Know Your Ideal Audience
Before you can tell a story, you need to know to whom you want to tell the story. For most businesses, your ideal audience is going to be your target customers.
Think about it like walking around a bookstore. Depending on the size of the store, there are hundreds or thousands of books for different readers. There are books for kids, teens, and adults; books written to cater specifically to men or women. There are books on every subject imaginable, including fiction and non-fiction.
Why are there so many books? Because there are many different audiences. Even when you get down to the demographic of 25-year-old married women with two children, you still may have a group with interests related to niche groups, such as urban moms, suburban moms, work-at-home moms, career moms, breadwinning moms, and so on.
The point is, in order to tell a great story for your business, you need to know your ideal audience inside and out. Businesses that offer very specific products or services may have one story to tell. Businesses that offer a variety of products or a wider range of services may have several stories to tell. It all depends on your ideal audience and your target customers.
A Great Example of Buffer Trying To Get To Know Their Audience Better: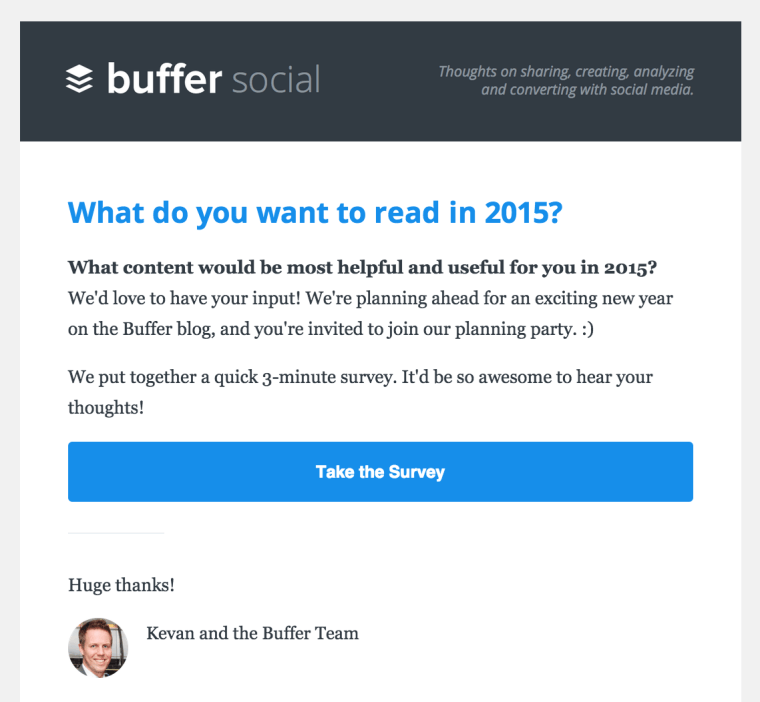 Tell Stories That Your Ideal Audience Can Relate To
Once you know your ideal audience, you will be able to tell the kind of stories that are relatable to that audience. To be successful, your ideal audience must be able to make a personal connection to your story. Your story must make them feel something. The more feelings you can make someone experience, the more they will remember your business.
Use Stories in Various Aspects of Your Content
You can apply storytelling to many different aspects of your content marketing strategy. For example:
Your business's about page can be a story that explains the origin of your business, such as the examples provided on When I Work's blog, which I'm involved with. This story should tell why you decided to launch your business, who you want to help with your products and services, how your business has grown, and where your business is heading. Each year, update your story with new information to keep it fresh.
Your business's sales page can include animated videos with stories describing your ideal customer, their pain points, and how your product or service can provide a solution. Video can increase conversions as much as 80% – combine video and storytelling to get the maximum number of conversions possible.
Your business's case studies can be stories from specific customers who have received results from your products and services. While you want to include facts and figures, you will want the case study as a whole to feel more like a story than a report.
Your business's social media updates can be mini-stories about ways that your employees have helped your target customers. Include photos or videos and links to these stories on your website as to get the most engagement possible on social media and back to your website.
A Great Example: Basecamp
These are just a few examples of ways to use stories in your content marketing. As you create new content, look for ways to incorporate stories into each, even if it is just an opening paragraph or two to a blog post.
Listen to Your Ideal Audience
As you start to publish your stories, listen to your ideal audience for feedback on how well they are relating to the stories and how the stories make them feel. If your story is lacking in any way, your audience will let you know, allowing you to refine your story for the best results possible.
Create a Series
If you find that your storytelling is making a positive impact, use it to make your audience more sticky. In other words, create a series of stories that will make your ideal audience want to keep coming back to continue the narrative, such as:
Blog posts so people come back to your website
Videos to attract more subscribers on YouTube
Emails to encourage more opens on your mailing list
Updates on social media to encourage more engagement
You don't have to create a cliffhanger, mystery-style series to keep your audience excited (although if you can, maybe you should give it a go if relevant to your business). You just have to create a line of stories that people will want to continue to follow.
A Great Email Series Example From CoSchedule: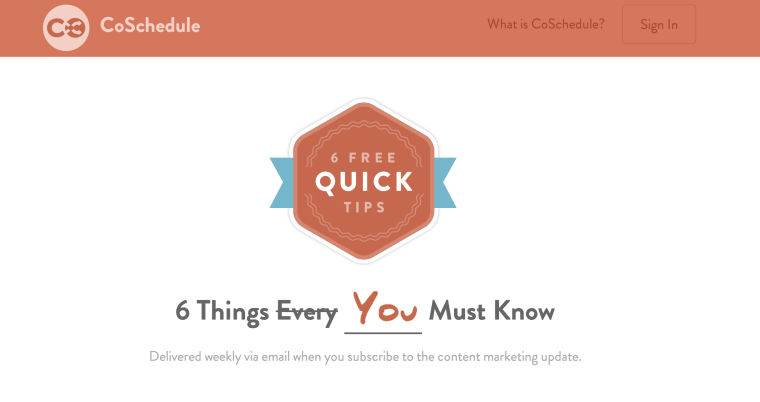 In Conclusion
The end goal of storytelling in content marketing is to help your audience connect to your business on a personal and emotional level. This connection should ultimately lead to creating loyal customers for your business. When your customers are loyal, they not only stick around longer, they also refer more business your way.
Featured Image: Startup Stock Photos
Screenshots Taken January 2015