If you are a serious Internet marketer, you should take care of your online reputation management. There are a few places where you should host your online resume and promote yourself:
| | | | | |
| --- | --- | --- | --- | --- |
| Service / Community URL | Submit | Links | Approval process | Promote Your Profile |
| LinkedIn | Join | "Dofollow" links | Instant | Join networks, start and participate in discussions |
| CrunchBase | New Person Submission | Multiple external "dofollow" links are allowed. | Moderated | Create and promote a widget linking to you and your company CrunchBase listing. |
| SEOmoz Marketplace | Register at SEOmoz | "Dofollow" link (under the name) | Instant | Non-personalized badges |
| Entrepreneur eConnect | Join | "Dofollow" link | Instant | Create a blog |
| Internet Evolution | Join | "Dofollow" in-description link | Instant | Participate in discussions, apply to be a contributor |
1. LinkedIn is of course the first place to mention when talking about business profiles.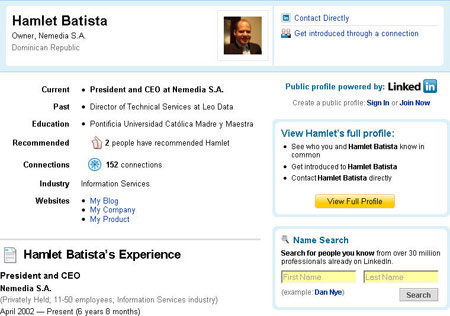 2. CrunchBase only accepts personal profiles for people associated with the company that is already in the database. So you will first have to get your company listed. But that's well worth the effort. Solid domain name and company reputation make your listing there a great win. You can list your previous companies, all your social media profiles and online resumes, tags matchin g your area of expertise, and of course a solid description.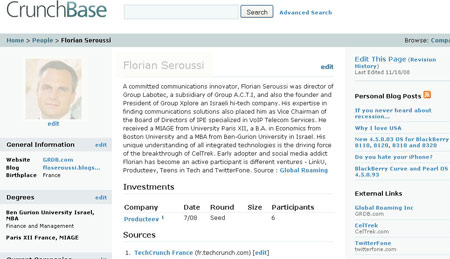 3. SEOmoz Marketplace: you can list both your company and your personal profile there. Resumes are sorted by skills (you can mark as many as you think is relevant to you). You can also add multiple details on your experience and areas of expertise.
4. Entrepreneur eConnect is a community for small business owners who join to make connection, educate yourself and promote their business. The best way to get noticed there is to start your own column and provide useful content.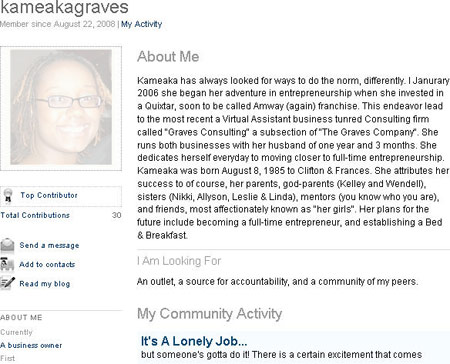 5. InternetEvolution.com is a community of all sorts of Internet experts and consultants. It offers multiple ways to calloborate and share experience (and of course, to promote yourself): comments, forums, and user-generated blog (that should be applied for to be a contributor) –
ThinkerNet.