Predicting the future is never easy – particularly in the world of PPC. Even with all the campaign data in the world, you don't know the latest trends until they hit.
It's a tough task staying on top of all the updates released by the likes of Google, Bing, and YouTube. It can be even harder to learn new things and quickly adapt to the changes.
On October 23, I moderated a sponsored SEJ webinar presented by Adzooma's Puneet Vaghela and Sal Mohammed.
They shared the five biggest PPC trends coming up in 2020 and how marketers can increase paid search performance while staying on top of the latest industry changes.
Here's a recap of the webinar presentation.
We've all seen developments happening in the paid search front over the past 18 months from both Google Ads and Microsoft Advertising. Some of the changes involve:
As innovation in digital marketing continues to grow at an exponential rate, smart PPC pros need to keep up with the market.
Here are five trends you should be looking at in 2020 in order to stay ahead of the game.
1. Audience Segmentation
Audience segmentation is based on taking a group of people who have interacted with you online – either on your website, your CRM database, through a YouTube channel or one of your other social media channels.
These people are then segmented based on:
What URLs they've visited on your website.
How they've interacted on your site (i.e., whether they've purchased).
What videos they've watched.
Then they're placed into buckets that serve specific ads based on how they interacted with you.
This allows you to increase or decrease bids to make sure you're more or less prominent to your audiences based on the value that they have on your business.
Although it seems very in-depth, this is still the most basic way to use audiences.
However, as we gather more and more data on our customers and audiences, we can begin to break them up into specific buckets and thereby making our messaging even more personalized and our bidding strategies more informed based on specific data points.
What type of user are they? Where did they leave your site? Did they purchase something?
What are your audiences interested in?
What age and gender are they?
What demographic group do they fall under?
Where are they searching and browsing for you or your products? What device are they on?
Are they coming from other websites? What keywords are they finding you through?
Where are they in their life? Are they happy? Are they sad? Are they angry?
The inclusion of specific data sets, as well as inferred emotional data, means that you can make your ads extremely bespoke to the people you want to target.
You can also identify exactly which type of person you should be spending your resources on to grow your business.
Make sure to create audience lists in Google Ads to leverage this opportunity.
How to Create an Audience List
Step 1: In the top right-hand corner of your Google Ads account, click the Tools & Settings icon. Navigate to the Shared Library column and then click Audience manager.

Step 2: In Audience manager, click on the blue circle with the plus sign to start creating a remarketing list.
Step 3: Once there, you'll have a drop-down menu of where you actually want to create your list. You can either choose from:
Website visitors.
App users.
YouTube users.
Customer list from your CRM database.
Custom combination.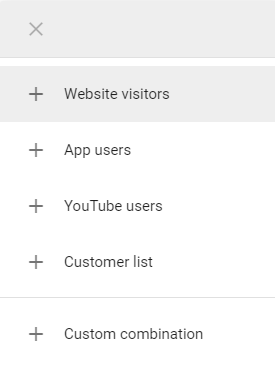 Step 4: In this step, you'll actually create your list. First, you need to name your audience.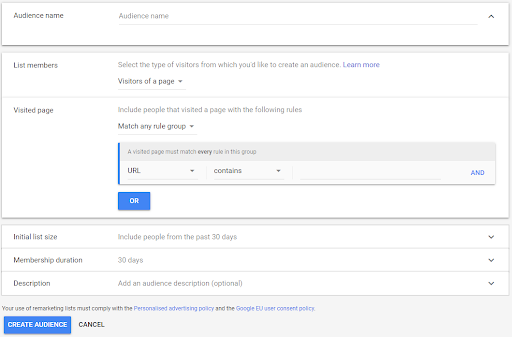 Next, select the List members – the type of visitors from which you'd like to create an audience. You'll then have to identify specific rules according to the type of visitors you choose.
Click on Create Audience once done.
Step 5: The final step is assigning your audience to a campaign or ad group.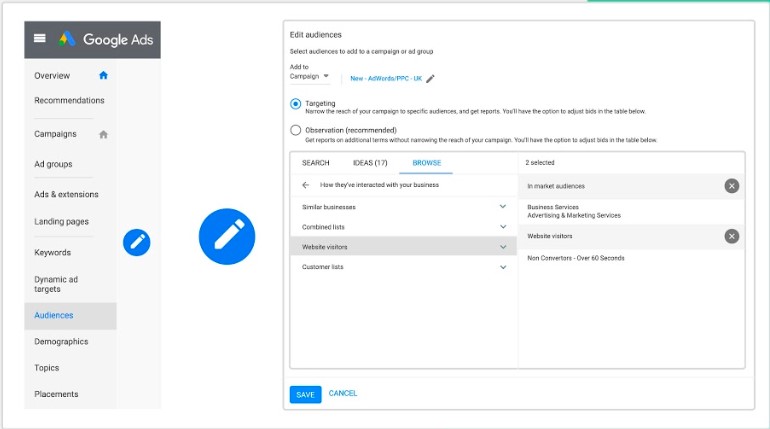 On the left side of your Google Ads account, left click on Audiences. Once you're in Audiences, click on the blue circle with a pencil inside.
You'll then get the screen on the right where it says Edit audiences. Here, the first drop-down Add to – you can either choose Campaign or Group.
Once you've chosen which level you want, on the right-hand side you can then choose which campaigns or ad groups it actually goes into.
You then have two options:
Targeting: For narrowing the reach of your campaign to specific audiences, and get reports.
Observation: For getting reports on additional items without narrowing the reach of your campaign.
Click Save. Your audience list is now into your campaigns and ad groups.
So What Do You Need to Do?
Ensure you've created audience lists in Google Ads.
Use the data from visitors to your site to identify the most prominent and lucrative audience categories.
Begin creating more granular lists based on these criteria and create different campaigns and ad groups for each.
You should be maximizing your budget toward these audience-based campaigns.
2. Automation & Account Management
Automation has already started – but it's going to be even more important in 2020.
We're already seeing it in:
PPC optimization: Automating the ability to identify opportunities within your PPC account to make changes and improve performance and account hygiene.
PPC account management: Automating rules within your account to manage bidding and daily account management tasks.
That said, not enough automation is being used in the industry currently. Automating processes, such as bid management, can help marketers harness the power of automation.
Target CPA and ROAS are great examples of how this has been implemented already in day-to-day account execution.
And even if you're reluctant to let go of manually managing your bids, then there are other areas where you can apply automation to.
A number of companies are emerging to knit together optimization across properties such as Albert, an AI tool that takes data from across all of your marketing activity and decides where investments should be focusing.
Moment marketing tools such as Mporium will allow marketers to automate changes to the campaigns based on triggers from third-party sources such as TV, social media content, weather, and even stock market changes.
What Will Be Different in 2020?
In 2020, there will be an even bigger light shined on marketing performance, with clients and businesses requiring more data analysis, reporting, planning, and servicing.
With more businesses advertising online, it will become more difficult to cut through the clutter.
There will also be a higher prominence of automation tools to help you with optimization, daily tasks, reporting, project and account management.
What Should You Be Doing About It?
There are plenty of ways to leverage automation in paid search:
Use scripts in Google and Bing to automate account management alerts and changes.
Invest in optimization servicing tools (OSTs), such as Adzooma, Search Squared or GOA.
Use bidding rules to manage the performance of your campaigns.
Set up alerts across all your activities to inform you of major changes.
Set up automated reporting, reduce manual reporting time.
Spend more time analyzing your data and audiences to deliver the best experience for your customers.
Test Smart Campaigns in Google Ads to hit your target KPIs.
3. Voice Search
ComScore predicts that by 2020, 50% of all searches will be voice searches.
So what does this mean for PPC?
This means that the search terms that trigger ads to appear are going to change as people interact in a more conversational way with their voice-enabled devices.
Obviously, we're still quite a long way away from seeing paid search within voice.
That said, it would be beneficial to:
Start using more conversational and long-tail terms in your keyword targeting.
Make sure your landing pages are more conversational as well for both the UX and for SEO reasons.
Test and learn more long-tail terms in 2020, measure the impressions and impression share on them, as well as the CTR and CVR.
4. Visual Search
Search is becoming more visual. Now, you can upload an image to a search engine and use the engine to find you relevant results based on other images similar to the one you uploaded.
Surprisingly, this development first came from the social media world with Pinterest releasing its first visual search tool in 2015. They have since refined their visual discovery tools with the introduction of Pinterest Lens in 2017.
Other social channels such as Instagram and Snapchat followed suit, allowing users to search with images.
Last year, Snapchat announced a Visual Search partnership with Amazon which allows users to search products on Amazon straight from the Snapchat camera.
So what does this mean for PPC?
Bing has also released its own visual search engine which allows people to do the same thing but use their entire index of the web as their source of information – much of the info that is on a retail site or social network platform.
So What Do You Need to Get Ready For?
Preparing for the growth of visual search now will make it easier for people to find you in the future. You should:
Start thinking about images that showcase your offering on your website.
Ensure they have the correct ALT text on them so the SERPs can pick them up.
Ensure you're using the best images to showcase your products or services.
Use multiple images where possible so the SERPs have a choice of what to index.
5. PPC & SEO Integration
The relationship between PPC and SEO will be an important area to address moving forward. Both have their advantages and disadvantages, yet they can be used together to maximize your results.
In 2020, make an effort to integrate PPC and SEO through:
Keyword unearthing.
Efficient position strategy.
Data and information sharing.
Increased SERP coverage.
What's the Best Way to Do This?
Use PPC data to inform SEO of the most viable and profitable keywords to target for organic ranking boosts.
Use SEO ranking data alongside PPC bidding to identify which keywords you should be paying for and which ones you shouldn't.
Use PPC copy data to help identify the best messaging to use for meta data in SEO.
Use PPC advertising alongside SEO organic listings to make your brand more prominent on the SERP against competitors.
Bonus: Attribution Measurement Will Be Your KPI in 2020
Attribution is key to understanding the true value of your PPC spend. Make sure to use Google Analytics or other analytics tools to measure the direct and indirect effect of your target keywords on your overall business.
Do generic keywords play a part in brand awareness?
Do upper funnel keywords drive people to their end goal?
What other channels are effecting my PPC activity?
Answer these questions and use the data to plan your marketing spend.
Q&A
Here are just some of the attendee questions answered by Puneet Vaghela.
Q: What are some automated rules most B2B companies should leverage in Google Ads?
Puneet Vaghela (PV): B2B companies tend to be more lead focused, and so the most important metrics will be interaction with the website, buttons that have been clicked, form engagement and completion, and telephone calls and call interaction.
These are all metrics you can find within Google Ads and through Google Analytics, and import them into your Google Ads account to set up automated bidding.
Set up goals within Google Analytics to track how people interact with your site (e.g. for a form), set up goals for each step of the form process. Link your Google Analytics with your Google Ads, and import your goals into Google Ads as a conversion type.
You can then start using automated bidding or CPA bidding based on these metrics to understand which keywords are driving the more engagement, and then push more budget into these areas.
You can do the same with call tracking, as this is also a feature on Google Ads. Each call is recorded as a conversion, based on what length of call you set to be a conversion.
So if you know that for your business, conversions take at least 3 minutes to complete over a call, then set the call length to 3 minutes and all calls over 3 minutes will be recorded as conversions in Google Ads. You can then auto-bid toward these conversions as well.
Q: You talked about how SEO keyword rankings can be used to adjust PPC strategies, but what are some ways we can use PPC data to change SEO strategy?
PV: SEO requires a more timely strategy, and so when you decide to optimize your site for a set of keywords, the only data you have is either from existing SEO traffic, or what you research on keyword tools.
However, as PPC allows you to gather real-time data at keyword level, you can identify the highest converting terms for your business from PPC, and then decide to SEO these terms.
Using the Search term report from PPC allows you to see which long tail and less competitive terms are driving conversions for you, and from here, you can start identifying more terms to SEO that will be easier to rank for, allowing you to reduce your PPC budget on these terms and re-invest it into other keywords that are more competitive.
You can also use PPC audience data to see what types of people are interacting and converting on your site more, thereby tailoring your content and landing pages for SEO based on the people most likely to see them.
Q: Do those voice search statistics hold true for B2B searches as well? I see people making voice searches for a new pair of pants, but not for business solutions.
PV: I agree. The voice search revolution will be mainly for consumer products, as these are the ones that people will gain the most efficiency from on a day-to-day basis. B2B searches require more research, and also, the volume won't be as high as for B2C searches.
However, we're seeing more and more searches for B2B coming through smartphones, and a study by Google and the Boston Consulting Group has predicted that 70% of all B2B searches will be on a smartphone by 2020.
This means that people searching for B2B products and services will be on the move more, and so will be looking for information more directly.
However, as more people use their smartphones, the likelihood is that they will begin to use them for their work lives as they do for their personal lives, and so if they are using voice search to find a pair of pants, they will probably transition into using voice search if they are looking for a conference venue or supplier of office equipment.
Q: What keyword research tools do you use for voice search terms? Are these long-tail keywords different than the keywords you would find for traditional search?
PV: There is no specific keyword research tool for voice search terms. As mentioned in the webinar, voice search will involve more conversational terms.
For example, rather than someone just saying "clothes shop", they will interact with their device by saying "where is the nearest clothes shop to me?" This means that search terms will be more long-tail.
To identify these would be the same as setting up specific long-tail campaigns. Use the search term report in Google Ads to see which search terms triggered your ads, and the more conversational ones are most likely to be activated by voice.
At the same time, use the Google Search Console to analyze your top URLs and gather a list of keywords from there to expand on.
You should also use Google Autocomplete by typing in a top level keyword you are targeting or looking to target, and then see what suggestions appear on Google.
You will probably notice a lot of question and long-tail based terms appearing, which you can take and target in a separate campaign to analyze performance.
Q: Can you please provide a good practice for alt text on pictures?
PV: This is something a lot of people don't do well. It's imperative to make sure that Google and Bing understand the context behind your images.
Don't use fragmented sentences to stuff keywords into it, but use descriptive sentences to say what is in the image. It's also important you don't use too many characters when describing your picture.
Keep it to about 120-140 characters, which allows the search engine bots to understand what your image is about. Make sure you've got your descriptive sentence in within this limit.
On top of this, use the keyword you want the image to appear for, but don't stuff it in, make sure it flows naturally within the description. Usually, one or two mentions of the keyword are enough. Remember, content is king, readability is more important than volume.
And also, don't describe the image as an image. Use alt text that just describes what is in the image, do not start it with "image of…", that would just be a waste of characters.
[Video Recap] 5 PPC Trends to Get Ready for in 2020
Watch the video recap of the webinar presentation and Q&A session.
Or check out the SlideShare below.
---
Image Credits
All screenshots taken by author, October 2019
Join Us For Our Next Webinar!
SaaS Marketing: Expert Paid Media Tips Backed By $150M In Ad Spend
Join us and learn a unique methodology for growth that has driven massive revenue at a lower cost for hundreds of SaaS brands. We'll dive into case studies backed by real data from over $150 million in SaaS ad spend per year.