Just because your business doesn't sell products online doesn't mean you should be ignoring Pinterest. 30% of U.S. social media users use Pinterest, so failing to include it as part of your social media strategy simply because you're not an e-commerce brand means you're missing out on a chance to connect and engage with your audience.
Show Your Talent
Since Pinterest is a visual discovery platform, it's an excellent tool for and artists and designers of all types to showcase their work. Take, for instance, Kitchen Designs, a Canadian kitchen and bath design company. Though they don't have a massive following on Pinterest, they have an account with a number of boards to speak to their followers and their target audience.
Beyond having a board dedicated to their kitchen renovations, they also have boards dedicated to color, various kitchen styles, and bathrooms. Many of the boards are set up for collaboration, to encourage their followers to contribute to the boards as well.
Interior design company K.D! Designz, Inc uses Pinterest as a way to communicate design ideas to clients, as photos are often an inspiration. With 64 boards dedicated to everything from architectural details to mirrors and frames, and more than 20,000 followers, it's clear the designer behind the profile is talented. The designer headboards board alone has more than 300 pins!
Graphic designer Craig Leontowicz has a Pinterest account with nearly 100 boards, and over 38,000 followers. Beyond a board used to highlight his personal portfolio of work, he has boards dedicated to brand identity design, logo design, color, signage, packaging, web/mobile/user interface design, and more. In addition to showcasing his work, he's also using the platform to educate potential clients and collect resources.
Communicate Your Brand
Evan Sharp, Pinterest designer and co-founder says, "For most consumer brands, the idea behind your brand makes sense on Pinterest." Instead of using the platform to share photos of your products, use it to demonstrate how your product or service fits into your target buyer's life.
Southern California wedding photographer Kristen Booth does an amazing job of communicating her brand with her Fairytale Photographer theme, and a variety of boards developed to fit the theme, including: Bouquets, Cakes, Ceremony, Reception, Dresses, Hair and Makeup, and more.
With 24 boards and nearly 120,000 followers, Chobani, a leading brand of Greek yogurt, uses Pinterest to demonstrate how their product can be used in a number of recipes. They have boards dedicated to baking, dips, frozen yogurt, and more. Beyond recipes, Chobani also has pins with inspirational quotes and fitness suggestions to show how it can be a part of a healthy lifestyle.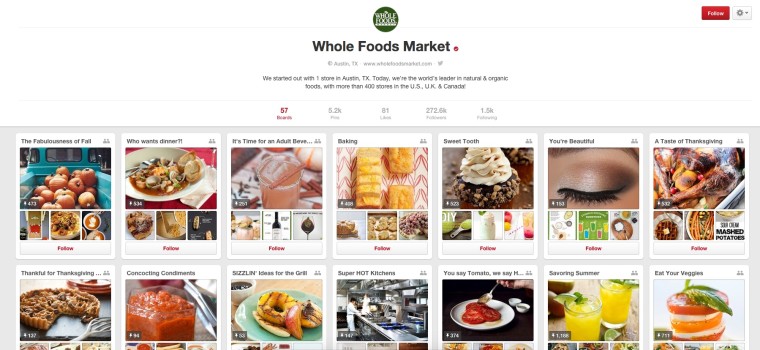 Whole Foods has over 250,000 followers, with a selection of 57 boards. With everything from recipes for dinner, baking, desserts, adult beverages and even a board dedicated to beauty, there's something for everyone in their target audience. The brand does an excellent job of communicating they're a healthy brand, focused on helping their customers find healthy recipes, beauty products, and ways to improve fitness and strength.
Bring in Foot Traffic
In the days where showrooming, or visiting a store to see a product and then order it online for a cheaper price, is common, Pinterest has been called a "showrooming killer." A 2013 study showed that 21% of Pinterest users purchased an item in a store after either pinning, repinning, or liking the item on the website, in a phenomenon known as "reverse showrooming" where seeing the item online drove people to shop in store.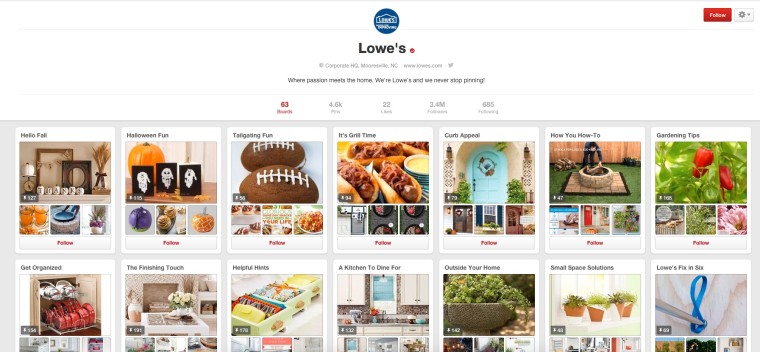 Lowe's Home Improvement has 63 boards and 3.4 million followers. Their "How You How-To" board features a variety of tutorials for DIY projects, ranging from chalk paint antiquing to how to make light globes and how to turn a mailbox into a tool organizer, which don't directly promote any of the products Lowe's sells. Instead, they highlight how to use the various products you can find in store, which in turn helps to motivate shoppers to come in.
Panera Bread has a lively Pinterest account with more than 41,000 followers, featuring 18 boards. Beyond highlighting their menu items, they also have boards to demonstrate how they're working in the community to promote healthy living. Not only do the boards show how the brand fits into their customers' lives, they reinforce the brand, and subtly advertise the menu.
Engage Your Audience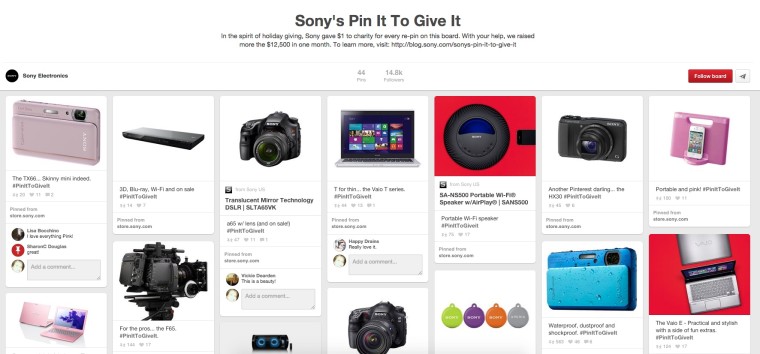 Sony® used Pinterest to engage their audience by tying it to a charity promotion. With the "Pin It To Give It" promotion, the company donated $1 to charity for every re-pin on the board. Over the course of a month, they donated more than $12,500.
Everyday Health, a website dedicated to helping people lead healthy lives, has developed their Pinterest account into 64 boards, with more than 11,000 pins, and 3.6 million followers. With boards dedicated to diet and nutrition, healthy food recipes, weight loss success stories, health news, and even inspiration quotes to help keep people going, they've done a great job at making their Pinterest account an extension of their website – a place where people know they can come for solid health information and advice. They also contribute to group boards from other organizations, to engage and cross-promote.
Martha Stewart Weddings uses guest pinners to engage their audience. Not only do they get additional content for their Pinterest account, the guest pinner gets promotion, and their own board. Ultimately, both the guest pinner and Martha Stewart Weddings benefit because additional repins and new followers are likely.
It's important to remember Pinterest is not just a place to display beautiful photos, it's also a search engine. Using board names and descriptions, along with pin descriptions can ensure your pins show up high in search, and because Pinterest itself ranks high within larger search engines, it can play a valuable role in your overall SEO strategy, regardless of whether you're an e-commerce brand or not.
Want to make Pinterest work for your brand? Follow these tips to grow your audience.
Image Credits
Featured Image: FirmBee/Pixabay.com
All screenshots by Lucinda Watrous. Taken October 2015.