There are plenty of reasons why businesses blog. Business blogging is one of the fundamental aspects of inbound strategy and if you are not doing it, there is something seriously wrong with your inbound marketing strategy.
Marketers swear by blogging as a marketing tactic because it helps drive traffic to a website, converts this traffic into leads, and keeps delivering long-term results in the form of enhanced brand awareness, improved reputation and niche authority.
The problem is not every business can optimally leverage the potential of blogging. The 'blogging nirvana' so to speak, eludes them. While some see a spike in traffic due to their blogging efforts, they find they are unable to convert a large percentage of this traffic into leads. For others, their blogging efforts do not deliver consistent results. In spite of using a truckload of blogging best practices, they still can't get on top of their blogging efforts. The results are ordinary at best.
So, why is blogging 'pure undiluted joy' for some businesses in terms of deliverables while for others, it is a thankless task that fails to deliver?
How do you make sure your business attains blogging nirvana (success)? Is there a set of rules you can follow that helps your business achieve blogging success? Considering that content marketing budgets are increasing, how do you make sure your blogging endeavors deliver the results you are looking for?
Here's what you need to do:
1. Create Really Shareable Content Assets
You need to ask yourself this question, all the time. A new post doesn't guarantee 'shareability'. If it's not good enough, it won't get shared. So, you need to come up with a blogging plan that helps you come up with shareable assets. For that to happen, you must push the blogging envelope. Diversify and focus on posts that will help you earn more traffic and shares. For example, how-to's and lists are the kind of posts that will always work.
However, don't limit diversification to the 'types' of blog posts. Extend it to the kind of content formats you choose to publish. Videos, infographics, and even podcasts should be a part of your monthly publishing calendar. Mix it up.
Thumb rule of business blogging: Don't be boring; let your creativity run wild.
2. It's All in the Appeal
Is your website blog appealing? And I mean really appealing. This appeal isn't just about the visuals. It is also about the kind of information you are offering on your blog.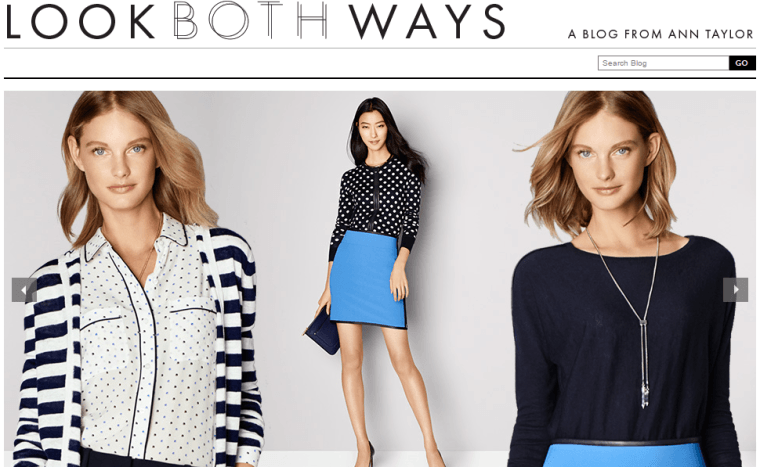 Look Both Ways is Ann Taylor's website blog and a text-book example of an "appealing" blog. It has great visuals, but the focus is on delivering information that will appeal to its audience. It packs a punch with its guest blogs, DIY articles, gift ideas, and a whole lot more. It's the kind of blog that Ann Taylor's target audience will love coming to, again and again, regardless of whether they shop from Ann Taylor or not. It acts like a comprehensive fashion resource that is updated daily. This is the essence of its appeal.
Now, take a look at your blog. While it might look appealing to you, do you really think it delivers recurring value to its target audience? If the answer is NO, it's time you overhauled your blog.
3. Expert Speak
If you want your blog to function as an industry mouthpiece and a thought leadership resource, you must get experts into the act. These experts are niche influencers and it makes perfect sense to either ask them to write for your blog or have a presence on it in some form.
But why should they want to publish posts on your blog? One word – influence! If they believe an article on your blog will help their personal branding efforts, they will definitely take up your offer to publish posts on your blog. It's important to remember most 'industry experts' are looking for an opportunity to showcase their expertise; and if your blog looks like a good opportunity to improve their visibility, they will grab it with both hands.
In the event they are not willing to publish, you could even think about interviewing them on your blog. Think of innovative ways and means you could have expert presence on your blog. This will help improve brand reputation and trigger conversations centered on your brand.
4. Approach the Right Blogs
Another question for you – If you are publishing posts on third-party websites/blogs (guest blogging), are you making the right choices? You must pick high authority blogs/websites reputed for the quality of information they bring to the table. Getting your posts published on these blogs isn't easy -but don't give up.
One of the reasons why a business's blogging efforts fail to deliver returns is they give up. If the high authority sites are not accepting their posts, they publish on low quality sites, not realizing that in doing so, their reputation is taking a hit. What's more, the posts on these sites are delivering zero value to them.
So why post on such sites?
Create a list of reputed sites in your niche and develop a solid blogger outreach strategy. Make sure you follow site owners/editors on social media and interact with them. Try to connect with them on a personal level and think about building relationships. This is important because, more often than not, site owners prefer to publish articles of people they know. It's therefore important that you are able to showcase your niche expertise while interacting with them on social media.
Editor's Note: To learn more about online branding and how to succeed in blogging, listen to this Marketing Nerds episode with Zac Johnson.
Your Turn
There is no clear set of rules that can help you get the best out of business blogging. You need to think out of the box and play to your strengths. What's more, you shouldn't expect quick results. Sometimes the results are a long time in coming, but if you go about business blogging in the right manner, the results will come.
Image Credits:
Featured Image: JustLisa on MorgueFile
All screenshots taken January 2015