As we've covered, Product Listing Ads (PLAs) have recently taken their place as one of the most important tools in the digital marketing box for e-commerce accounts, and there are ways to set yourself up for success with bidding, targeting, and data feed management.
Today, we'll cover four under-the-radar points on images, text, pricing
, and bidding that, if followed, can help you unlock performance in even the best-organized PLA campaigns.
Use Stand-Out Images
Images are the most important element of PLAs – the trick is in standing out when everyone is advertising the same or very similar products.
Check out this set of PLAs for "wedding invitations," a product where visuals have particular importance. Which of these stands out for you?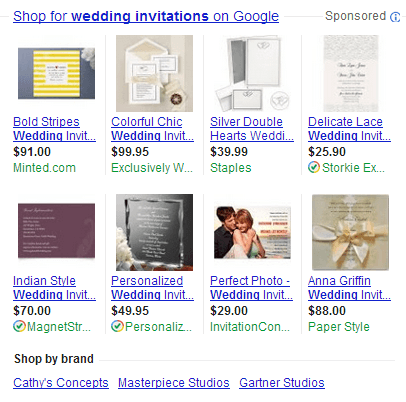 Yellow, stripes…the image on the top left is an outlier, and as with ad copy, that's a good thing – it stops the eye and draws clicks. When you have products that allow for it – furniture, paper products, even toys – go bold with the image (stripes, outlines, standout colors). Your CTR will thank you.
Front-Load Your Titles – and Be Smart About It
You've got a limited number of characters to work with in titles. What you might not consider if you're just counting characters is how the title renders in the SERPs – in other words, what the browser sees. You need to front-load the titles to make sure you're giving the browser enough information to warrant a click as only 20-25 characters actually appear in PLAs.
In most cases, you'll want to use descriptors (e.g. color/finish, dimensions, function; use your SKU-level search query data to find out what your products are showing up for and try to mirror that in your title copy. Normally, if you run a SKU-based search, PLAs will not show up, unless it's a common product for a common brand. If it is a commonly searched SKU (which you should already know from your keyword data and test searches), and PLAs are showing up in those ad auctions, you would want to front-load the title with the specific SKU so people know they're looking at the right product.
A little market knowledge goes a long way, too…pretty much anyone buying a smartphone can tell you that "4G" is a big deal, but only two of these PLAs are front loaded to capitalize: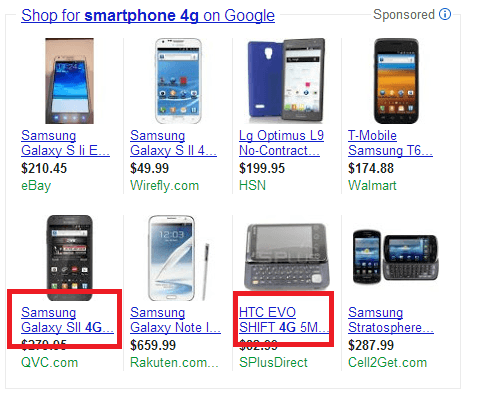 It's really a matter of testing, watching the search query reports for specific product IDs, and making sure that you are front-loading the titles to reflect what your PLAs are being served for.
Use Accurate Pricing (and Use the Title to Your Advantage)
The PLA pricing policy states that you have to advertise the minimum price that will get the product added to cart. So if you're advertising a set or a package, the price has to reflect that, not the per-item cost; if you have dynamic pricing, you must display the minimum price to get it in your cart, not the default price of the landing page.
While you're at it, when advertising sets, you should use the title to explain exactly what's included at that price. Crate and Barrel nails it here, which makes their PLA much more compelling than the others: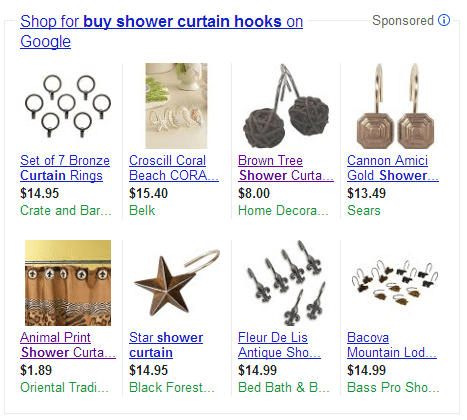 Set Bids for Product IDs
We've covered this before, but it's important. Without product ID bidding, you are leaving a lot of the decisions up to Google, which is never a strong marketing practice. Bidding at the Product ID level will allow you to see which products are showing up for which queries and give visibility into which products are converting.
From there, you can adjust bids based on conversion rates, and you can use search query reports to run copy tests.
Bonus tip: create an ad group that has your primary targeting option (product types or AdWords labels), and keep it free of Product IDs. Set bids below those at your Product ID level, and it'll act as a low-cost discovery ground for things that fall through the cracks.
Please leave comments with other bits of wisdom you've gained in your PLA campaigns!