One of the best ways to approach evergreen content that draws in search traffic for years to come is to answer a question. At WordStream, some of our most-trafficked pages and blog posts were specifically created to answer a question.
A post from 2009 called "12 Ways to Find Anyone's Email Address" gets tens of thousands of page views per year. Our infographic that answers the question "What are the most expensive keywords in Google AdWords?" has attracted almost 100,000 views to date. Another top post answers the question "What's a good click-through rate?"
These are all questions that someone on our own marketing team wanted to know the answer to. We searched for the information on Google, and found one of these things to be true:
The existing information was out of date
The existing information wasn't comprehensive
The existing information wasn't trustworthy/reliable
So we set out to answer the questions better ourselves. This is a great way to provide real value with your content while also optimizing for organic search. Title your post with the question (that's your keyword) and then really answer it! (Don't just link to a bunch of existing resources.)
One way to find questions worth answering is to do what we did above: Pay attention to your own nagging curiosities. For example, a question I had while writing this article was "What percentage of search queries are questions?" I couldn't find a good answer on the first page, but I'm not the first person to ask it (see here and here, for example).
Here are three more ways to find questions you can answer in your marketing content (blog posts, articles, guides…):
Search Your Keyword Referrals
To find questions that your site visitors are looking for answers to, go into your analytics and find your organic keyword referrals ( in Google Analytics, the path is Traffic Sources -> Sources -> Search -> Organic). It's best to set the time frame to something pretty large (depending on your traffic flow, try a 3-, 6-, or 12-month period) so you'll have a lot of data to look at.
Then search that data for question keywords. The easiest way to do this is to filter for common question words like:
what / what is / what are
how / how to / how can / how do
why
where
when
who
should / would / could
can I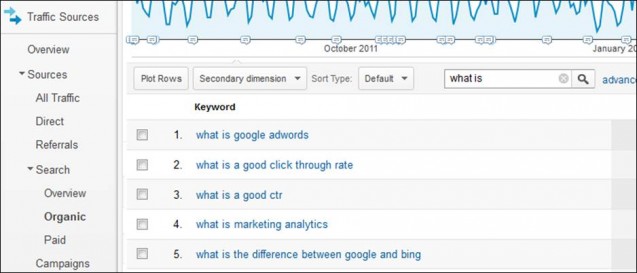 You can also intuit questions behind queries that don't include obvious question words (the 5 W's and H of journalism). For example, take queries with the word "ways" such as "ways to search Twitter"—there's a "how to" question behind those keywords. Similarly:
The word "reason" or "reasons" signals a "why" question
Queries that include the word "definition" are essentially "what is" questions
Terms like "differences between" and "versus" or "vs" signal a question ("what's the difference?")
Note that the top handful of question terms you turn up are likely to be topics that you already address (that's how analytics works, naturally). You'll want to search for question keywords that have search volume but aren't already answered to satisfaction on your site—ideally, they won't be answered to satisfaction on the first page of Google at all.
Answer Questions from Webinars
Another way to find questions to answer in your content: When you host a webinar, make note of all questions that attendees ask. Even if you have a chance to answer the questions verbally during the webinar, it's a good idea to publish your answers on your site so you can share that information with a larger audience.
There are two ways to answer webinar questions in your content: One, you can dump them all into one article, FAQ-style, as we did in a post that briefly answers many of the follow-up questions we received at a webinar on landing pages and Quality Score. Two, you can break out some of the more interesting, meaty questions and write full articles addressing each of those questions.
Respond to Blog Comments
Along the same lines, when you get good questions in your blog comments, consider breaking those questions out into new posts. Often you can answer a question in a comment in a few words, but if you get a really good, tricky question, you can spin that off into a full article, then link that article in your response to the original comment. Again, this increases the potential audience for your response, because creating a dedicated piece of content focused on a single question makes it easier for people to find the answer via search. You're creating scale here. Why help just one person today when you can help hundreds or thousands of people for months to come?
For related thoughts, also check out:
If you have additional ideas for scouting out content-worthy questions, share them in the comments!