If you travel much and still need to keep your blog active, you will definitely find these tips useful: they will show you how to post to your blogs from email (and thus from your mobile phone).
Of course, you won't be able to apply those to all types of blogs but generally this is very useful to know.
Post from Email to Your WordPress Blog
Detailed instructions can be found here; the steps:
1. Create a dedicated e-mail account to be used only for posting to your blog. You may want to use of the suggested random strings (You can find those in Options > Writing menus).
2. Configure WordPress to access your new account. Go: Options > Writing and there based on your email service specifications set up:
The mail server and port;
The email account login details;
The default category:

3. Publish your email posts:
You've created the new e-mail account and configured your WordPress blog to accept e-mails from that account, but you still need to set up WordPress to publish those e-mail messages on your blog. Do one of the following:
You can publish them manually by going to yoursite.com/installdir/wp-mail.php each time you send the post;
You can get help of WordPress plugins like Postie Plugin
You can set up automatic posting: for that you will need to add the following code the footer of your blog:
add the following iframe code to the footer of your blog:
<iframe src="http://yourblogdomain/wordpressinstalldir/wp-mail.php">http://yourblogdomain/wordpressinstalldir/wp-mail.php" name="mailiframe" width="0″ height="0″ frameborder="0″ scrolling="no" title=""></iframe>
Post from Email to Your Blogger Blog
With blogger everything is much simpler. All you need to do is to go to: Settings -> Email and Mobile and create your email account to send the posts to:

You can also set up what will happen to the sent post: it will either be published immediately or saved as a draft: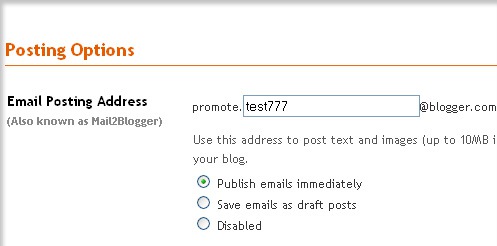 Note: the post won't be tagged after it goes live. If you need images in it, you'll need to host them elsewhere (which is not always handy).
Post from Email to Posterous
The huge advantage of Posterous is that you can email it anything – text, photos, mp3's, videos, documents – and it will automatically uploaded and posted to your site.
It doesn't require any setting up as well: just email anything to post@posterous.com and it will be published to your blog:
Here's what I did:
1. I clicked Gmail icon on the home page: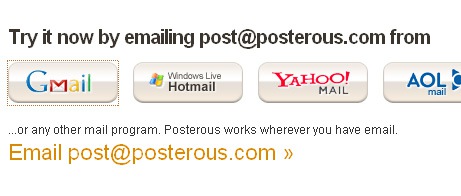 2. Then I signed in to my Gmail account, and was redirected here: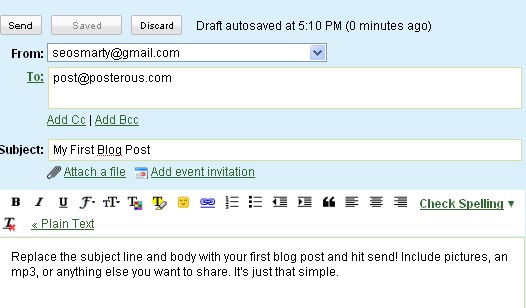 3. So I did what I was asked to: I created a message with the title of the post as a subject and attached a photo:
4. After sending the post, I got the confirmation email inviting me to edit, delete or view the post: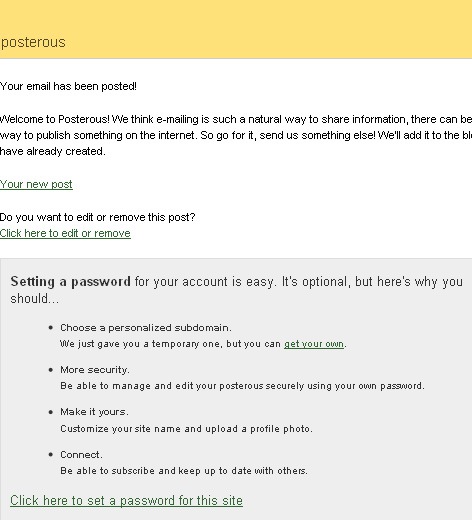 5. I did have to edit one thing: the subdomain name because the one that was automatically generated was ugly. After I was done, the post was live: