Pay-per-click (PPC) advertising remains an effective way to grab the attention of your target audience and drive them back to your site so they can engage with your products and services.
Obviously, the higher your ads appear to the top, the more likely that someone will click on that ad.
That said, just getting the click isn't the goal.
Getting a click that results in a sale, phone call, or lead is the goal.
In order to ensure the best opportunity for success, it is incredibly important to establish some sort of regular daily cadence or task list for your PPC campaigns.
While the rise in AdWords automation is helping with some, here are three PPC tasks that you should be doing every day to ensure nothing in the account is broken.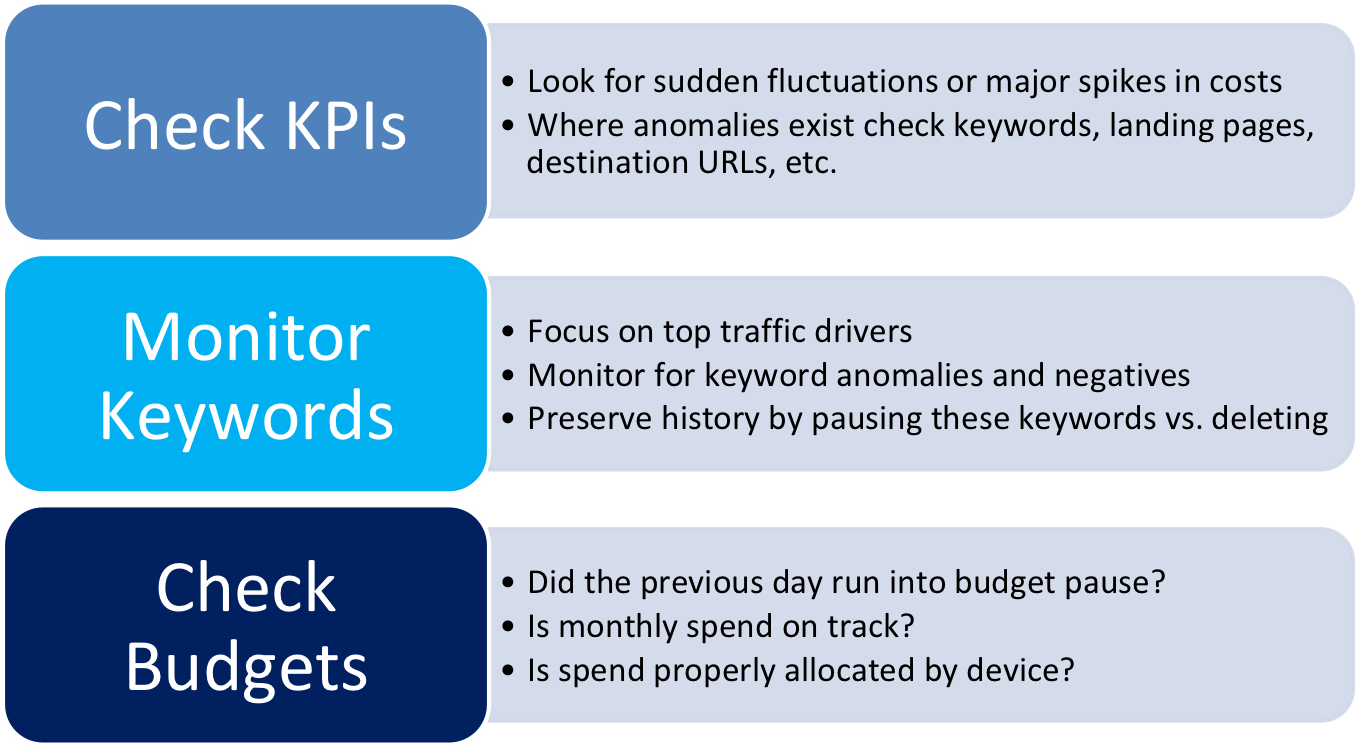 1. Check Your Key Performance Indicators
Key performance indicators (KPIs) are an important metric to help marketers determine the effectiveness of many different kinds of campaigns.
When you decide to invest in PPC, you need some way of measuring the performance of your ads, or you're just throwing away money without knowing whether your campaign is working.
The types of KPIs that you choose to prioritize will depend on your marketing goals.
Some of the most common types of KPIs for PPC campaigns include:
Number of clicks: This KPI tells you how many people actually clicked on your ad, which gives you a good idea if your ad is grabbing people's attention. Clicks won't always give you a full picture of how well your ads are doing, but they are an important piece of the puzzle.
Click-through rate: This KPI is calculated by dividing the number of clicks by the total number of impressions (views). There are different sweet spots for click-through-rates based on your industry.
Cost per click: This measures the amount of money you're spending on your ad campaign based on how many people click on that ad. It is calculated by dividing the total amount you paid for a campaign by the number of times someone clicked on the ad. It's a good way for you to determine whether your budget for that campaign was too high, too low, or just about right. A good rule of thumb is to check in on your brand CPCs. If you see a spike there, it can negatively affect performance.
Conversion rate: This measures the number of conversions that were directly generated by your ads. It is calculated by dividing the number of conversions by the total number of clicks.
These are just a few KPIs that are important in a PPC campaign.
Checking through these numbers on a daily basis can help you see if there are any outliers like a sudden surge of clicks or higher conversion rates on a particular day.
2. Review Your Negative Keyword List
One of the best ways to attract more clicks is to make sure that the language of your ads optimizes the most appropriate keywords for a search.
But when you're running a PPC campaign, it's equally important that you create and monitor your negative keyword list.
If you fail to include a negative keyword list on their campaigns, it can seriously dent the ROI for your ads.
For those who are new to the PPC game, here's a quick primer that will help you understand a negative keyword.
Let's say you're selling shoes online.
You will want to include keyword variations that include gender, intent-based queries (e.g., "buy" and "on sale") and qualifiers (e.g., "running").
But what if you wanted to exclude higher-volume, lower converting terms (e.g., "womens shoes").
In the below example, you can see how excluding terms based on match type will impact your ability to target specific types of keywords: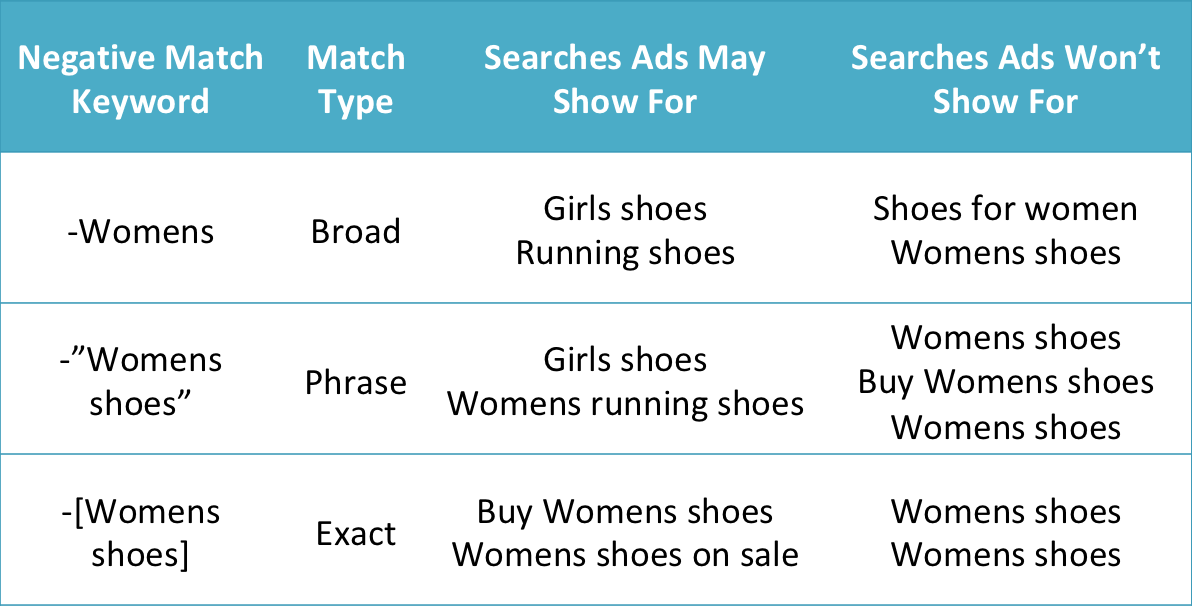 By creating a list of negative keywords, you're telling search engines that these are not relevant words for your business and that your ads shouldn't show up when people conduct searches using those words.
You should review your negative keyword list daily because search behavior changes regularly.
Make sure your list is updated to avoid spending money on ads that show up in front of people who aren't part of your target audience.
There are two quick ways to find potential negative keywords:
Popular Search Terms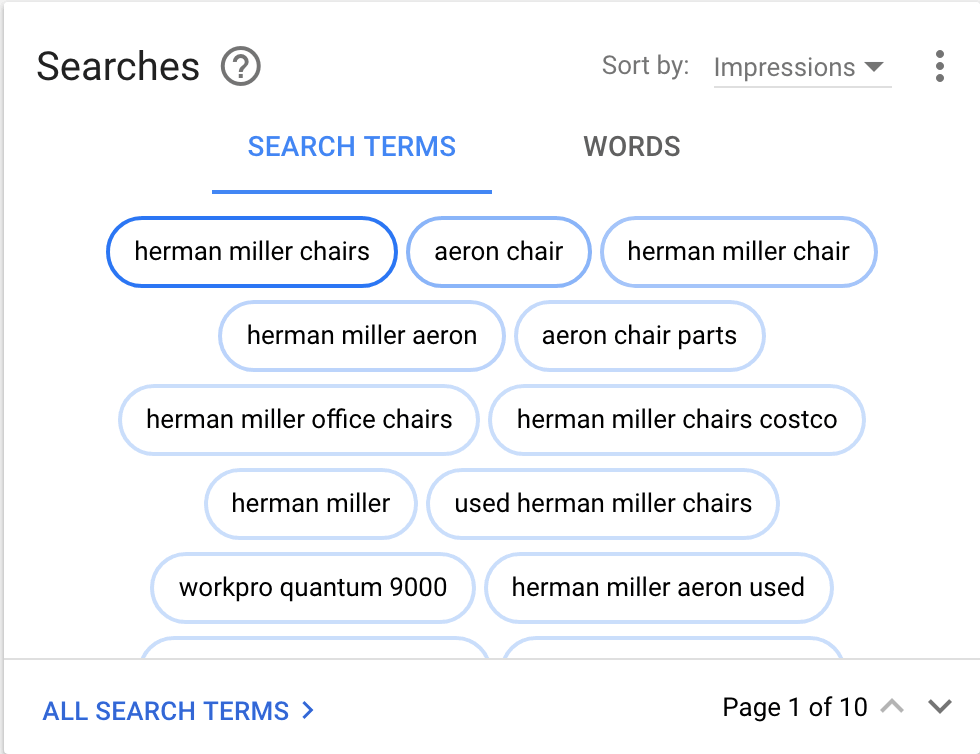 The new 'Searches' card in Google AdWords will highlight the most popular words and phrases driving traffic to your site.
Click the Words tab for an even more granular look.
In this example, we discovered two potential negatives to include in the campaign: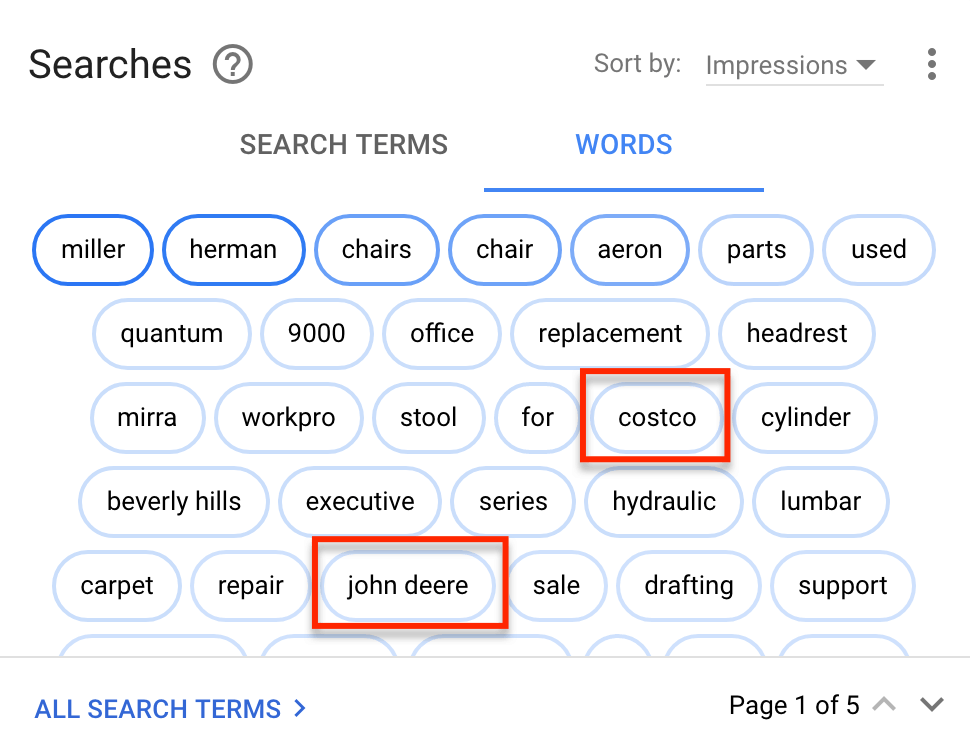 Knowing which keywords a majority of searchers are using to find your website can help you both add valuable new keywords, and create lists of negative keywords you discover to be irrelevant.
Search Query Reports
Google's Search Query Reports will give you the most comprehensive way to check for negative keywords that you may need to add to your list.
While getting this granular may not be a daily task, if you see some warning signs (like those in the previous example) a dive into your search query report from the previous day may be warranted.
3. Review Your Daily Budget
Your AdWords average daily budget is not fixed, which means that as you review your campaigns daily, you can change that budget based on analyzing some key KPIs.
Combine that with Google's daily budget change that increased daily budgets by 2x and you have a good reason to monitor this daily.
The most common application of budget management involves shifting across days of the week.
For example, if you notice that your ads are generating more traffic on a Wednesday, but are dead on a Monday, you may want to shift some of your budget to take advantage of what's happening on Monday to maximize your ROI.
Ad Delivery Method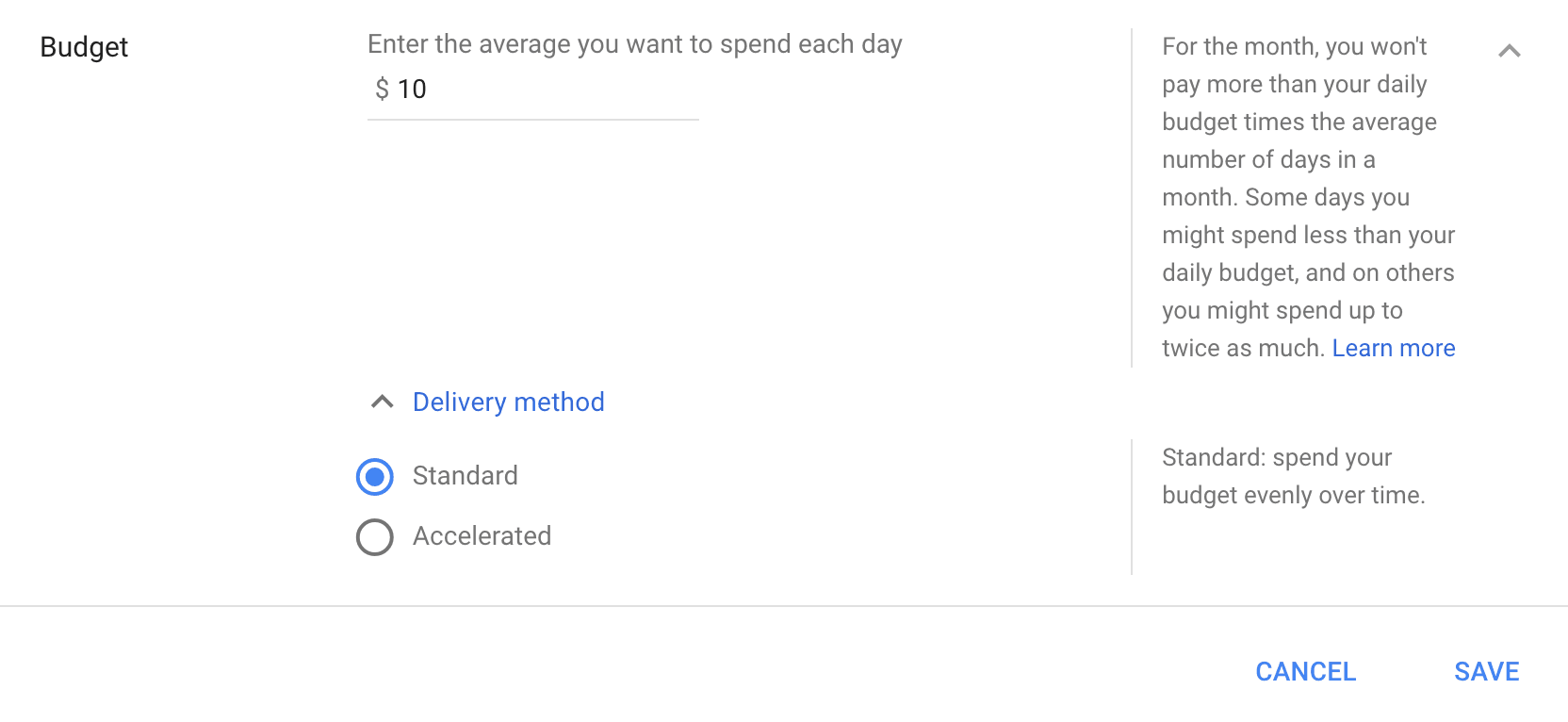 Reviewing your budget can also help you determine whether you need to change your ad delivery method.
AdWords has two types of delivery method:
Accelerated delivery: This shows your ads earlier in the day and typically chew up your daily budget before noon. You can only choose accelerated delivery if you're using AdWords' automated bidding.
Standard delivery: This displays your ads more evenly during the day. If you choose manual bidding, your campaigns automatically default to standard delivery.
Device Type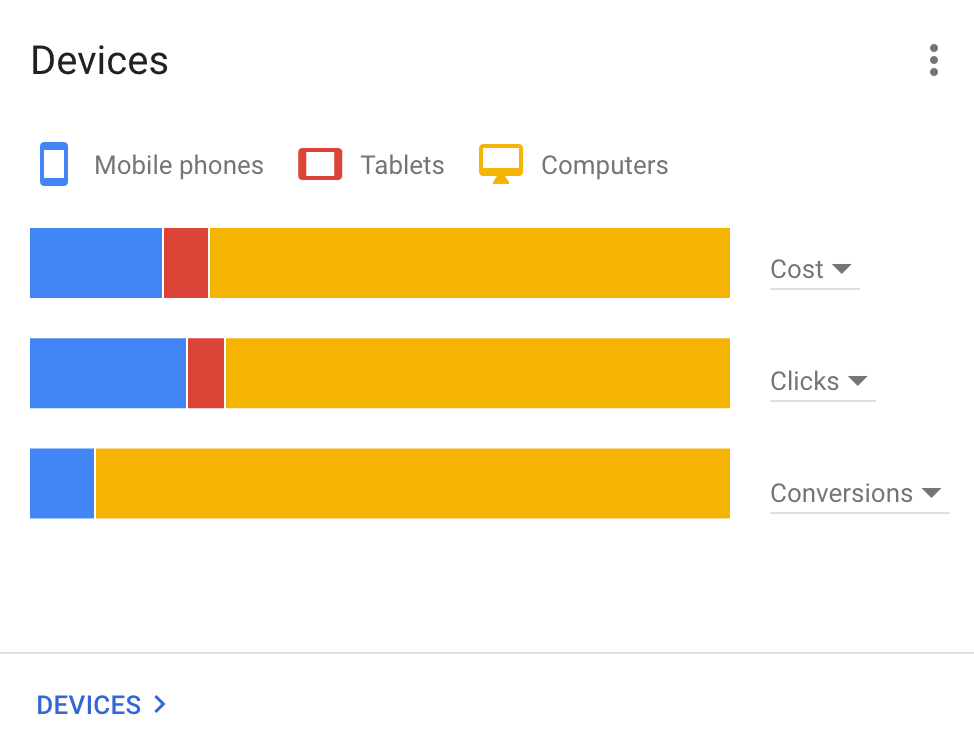 Another quick check-in on your daily budget spending is how your budget is being spent across devices.
With the explosion of mobile, if not kept in check, the percentage of mobile spend compared to conversion can become skewed – essentially stealing your opportunities for desktop conversions.
Similar to the Popular Search Terms card, Google also has a "Device Type" card that will show differences across devices for clicks, impressions, and conversions.
Visually, this is a no-brainer to add to your daily budget checks.
Adaptation Is the Key to PPC Campaigns
When you launch a PPC campaign, one of the keys to success is making sure that you stay on top of KPIs, keywords and budget so that you can quickly determine if something is awry, and change how you're approaching things.
The whole idea of PPC is to generate more quality visitors so they can turn into customers, but if you're not performing daily reviews of your campaigns, a small problem can quickly snowball into a crisis.
---
Image Credits
Screenshots taken by Jon Clark, March 2018