Although not widely used, DEFINE: Google search operator is very helpful especially for the quick access to the list of reference sources and definitions.
For those who use this operator on a regular basis or just plan to give it a try, today's FireFox Friday post is about making DEFINE operator easier to access in FireFox:
Define:
Define FireFox addon allows to search the definitions of the highlighted text at Google. Just select any term on the current page, right-click on it and select "Define" in the context menu. The search results will open in the new tab:

Inline Google Definitions
Inline Google Definitions – this addon shows Google Definitions for the selected word on the same tab via a handy pop-up. With it, you will also need to use the right-click context menu to access it:

After clicking "Inline Definitions", a tiny draggable window appears listing all the definitions (I wish the links to the definition sources opened in a new tab though):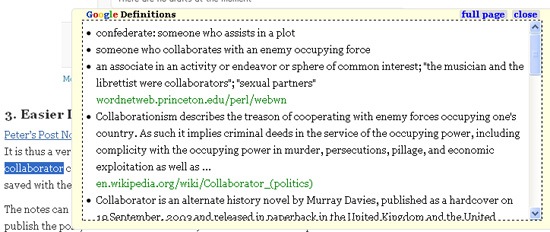 3. LookItUp
LookItUp is a feature-rich Greasemonkey script that (along with plenty of other options and settings) offers a quick access to Google definitions:
Just install the script.
Select any term on the page;
Click d on your keyboard.
A side panel will open with Google definitions for the chosen term: