Most of us will agree that Google search is insanely useful. However most people don't know how to use it to its full potential. This post aims at revealing Google search least-used tricks which will be a great help for searching link building opportunities .
While we all know how to search Google to find relevant guest posting opportunities, few of us take advantage of some essential steps I mentioned in my guest post at Daily Blog Tips
Here are the steps (you can actually apply them to any link building search, not necessarily related to guest posting):
Identify all the various ways people may use to invite guest bloggers ("Submit a guest post", "Add blog post", "Contribute to our site", etc);
Use the main terms describing your topic;
Take advantage of wildcard (*) operator (to broaden your search while keeping it focused);
Use OR and ~ operators to better describe your niche;
Now connect all the previous steps into one search:
How to Take Advantage of Google's Wildcard (*) Operator
Mentioned in the previous tip, this one elaborates further on the usefulness of Google's wildcard operator. It makes it possible:
To keep your search focused while still allowing for some term variations: [keyword "add * url"] search will include [keyword "add your url"], [keyword "add related url"], etc;
To let Google suggest you various possible topics and ideas:
Try often-used Digg-style phrases in combination with wildcard and advanced date search: top * downloads and best * of the week – and get inspired!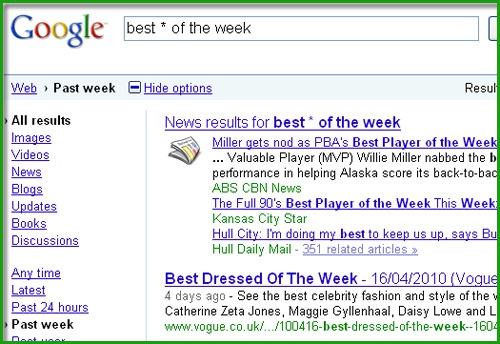 How to Search Twitter for Marketing (using Google)
John Jantsch does a great job showing how to use search to filter out 99% of the junk that doesn't apply to your objectives and focus on the stuff that matters. The post lists both Twitter and Google search tricks, we are focusing on Google-only tricks here.
To use Google to search Twitter, you should restrict the search results by applying [site:twitter.com] command. This makes it possible to look for people who may be interested in what you are promoting:
Let's say you have a business that sells an awesome service to attorneys. A simple search on Twitter will turn up thousands of mentions of the word attorney, but many of them will be from people talking about this or that attorney or the need to hire or not hire one. That's probably not very helpful for your purposes.
In some cases searching through the optional biographical information can be more helpful than the username or real name fields. Maybe you're looking for a very specific term or some of the folks you are targeting only reference their profession in their bio.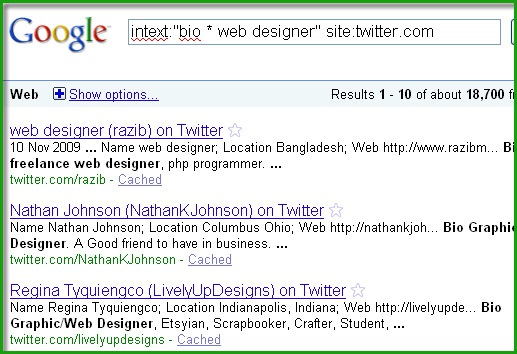 The link building tool that generates search queries based on what many industry experts shared is a great way to get inspired when searching Google for possible backlink opportunities:
Provide your base search term (describing the niche you want to build links in).
Choose ONE of the link opportunity "Types"
Grab each of generated link building queries and use your preferred search engine to look for link prospects: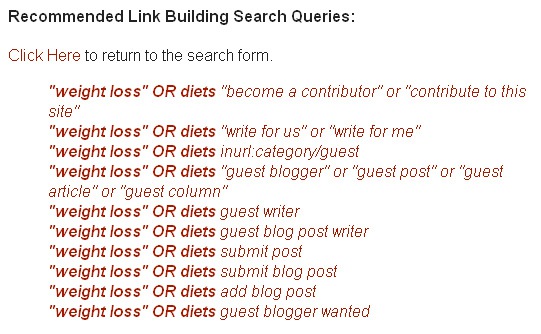 And: