If you have a Twitter account (which most of us do), you probably have noticed brands constantly outdoing one another. This is because it only takes one buzzworthy Twitter campaign to make the others follow, which in turn, increases engagement.
Regardless of the message, it could be humorous, heartwarming, informational, or hosting a contest, Twitter is a great tool to engage customers in real-time. But, with so many other brands, and rules, how can a brand stand out? After-all, it can be a bit tricky at times.
Believe it or not, it's not about how many followers a brand has – the 24 most engaged brands have over 1 million followers, but so do the bottom 70%. It's not about simply pushing products and information – it takes more than saying that your new sandwich is available at participating stores. It's even not about tweeting like a maniac every minute. Instead, it's all about conversations and consistent content.
If you're looking for inspiration for you own Twitter campaign or are just looking to follow some new and exciting Twitter feeds, then here you are: 25 awesome brands that you should be following on Twitter.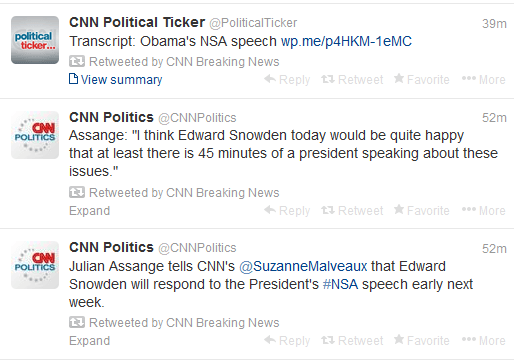 Screenshot of CNN Breaking News/Twitter 1/17/14
Twitter is all about delivering timely and urgent information, which is why over half of all Twitter users utilize the site for news. When it comes to breaking news, CNN is one of the best resources to follow. However, the news outlet went a step further with its CNN Breaking News feed. For example, a user database was built around the tweets of members from the House and Senate dubbed the "Tweet of the Union". This brought together one of the most well-known news outlets and most influential politicians for a unique and highly engaging feed.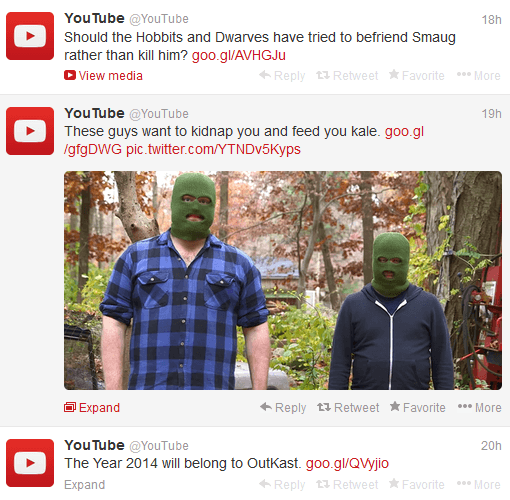 Screenshot of Youtube/Twitter 1/17/14
YouTube is the most followed brand on Twitter. But, how did YouTube gain close to 40 million followers? Unlike many other brands, YouTube is all about viral videos and trends. So, when a comical news clip leaks online, where are people viewing it? When a band reunites, like OutKast recently did, where will people watch classic music videos? YouTube keeps up trends, posts on Twitter and directs followers to their official site.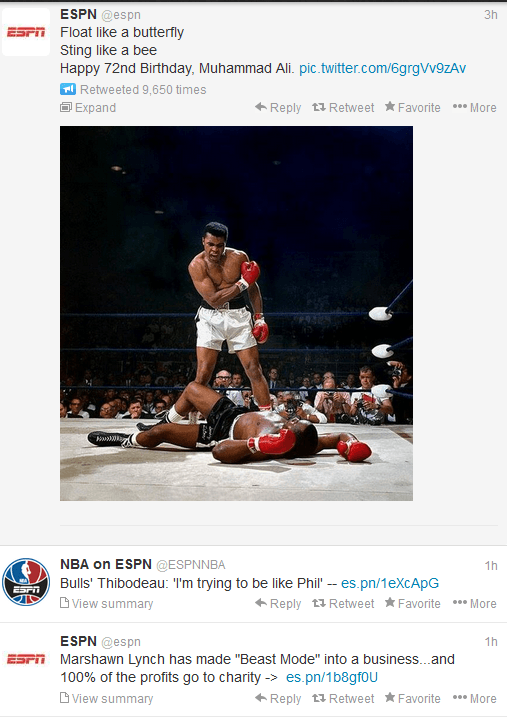 Screenshot of ESPN/Twitter 1/17/14
Much like CNN, sports fans get their breaking news from one of the most trusted outlets around. But, ESPN does more than just provide scores, stats and news from the wide world of sports. It does so in a personal and intriguing way. So when Lakers great Kobe Bryant attends a class at Boston College, the Twitter posts reads: Kobe Bryant never went to college. Until yesterday," which was followed by a link to the story.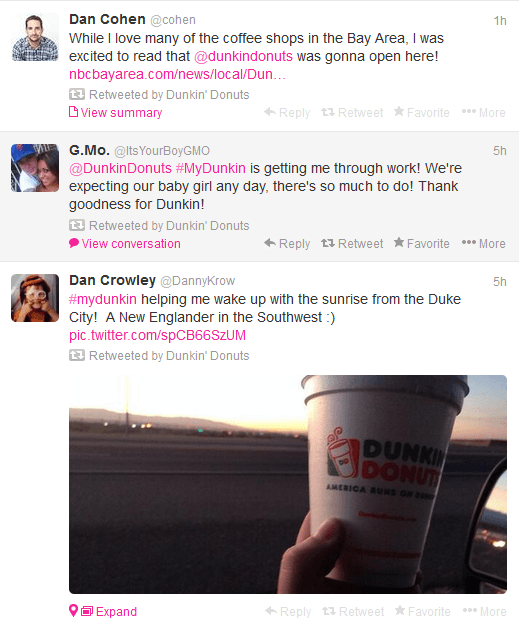 Screenshot of Dunkin' Donuts/Twitter 1/17/14
Dunkin' Donuts does a lot of things right on Twitter. For starters, the coffee chain responds to tweets, both compliments and complaints. It also hosts and promotes contests. And, the brand encourages followers to share images and stories of them enjoying Dunkin' Donuts coffee, which sometimes result in giveaways.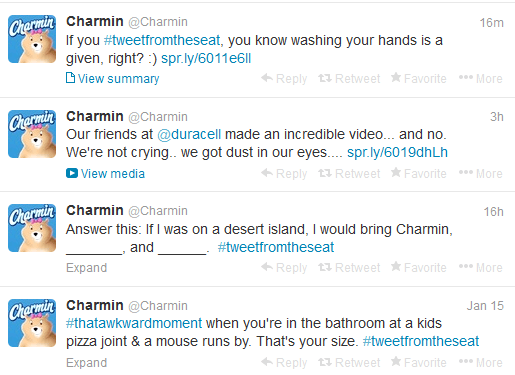 Screenshot of Charmin/Twitter 1/17/14
Going to the bathroom isn't a topic that most of us enjoy discussing. At least Charmin has some fun with the subject matter on its Twitter feed in a comical and timely manner. It's a great location if you ever wanted to share an interesting bathroom adventure.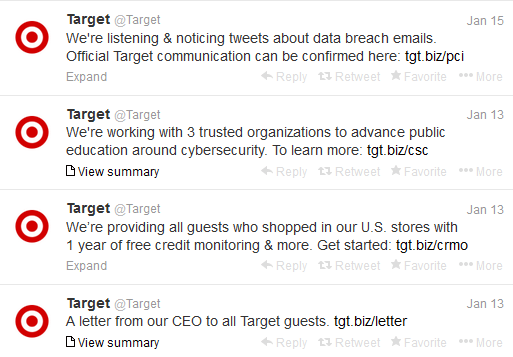 Screenshot of Target/Twitter 1/17/14
You would expect company news and customer service inquires on Target's feed, especially after that detrimental data breach, but Target also users Twitter to share style ideas and even job opportunities.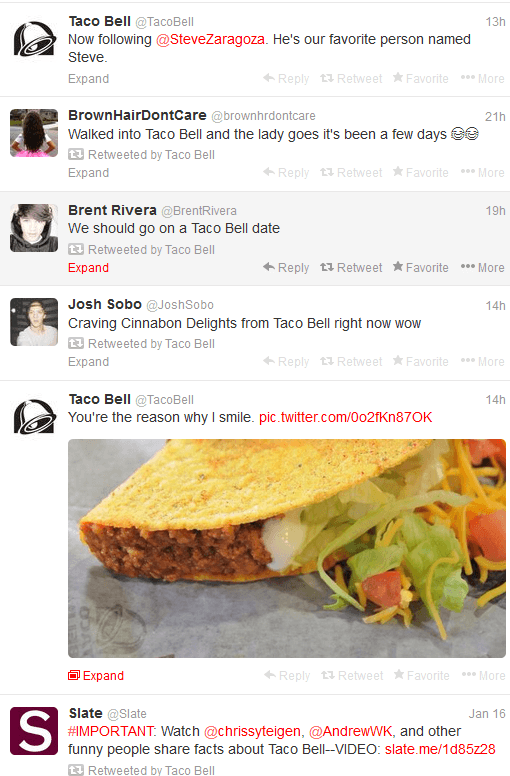 Screenshot of Taco Bell/Twitter 1/17/14
Taco Bell is one of the best brands to engages followers, both good and bad, mainly through some quick-witted humor. Even celebrities have gotten in on the fun when it's time to converse about upcoming events and promotions. It also does a great job of retweeting interesting tweets with its name and products are mentioned.
Screenshot of NASA/Twitter 1/17/14
You wouldn't think that NASA would be such a hip brand to follow, but they have a little ace up their sleeves. NASA isn't ashamed to engage with relevant industry influencers. When it was Leonard Nimoy's birthday, NASA tweeted the Star Trek a birthday greeting. NASA has also posted a conversation with Tom Hanks that described his experience with Apollo 13. Both are great examples of how to work with influencers in your niche.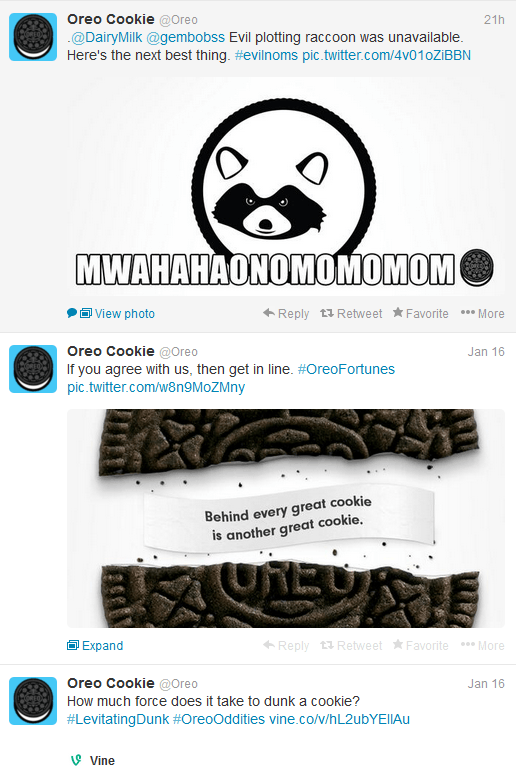 Screenshot of Oreo/Twitter 1/17/14
Remember when the lights went out during Super Bowl XLVII? Oreo instantly unleashed a social media campaign that captured the confusion from New Orleans. Since then, Oreo has proven to be one of the most timeliest and most creative brands on Twitter. Followers also receive updates on events like promotional giveaways.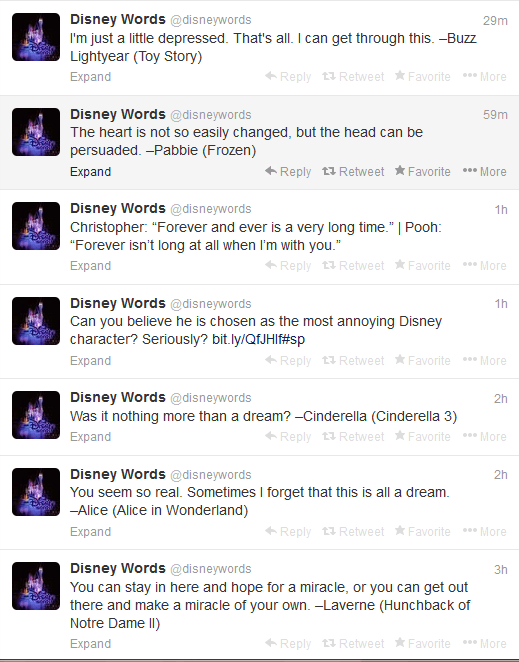 Screenshot of Disney Words/Twitter 1/17/14
Sometimes we all need a little inspiration. And, does it get more inspirational than a line from a Disney classic or character? For example, "It doesn't matter how much you have. It all means nothing if you are not happy with yourself. –Donald Duck".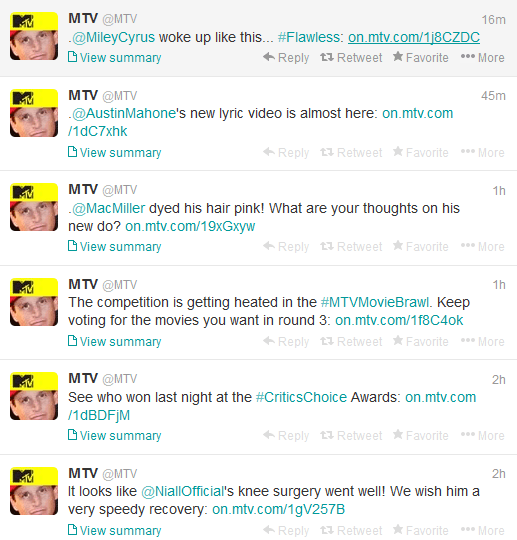 Screenshot of MTV/Twitter 1/17/14
It's all about content for MTV. The former music video channel informs followers when a show airs and allows viewers to discuss the outcome on Twitter. A great example of how casual conversions should be on Twitter between a brand and its followers.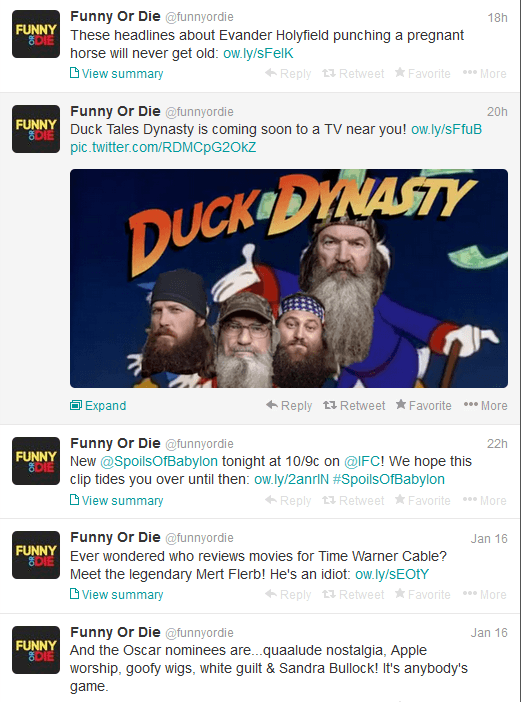 Screenshot of Funny or Die/Twitter 1/17/14
Another great feed if you need a laugh or have some time to kill. It also doesn't hurt to have so many celebrities involved with clips that are on the site.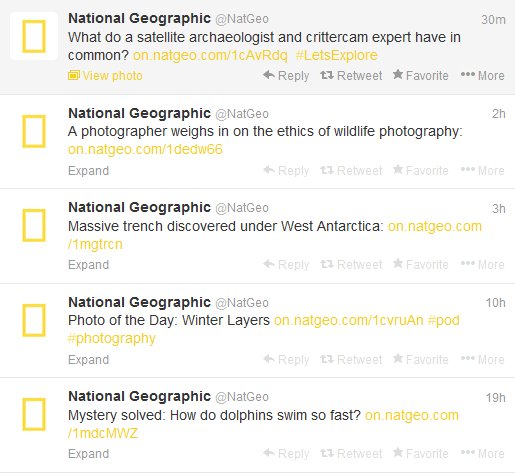 Screenshot of National Geographic/Twitter 1/17/14
National Geographic does rely on gimmicks, instead, it embraces what the brand is and the people who enjoy reading its content. The publication brings awareness to scientific discoveries and causes, which it's been doing for over 125 years, but uses Twitter to discuss these issues with a like-minded community.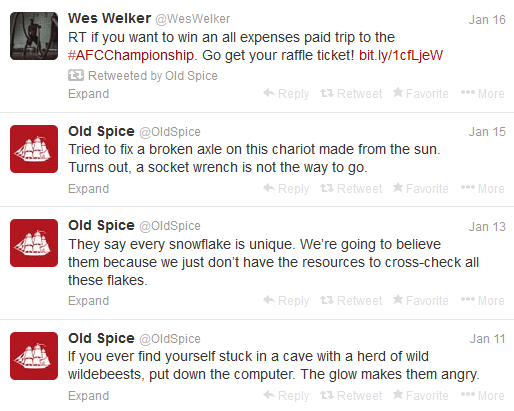 Screenshot of Old Spice/Twitter 1/17/14
By now, you've seen this odd, amusing, and trendy Old Spice ads. If you enjoy those campaigns, then Old Spice's Twitter feed is worth following. It continues the silliness that you'd come to expect from the brand.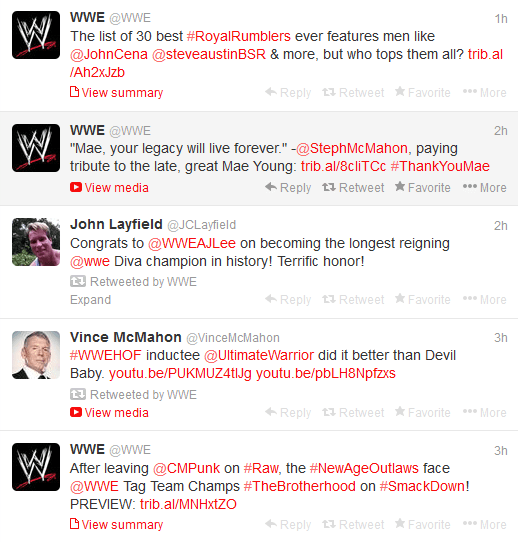 Screenshot of WWE/Twitter 1/17/14
WWE has done an incredible job at being a champion of social media. The leader in sports entertainment encourages talent to embrace social media and continue storylines with each other, and fans, on platforms like Twitter. Even when a victor has been determined, the conversion about the outcome continues on Twitter.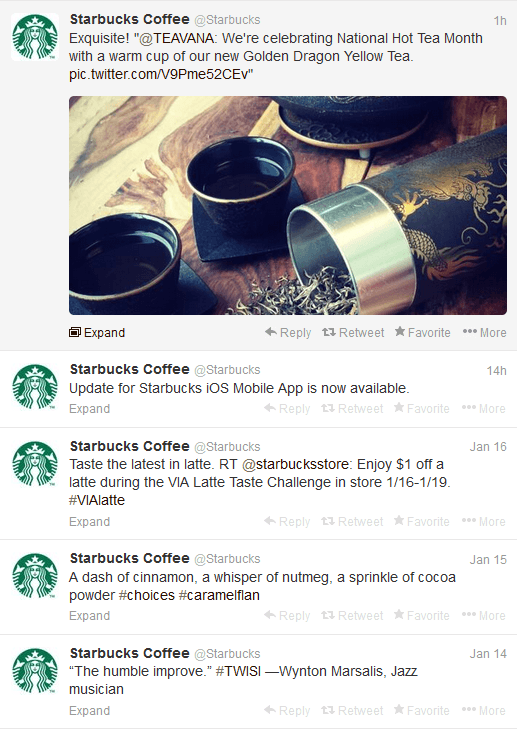 Screenshot of Starbucks/Twitter 1/17/14
One top of keeping customers informed on new drinks and products, Starbucks posts some of the most captivating images on Twitter. Just taking a quick glance on their feed makes us extremely thirsty for some refreshing java, which means they are doing their job well.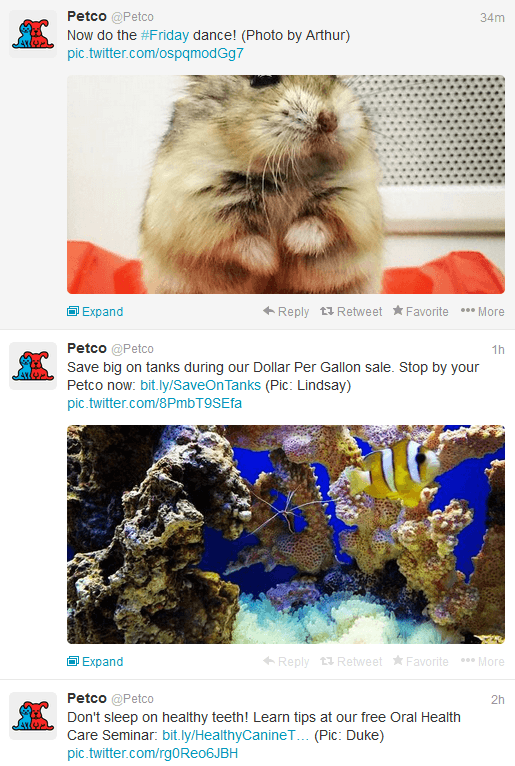 Screenshot of Petco/Twitter 1/17/14
If you're a pet owner, then you should already be following Petco. The store does the usual: post updates on sales, events, etc., but what makes it really engaging are all the images of pets dressed up for certain occasions. It definitely tugs on the heart-strings and is of interest to their target consumer base.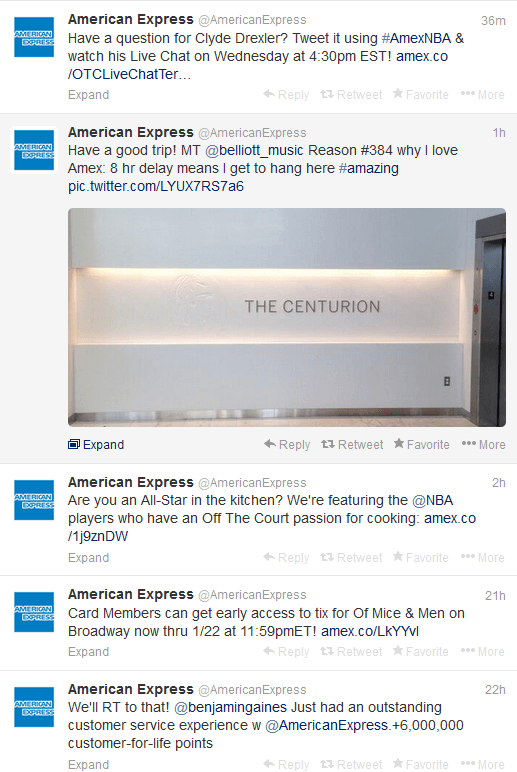 Screenshot of American Express/Twitter 1/17/14
Besides news and customer service information, American Express posts incredible offers for followers. One recent example: followers could simply fill in the blank of a statement for an opportunity to win $2000.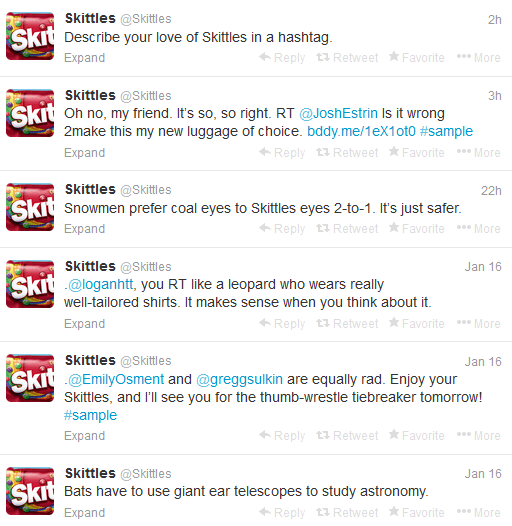 Screenshot of Skittles/Twitter 1/17/14
Skittles keeps up with it's theme of goofiness with thought-provoking one-liners, such as "Snowmen prefer coal eyes to Skittles eyes 2-to-1. It's just safer." Even if you're a horrible person, that should be enough to put a smile on your face.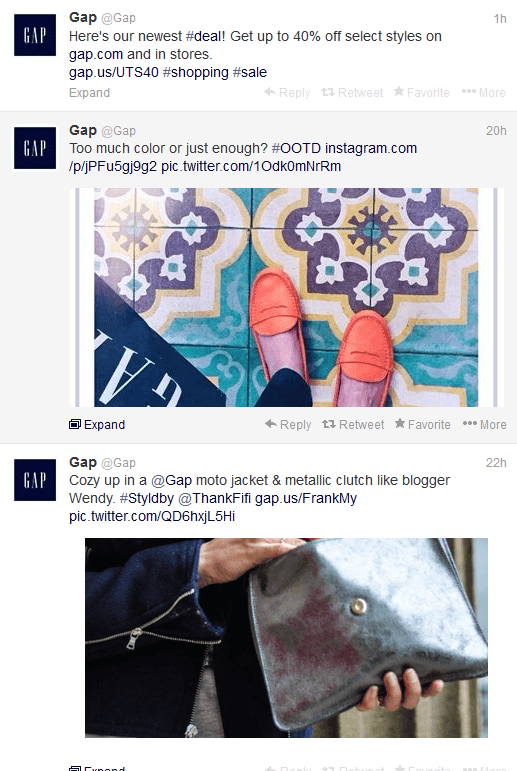 Screenshot of Gap/Twitter 1/17/14
Most clothing brands do well on Twitter, since they can post images of clothing and announce sales, which people tend to enjoy. But, the Gap is great at announcing new arrivals and campaigns via Twitter, as well suggestions on how to match items so you have a great look.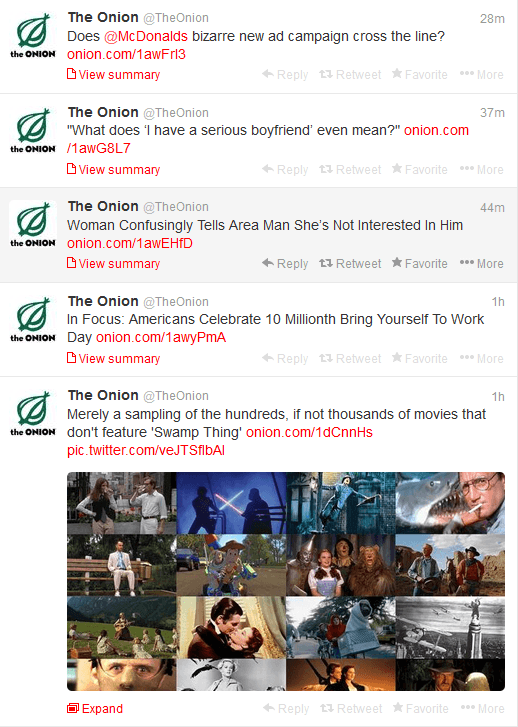 Screenshot of The Onion/Twitter 1/17/14
Just because this satirical "news site" has been around for years, somehow people still fall for the fake news stories that are published. It never gets old. This makes The Onion a great feed if you need a laugh or to kill some time.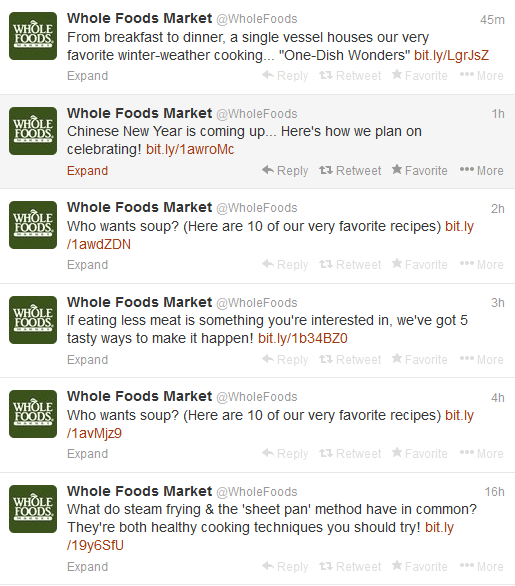 Screenshot of Whole Foods/Twitter 1/17/14
It's extremely difficult to eat healthy when you're always on the run, but Whole Foods does an excellent job of posting delicious dishes that are healthy and time-consuming. But, the best part about following Whole Foods is that people are awarded gift cards of they share advice or participate in surveys. Individual Whole Foods stores also do a great job at social media.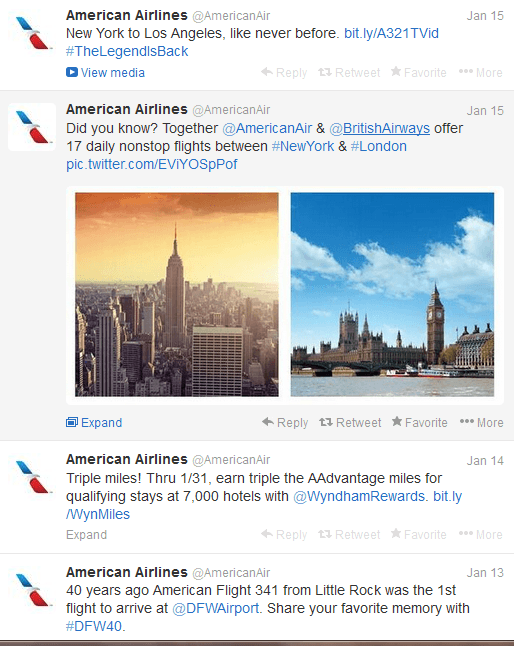 Screenshot of American Airlines/Twitter 1/17/14
American Airlines does an outstanding job of communicating with customers via Twitter. Back in July 2013, a passenger, Alan W. Silberberg, was stuck on the ground, but commended the American Airlines staff on Twitter. What followed was a great exchange between the passenger and airline to make sure that he got up in the air safe, sound, and on time. Take note: customer service goes a very long way.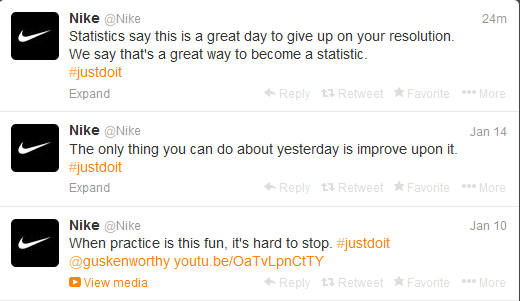 Screenshot of Nike/Twitter 1/21/14
Finding the motivation to get into shape is extremely difficult. Nike, however, attempts to give followers a little push by posting inspiring tweets, along with videos and images. What's unique about this campaign is that the sportswear giant doesn't rely heavily on product promotion throughout its Twitter page.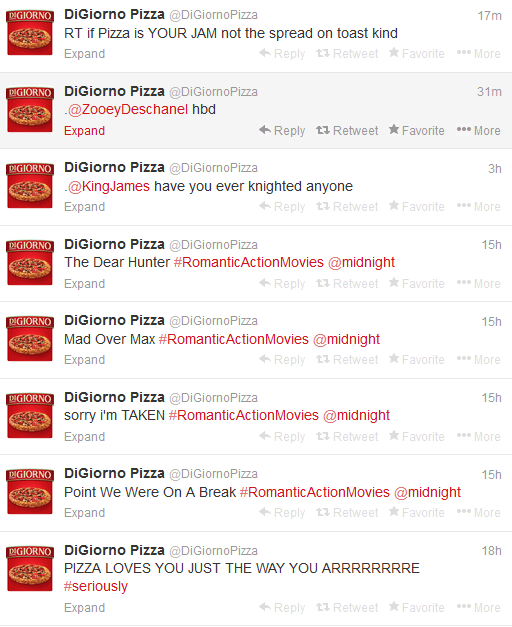 Screenshot of DiGiorno Pizza/Twitter 1/17/14
Up until the end of 2013, DiGiorno Pizza may have not been on a worthy brand to follow on Twitter. Then, the live performance of The Sound of Music aired on NBC on December 5, 2013. During the show, the frozen pizza company sent roughly 40 fun-minded tweets with the hashtag #TheSoundofMusic. We've been hooked since.
Which brand do you think is doing the best job at engaging followers on Twitter? What makes them so engaging that they're worth following?
Featured Image Credit: mkhmarketing/Flickr