The third annual US Search Awards is taking place at Paris Las Vegas on October 7th, 2015, again in conjunction with Pubcon. The US Search Awards was established after seeing the success of the UK Search Awards and the European Search Awards, which were launched by British events agency Don't Panic in 2011 and 2012 respectively.
The awards ceremony recognizes and rewards organizations, agencies, and individuals based or working in the USA search and digital marketing industry.
Entries for the 2015 US Search Awards are set to close Friday, July 17th, which means you still have over a month to send in your entry.
The awards ceremony promises to be "the biggest celebration of search, PPC and digital marketing in the USA." The US Search Awards attracts hundreds of entries from leading search and digital agencies and professionals across North American and beyond.
The awards show was a success at last year's Pubcon, with winners seeing significant business benefits following their win.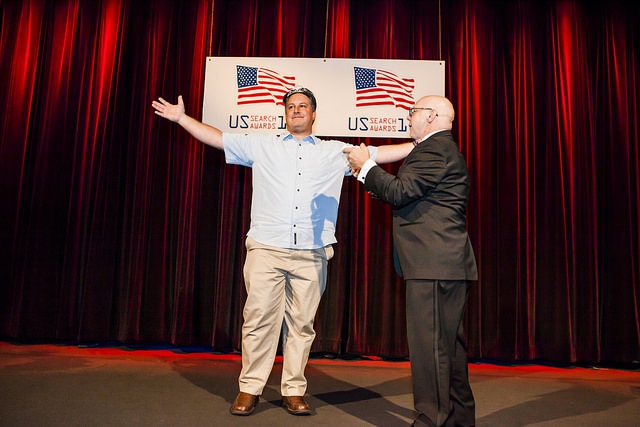 Duane Forrester, Senior Product Manager of Webmaster Outreach at Bing, weighs in on his big win last year:
The US Search Awards recognizes some of the best practitioners across the country for their efforts. I was extremely honored to be chosen as the US Search Personality of the Year. Such recognition from this industry was humbling and a real thrill! And while the award was nice, the ability to spend a spectacular evening with some of the smartest folks in our industry was the real reward. I encourage everyone to participate, either by entering the awards or by showing up on the night.
Here is a full list of the 2014 winners.
Seeing your name among the list of 2015 winners starts by getting your submission sent in! Fill out the entry form right here.
SEJ is a media partner for the Search Awards and will receive a reserved table at the event.