Did you that in 2015 there were around 2.6 billion email users? In under four years, that figure is expected to grow to 2.9 billion. That means one-third of the world's population will be using email by 2019.
Despite those impressive figures, there remain a few organizations who believe that sending commercial messages directly to their customers through email is either obsolete, ineffective, or only for major corporations.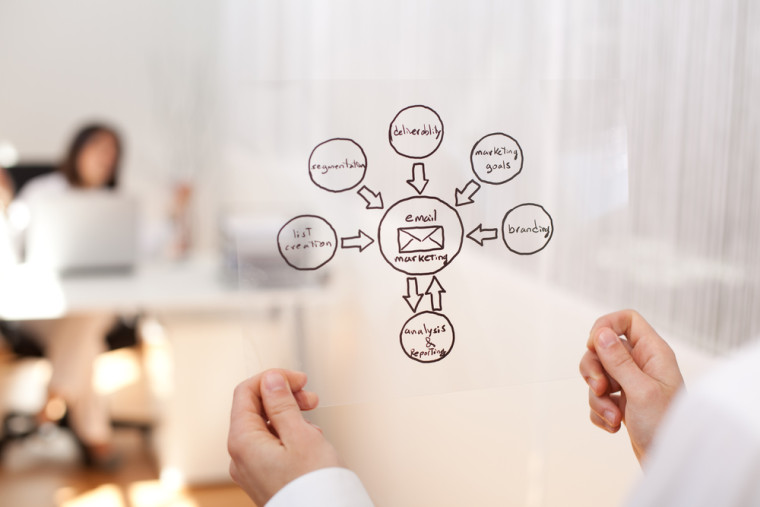 Email marketing campaigns are neither obsolete or ineffective.
For starters, 59% of B2B marketers surveyed for Crain's BtoB Magazine proclaim that email is the most effective channel for generating revenue. McKinsey & Company discovered, in their research, email is actually a more effective way in acquiring customers than social media. In fact, email is almost 40 times that of Facebook and Twitter combined.
But, don't you have to be a large company to enjoy the benefits of email marketing? Not necessarily.
Believe it or, you can implement an email marketing campaign relatively cheap, and most of the time for free, by using the following 12 WordPress plugins.
If you are one of the more than 9 million people who use MailChimp, then you already know this is an essential tool for marketers. Did you also know that MailChimp also offers a powerful, and free, WordPress plugin as well?
MailChimp For WordPress allows you to connect with your existing MailChimp account in just one click. It can also create customizable sign-up forms, track emails, manage subscribers, set-up autoresponders, and establish a redirect to a "thank you" page.
It can also integrate with other useful plugins like WooCommerce and Contact Form 7. Probably the most useful feature is that this plugin allows you to generate campaigns without having to send out an email every time you update your WordPress blog because it will notify your subscribers automatically.
Looking to convert your WordPress visitors into email subscribers? SumoMe's List Builder allows you to accomplish exactly that by making sure it catches visitors before they leave your site with a lightbox that appears asking for their email address.
The lightboxes are customizable and are one of the few pop-up plugins that are optimized for mobile users. The plugin also integrates easily with marketing services like MailChimp, AWeber, Get Response, Constant Contact, and Active Campaign.
The SumoMe plugin is free to download and also comes equipped with a suite of tool that allow you to share your WordPress content onto your social media channels, heat maps, ability to view Google Analytics directly on your site, and a scroll box that gathers email addresses as visitors scroll down the screen.
SendinBlue is an email marketing service provider with similar features to MailChimp. SendinBlue's Subscribe Form and WP SMTP plugin lets you construct customizable subscription forms, segment your contact lists, and track emails through the wp_mail() function. You can also build and send newsletters to your subscribers to enhance marketing campaigns and have access to real-time statistics like bounce rates, opens, and clicks.
The plugin is free to download as long as you have an account with SendinBlue. The good news? If you send out less than 9,000 emails per month you're eligible for a free membership. They've also removed the 60-day limit to their free membership since the start of 2016. However, it comes with limited features compared to other plans.
Intrigue your visitors by giving them just a glimpse of your awesome content. Then, if they want to view the rest of a blog article, they will have to opt-in by providing their email address. You can easily achieve this by installing the Opt-in Panda plugin.
Besides hiding your premium content, you can offer exclusive in-content freebies, track results with the built-in analytics tool, and see where your audience is coming from since they can subscribe by using social channels like Facebook, Twitter, Google+, or LinkedIn.
The content is still searchable by bots, so don't worry about the plugin harming your ranking. And, you can add your new subscribers with pretty much all of the major email marketing service providers like MailChimp, AWeber, ActiveCampaign, GetResponse, and Sendinblue.
If you're looking to convert more visitors, then you need to be able to grab their attention after they land on your site. One of the most effective ways to accomplish this is by having a handy notification toolbar that catches their eye. One of the most popular tools for this would be The Hello Bar. But, that could end up costing you since you have to pay for clicks – the free version only allows 25 clicks.
One of the best alternatives, that also happens to be free, is the Attention Grabber Plugin. It's also easy to install and can be quickly integrated into your WordPress site. The top features include a customizable bar for your site, the ability to track sign-ups through Google Analytics, and the power to hide or display content so it will best fit your visitor's screen.
This is a useful WordPress plugin if you want to create and send your subscribers HTML/text newsletter by using the standard WordPress GUI and API. Other features give you the chance to select the who you want to send the newsletter to and gather and manage your subscribers.
There's also an Ajax widget for subscription, a debugging tool, and an impressive theme manager. One really interesting feature is that bounced emails are automatically unsubscribed. The plugin also supports internalization and multilingual and has sending reports so you can see how many subscribers opened the email and clicked on the internal links.
FreshMail is an email marketing and newsletter provider that has received multiple awards for in email marketing category for the highest ROI. With the FreshMail plugin, you can easily construct and add customized sign-up forms and defined popups onto your WordPress page. There's also options for allowing you to set up automatic subscription sign-ups via checkboxes whenever users take action on a website, like leaving a comment or participating in a survey.
The plugin also integrates with Contact Form, WooCommerce checkout, and Google Analytics so you can keep track of everything. There's also reports where you can identify the sources of user registrations through a selected period of time and see which forms generated the most new subscribers. If you send less than 2000 emails per month, FreshMail is free to use. Plans start at just $7 if you want to take full advantage of FreshMail's features.
This is one of the most popular contact forms for WordPress users. Why? Because it's easy enough to use for beginners, but also flexible enough for experienced WordPress users. For example, you can customize form fields, appearance, and mail contents.
With this plugin, you can also create multiple contact forms and place them on any of your WordPress posts or pages. Contact Form 7 even supports Ajax-powered submitting, CAPTCHA, Akismet spam filtering, and is available in multiple languages. There's also MailChimp integration, so that's another added perk.
Add the Contact Form 7 Newsletter plugin as well and you'll be able to send out newsletters to the visitors who have contacted you.
If you just want to stick with one plugin for your email purposes, then this very well could be your solution. This popular plugin essentially does everything you need to create and manage your newsletters. Features include email tracking, customizable forms and subscription widgets, and both single and double opt-ins. There's even a solid subscriber preferences feature so you can target your campaigns more efficiently.
And, since it seamlessly integrates with your WordPress Registration, you can have the Newsletter plugin up and running with just a couple of clicks.
Like pretty much every other plugin included in this list, the MailPoet Newsletters plugin is free to download. While the plugin does specialize in sending newsletters, which is a breeze with the drag and drop newsletter editor, the robust features that come installed make this an essential plugin for WordPress users. MailPoet will assist you in creating autoresponders, segmenting your contact lists, and collecting subscribers in just clicks with a widget. Most importantly, this plugin will send your subscribers a notification whenever you publish a WordPress post.
There are more than 70 themes to choose from, as well. So you shouldn't have any difficulty finding a theme that best suits your brand. And, the newsletters will appear the same in email services like Gmail or Yahoo, along with Android and iOS devices.
According to the developers, this plugin will "generate your list 500% faster." Whether that's been proven or not doesn't change the fact that this is a solid plugin that will allow popups on your website – even on mobile devices. You can customize everything from content to codes to cookie expiry so you can have brand consistency and design a popup to meet your needs. However, the developers keep things to a minimum so you don't have worry about the plugin slowing down your load time.
This free plugin will play nice with email providers like MailChimp and AWeber, as well as plugins like Contact Form 7.
If you have a WooCommerce store, then you should seriously consider installing this plugin. For starters, you can send personalized emails and offers to customers based on their shopping history. Furthermore, you can segment customers automatically, send abandoned cart reminders, track customer behavior, nurture leads, and design responsive emails. If that weren't enough, this plugin also gives you the power to generate custom campaigns and create A/B tests. Finally, there's an intuitive dashboard that shares valuable analytics like purchase rates.
You can give Remarkety a free spin for 30-days. After that, you'll have to select either the $32, $64, $119, or $205 plan.
Conclusion
Email usage, along with email marketing, doesn't appear to be going away anytime soon. It's effective in increasing leads and conversions, along with keeping your customers in the loop by sharing the latest news, promotions, or offers from your brand.
Best of all? If you use you WordPress, which there's a good chance you already are, you can install free or affordable plugins to get your email marketing campaign up and running.
Which WordPress plugins have you used in your email marketing campaigns?
Image Credits
Featured Image: ra2studio/Shutterstock.com
In-post Photo: Helder Almeida/Shutterstock.com