Recently we listed the 11 Essential SEO and Analytics Apps for the iPhone. But, and this is a shocker, not everyone has an iPhone. There are plenty of people who own Android devices, so it's now their turn to get in on the fun.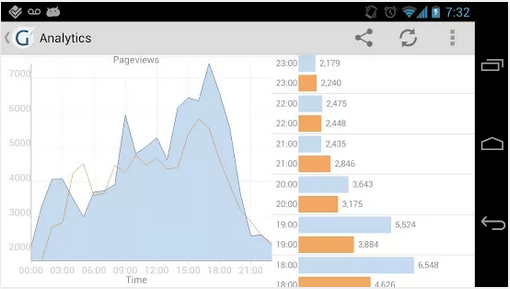 While many apps are available for both iPhones and Androids that we recommend, such WordPress and Evernote, there are a good number of apps that are either exclusive or just perform better on an Android device. If you happen to own a Android, and want to get the most out of your phone for all your SEO and online marketing needs, here are our 11 Essential SEO and Analytics Apps in Google Play.
11. Dragon Go
Are you jealous that your friends or colleagues with iPhones are using Siri to get some work accomplished. No worries. The popular Dragon Dictation software is now available as a free app. Take that Apple. You're not so special anymore.
10. Marketing Plan
Even if you're not a newbie when it comes to SEO or online marketing help, a little extra help can't hurt. For $0.99 there's the Online Marketing app by Alex Genadinik. Besides giving you all the info you need for a successful marketing campaign there's also a live-chat with an expert feature when needed.
9. Trello
This free app is an extremely useful if you need assistance in getting organized. Trello comes equipped with checklists to keep track of to-dos and the ability to share ideas with co-workers.
8. Ad-ology Marketing Forecast
This is another essential app if you want to keep up-to-date with the hottest marketing trends from everything from Google searches to Tweets, which is probably a smart move. Remarkably, Ad-ology Marketing Forecast app is free.
7. AdSense Dashboard
If you have to step away from your computer, but absolutely need to know your AdSense performance metrics, including CPM, CTR, page views, clicks, and estimated revenue, then you should already have the AdSense Dashboard app. It's not like it's going to cost you anything.
6. EventBrite
Besides being able to check out what's going on around around town, as well scoring tickets, EventBrite allows you to manage registrations, create backend reports, and track where your attendees are coming from if you're hosting a crucial event.
5. Google Drive
If you use Google, and who doesn't nowadays, then you know all about Google Drive. But if you don't use Google, here's what Drive is about. Whether you're in the office, at home or traveling across the country, Google Drive allows you to store all your files in one place and share them with others if needed. Easy and convenient.
4. HootSuite
Yeah. We know. We already included HootSuite on the iPhone list, but we couldn't help ourselves. It's just that great of an app. It's a definite download for those wanting to sync up all of their social media accounts. It does make life easier.
3. WebRank SEO
Not only is the WebRank SEO app free, it's one of the best SEO apps available. It provides you with all you vital SEO data like Website Ranks, Sociometer, Pages Indexed and Backlinks in and a useful SEO Tool for website analysis.
2. gAnalytics
With all the analytics apps available, it was tough to select the best. But, gAnalytics rose to to the top. This free app does everything you want and need from a Google Analytics app (Visitors, Content, Goals and Ecommerce) but it presents it in an easy to understand format.
1. SEO SERP
This is a must-have app for any and all SEOs. The SEO SERP app tracks your website position in Google results page, how your site is doing with social media and the overall website health. Doesn't sound exciting. But that's an essential part of the job. There's a free version, as well as, a Pro version for $6.99.