I read Matt Leonard's post on 10 Ways to be a Great SEO a while back and thought it would be great to put a social spin on it (even if this IS 4 months late). Without further ado, here are 10 ways you can help build your social network/portfolio.
1. Socialize
Remember when your mom dropped you off for Kindergarten and told you to go make lots of friends? This is essentially the same thing, choose your social portal and use it for the reason it was made: SOCIAL NETWORKING. If you're working on Twitter, be sure to speak with those you're following and get to know them. I'd much rather have >1000 followers that I actively engage with than tens or hundreds of thousands of people I've never said word one too.
If the social news sites are where your focus is, be sure to network with the friends you find there. Go beyond just voting on their stories, comment and share them with others in your group. Not only will your friends begin to notice, but they'll reciprocate.
2. Diversify
If your goal is better brand yourself or just simply to network, choose more than just one outlet to do that. Twitter is probably one of the best ways of interacting with your followers, but adding those same connections to Facebook or LinkedIn tends to take that relationship to a different level where you can share connections, photos and more. In my opinion it helps to solidify the friendship that you were building on the other portals.
3. Participate
It's one thing to have a Twitter or Digg account, it's another to use them. Twitter currently has over 70% of accounts that are considered "inactive". I've had periods of time where Twitter was the last thing on my mind and with the myriad of ways I could update my status, I just didn't want to. I feel like I've missed out on a bunch of things and have let some relationships stagnate because of those deserted periods.
One way to make your Digg, Reddit or StumbleUpon account obsolete is to ignore it. I've unfortunately found that out the hard way, but I've also talked with many people who've had the same problem. Accounts just aren't as strong and don't garner the votes they used to when you socialized and participated in the past.
4. Contribute
Sites like Digg and other social news sites wouldn't even be around with the submissions of its users. I'll take this a step further and say you should really contribute quality articles (there's enough spam as it is already). Along with supporting your friends' accounts, build up your own by constantly looking and submitting good articles. Digg/Reddit/SU users notice someone who submits quality over quantity.
5. Be Real
Whether the account is your own personal one or business's, don't be fake…anyone can smell a fake from a mile away. A great example of this is the @10e20 account, there's a great mixture of comedy, news-worthy links and communication amongst its followers. I gather the added snarkiness has come from bringing @rebeccakelley to the team 🙂 Be who you are and who you know how to be and you will get REAL followers that want to follow you because of what you say and what you share.
6. Consistency
As I stated above, I highly regret the depressions in usage on Twitter in the past. Hubspot did a pretty interesting article on the optimum number of tweets per day to gain the most followers. While those graphs are nifty, I think this goes back to my previous mention of being real. If you're a talkative person, tweet to your hearts desire. Don't feel obligated to tweet/digg/submit a certain amount of times per day because it's "statistically better", that's when things can get sloppy. Find what works best for you and stick with it.
7. Be Meaningful
Above all, the thing that will make you shine the most is to show people that you actually give a crap! So many people out there are trying to reach that 10,000th follower or reach a certain number of front page stories they've submitted. My philosophy is, if you continue to do the simple things listed in this article, you'll eventually get there. It may not be the path that gets you there the quickest, but it'll be a path filled with meaningful relationships and friends that will gladly share your stories, upvote your submissions, have a conversation with you on Facebook chat or whatever. I love the piece Lisa Barone wrote on How to Be Remembered. It really struck a cord with me not in just networking, but it blogging and client work as well. Make it a priority to genuinely care about the people you're interacting with and you'll build more than just a number on a follower's list.
8. Get Creative
I know this isn't necessarily the most hyped of the group, but another way to stand out as just another Twitterer or Digg user is to be different. If you're trying to get the attention of a certain person or group of people, do more than just Retweet their story…make comment on the blog or attempt to strike up a conversation regarding the matter. Take a great story you saw on Digg and submit it to Reddit or Stumbleupon and help to get that story some more attention there through cross-pollination.
Probably one of the best examples of creativity on Twitter is @darthvader's account! I don't think I've seen a funnier set of tweets for another account than his, taking somewhat of a Robot Chicken-ish approach to his tweets, like this: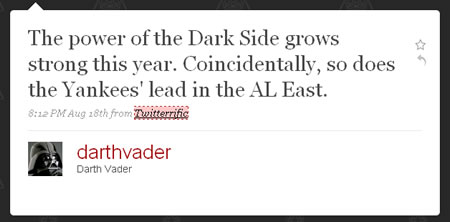 9. Monitor
This may be more for a business than for a personal account and probably more so for Twitter than most places, but listen to those who talk to/about you. Comcast did an awesome job of this by creating their slew of Comcast employee accounts as well as the main @comcastcares account. They were able to turn the majority of bad tweets into solutions for those with the issues.
One company that I think has failed in this area is AT&T (of which I will thankfully no longer be a customer of in 3 hours). Toward the beginning of August, AT&T was a trending topic on Twitter for nearly 3 weeks straight (on and off). If the tweet wasn't about the iphone, it was usually something about how AT&T screwed up their bill, being on the phone with tech support for over an hour or some other negative tweet. Unfortunately, for AT&T, they have done little, if nothing to quell the barrage of negativity online. And while it may not be a big deal now to a large corporation, I'm sure there will come a time where no company will be safe, large or small.
10. Relevance
Staying relevant can be a key factor in why someone does and does not follow you. It's understandable to be random on your own personal account, but if you're looking to brand yourself or your business account, it's important to share and promote stories within your industry. This will lead to more followers that talk about what you talk about and can help in further promoting your stories and building beneficial relationships with those who you share common interests with.
So there it is…10 ways you can personally become better at social media. Not the standard, by any means, but one that has worked for myself and many others I've spoken with. I'd love to hear of any ideas and practices that you have used to better your social accounts. Note that each social portal is different and users on each will likely be so (like when I was on Plurk a long while back), so find what works best for you.
Vince Blackham is the owner of Primary Affect, an internet marketing business where he focuses on SEO, viral marketing and Reputation Management for his clientele. He has been in the business for over 6 years and is very passionate about marketing. Vince is also a huge Colts fan.