A compendium of random stats I've found interesting from 2010
It's that time of year again, where people are in full swing of 2011 planning so I thought what better time to share a few of the takeaways from 2010 news and views that may well rock your 2011 world.
I normally write a more typical search business column, but this time around as I've been in 2010 review and 2011 planning mode recently, I thought I'd pull together a quick and random compendium of industry-level tid bits that give those trend munchers and stat lovers their daily fix.
So for instance, did you know that Internet World Stats states that of the 82.5% internet penetration in the UK – almost a 3% increase in a year?! Bigger than that for ecommerce though is that a touch over 67% of the UK population is now thought to be persistent buying goods online. Anyway, with such a great deal of this growth being driven by social, let's kick things off there shall we…
Social Consumption
The consumption of social media is on the rise, we all know that, but did you know it now dominates 25% of time spent online according to Nielsen?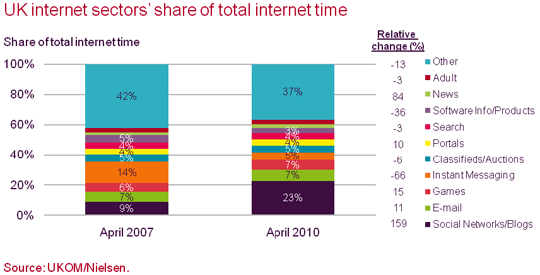 Interestingly, Hitwise suggests 13% growth in retailer's traffic from social media year on year highlighting the importance of word-of-mouth and the optimisation of search and social media assets with such purpose.
Increasing monetisation of social media such as Twitter is also an area to keep an eye on, knowing the interest of clients in this area.
Businesses need to be aware of how forms of social media communication are informing business communications too…
The Bingoo Search Alliance
The Yabinghoo search alliance will deliver an aggregated 154 searchers in the USA alone! The UK will not see anywhere near this sort of scale of searching with less than 6.5% market share of search volume being seen consistently across 2010 – even with Bing's above-the-line presence…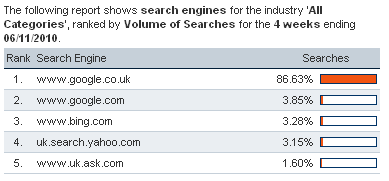 Beyond Bing powering Yahoo's search results and Site Explorer changes, there is little more that can affect SEOs in the UK but it's more apparent changes are likely to be seen across PPC. Regardless, it's certainly one to watch – maybe two search minds will be better than one…?
Real-time, social Google and personalisation
It's not too clear how Google is going to be pulling more real time functionality in to its search result, but it's very likely. Eric Schmidt has already admitted to adding more social media layers to its search results as opposed to all out social media platform creation and promotion – focussing mostly on search quality through social personalisation. An example of Bing doing something similar can be seen in the strategic partnership with Facebook.
Mobile Search
The increasing impact and growth of smart phones is naturally hugely important for those online marketers that work with mobile search, and a 96% growth in smartphone purchases isn't to be smirked at. And with Google absolutely kicking competitor's proverbial behinds at mobile search (with an incredible 98%) it gives us good cause to watch that little bit of digital space flourish over the coming months and years. The UK is leading the adoption of mobile search with 70% growth.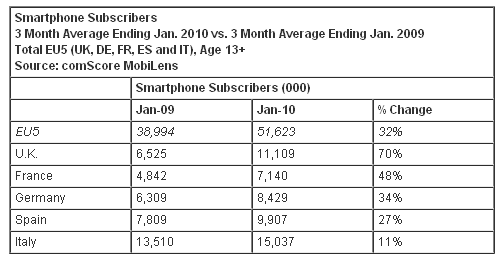 Growth of mobile search is at such a rate, than retailers are believed to be struggling to keep up!
Interestingly too, the mobile app economy, is in part, being driven in part by word-of-mouth – at almost 40% – reminding us of the importance of conversation driving so much demand online.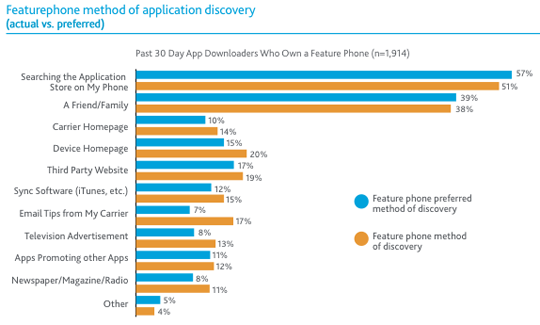 Online Video
More increase is seen across video too, with ComScore reporting a 37% increase year on year. And with YouTube holding a dominant share in visibility can we safely say that we'll see this continue into 2011?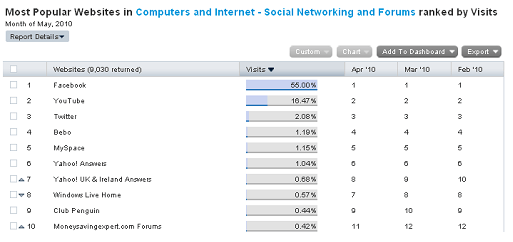 And with UKOM/Nielsen reporting that of the 17.4m users in May, the average time spent on the site over month was 53 minutes, or 1 hour in the USA – far short of the 7 hours on Facebook: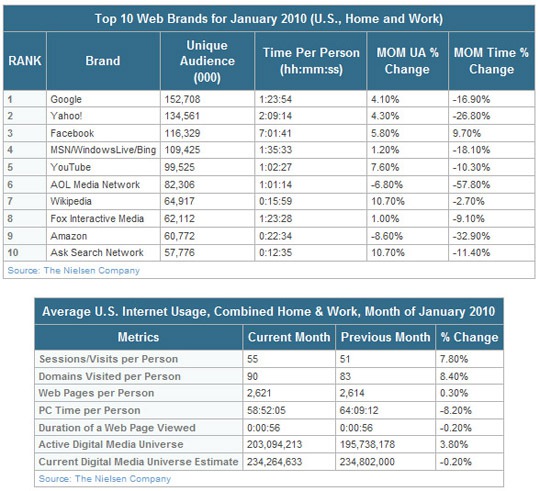 Increasing Infiltration of The Google
With the ever growing reach of Google through the Google OS and Google TV are we going to see Google extend its advertising reach beyond more traditional forms of search? Google quite clearly is working towards dominating those channels that influence such a large part of our media consumption.
Advertising
It's great to see the online advertising sector performing so well as transparent return on investment and increasing time being spent on online properties.
The growth in display year-on-year is in part recovery but also due to an increasing sophistication, now seeing 34% growth since 2009 forQ3 – with Facebook drawing the most impressions of course.
Content paywalls
You could quite easily regard the decision of The Times and The Sunday Times to put up a paywall around their content as a flop, but maybe they are the trail blazers in attributing value to content. For me it's not a business model that is working well for them in the short-term but who knows what the world wide web's trends and New International have in store to make or break this idea.
Maturing SEO Tools
Highlighting a few tools isn't a logical step in this post but I just wanted to do it in order to give a nod to those companies where there have been such impressive steps in their maturity. Increasing investment in tools that act as a window to indicative / sample data should be encouraged, so here's a hat tip to Majestic SEO, Linkscape, Eight Fold Logic, SEM Rush and Dart Natural Search.
Economic Buoyancy
We're in turbulent economic times, so keeping an eye on economic news might help you to feel more at ease with how things at a macro level and search industry level are shaping up.
Online as a research tool – the finance sector is often used as a benchmark for economic activity and with an estimated 10 million UK consumers seeking financial services / products online, with 15 minutes on average being spent on each site – a huge feat!
The Wrap Up
I think this just about does it. In all honesty this list is kind of endless, but hopefully it reminds you of a couple of developments in the industry and how things are shaping up for 2011.
I'd be interested to hear what's high on your agenda from 2010 moving in to 2011, so please feel free to share…!