When it comes to LinkedIn, you know you need to complete your profile, participate in groups, create company pages, and create showcase pages to get results. So, this post is going to skip over the basics and dive right into the tips, tools and resources you need to take your LinkedIn experience to the next level.
How to Unsubscribe From Blog Posts
There's nothing worse that being subscribed to notifications that you didn't opt-in to voluntarily. LinkedIn's notifications of new posts by people in your network aren't so bad if you have a small network. But when you have 10k connections, then it takes over. The only way to start getting rid of these updates is to hover over the update, click on the X, and unsubscribe.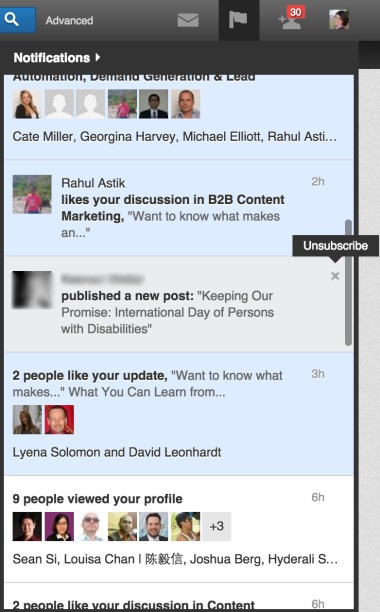 This is one of those things you'll have to do on a regular basis to make a difference. That, or wait until Linkedin changes the game and only gives you notifications for connections you voluntarily subscribe to.
How to Quickly Change Group Digest Frequency
Are you getting a lot of emails from your LinkedIn groups? Change the group digest frequency for all of your groups on one page.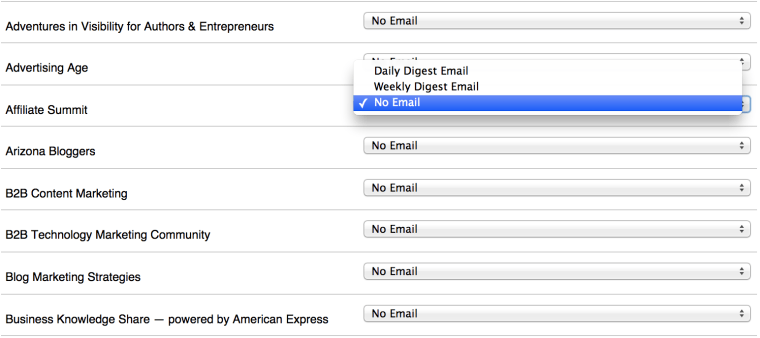 Unfortunately, you still have to go to the individual group pages to opt out of announcements from the group owner. But changing the digest frequency will still make a difference.
How to See Where You Rank
Want to know how popular you are compared to similar professionals? Visit your How you rank page to find out how many profile views you have compared to others in your industry.

You can also click on your connections tab to see where you rank in profile views compared to everyone in your network. Be sure to visit the profiles of the most viewed similar professionals and connections to see if there's anything you can add to your profile to get more views.
How to Put Links on Your Profile
In the current LinkedIn profile design, visitors have to click on your Contact Info tab to reveal the links to your website. That's why you need to add some additional sections to your website.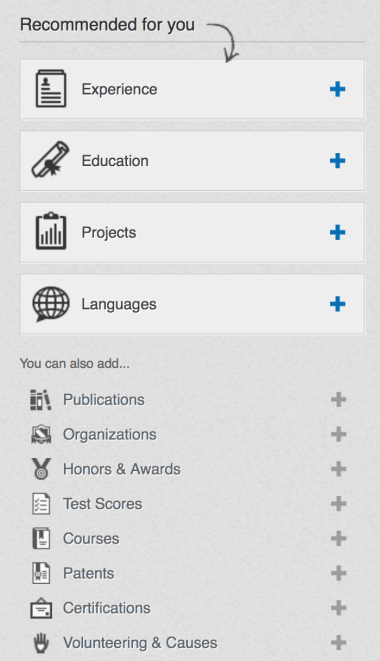 Two that will allow you to link directly to your website are the Publications and Project sections. You can use Publications to link to your ebooks or top pieces of content. You can use Projects to link to your websites, courses, products, or services. When people click on links from these sections, they'll be taken directly to your website or landing page.
How to Get LinkedIn Premium Features for Less
Is LinkedIn premium worth it? Most sources agree that it is, depending on your goals. If you don't need a job, new talent for your business, or new customers, then perhaps not.
For those of you who are interested in the LinkedIn Premium Business plan, but not the $59.99 per month price tag, there is a way to get it a little cheaper. First, you'll need to sign up for a free trial of the LinkedIn Premium Business Plus Plan. Then you'll need to go to your profile settings and click the Downgrade or cancel your Premium account link.

You will then get the option to downgrade to a LinkedIn Premium Business Plan at $29.99 per month. You still get access to the Business Plus plan features, but less of them, such as three InMails instead of 10 and 15 Introductions instead of 25. The same options may exist for other premium plans, so be sure to sign up for a trial and then see what your downgrade options are.
For those of you who have the LinkedIn Personal Plus premium account, don't cancel it. There is no way to get it back and it is currently the best plan for premium features, including the Open Profile.
How to Schedule Updates to LinkedIn
There are several social media management tools that will allow you to schedule updates to your LinkedIn properties. Here's a breakdown of which ones let you do what.
Analytics like the ones shown in the image below by Oktopost can help you determine which LinkedIn groups send the most traffic your way. It can also help you identify which groups are not approving your updates. I use this tool almost daily to promote my own content.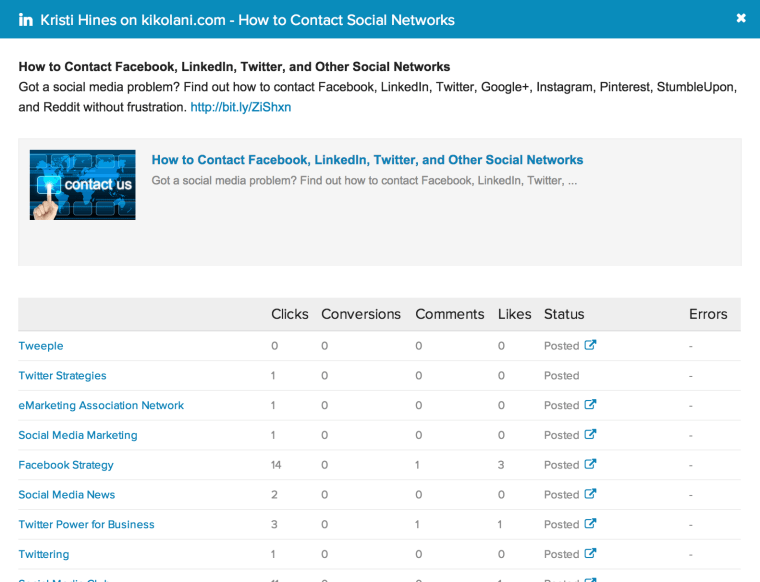 Prior to scheduling updates to groups, visit the group to see if they actually allow you to share link updates in their group. Also look to see if link updates get engagement from other members in the group. If the group is a giant spam-fest, then there's no real need to post your content there. You're looking for a sweet spot of discussions and link shares.
How to Get LinkedIn Testimonials on Your Website
So far, LinkedIn hasn't decided to offer embeddable widgets for recommendations you receive on your profile. Fortunately, an app called Spectoos can help. Spectoos allows you to tap into your LinkedIn connections to collect testimonials. Spectoos then curates the responses and converts them into an interactive faceboard.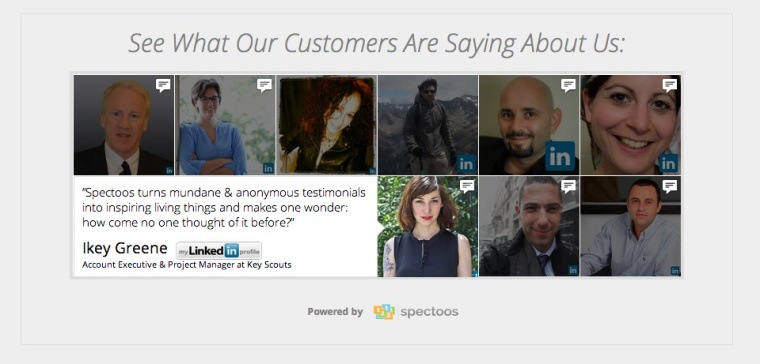 You can add this to your website using a snippet of code or the WordPress plugin to show your visitors credible testimonials for your products and services. After all, photos help increase the "truthiness" of related claims.
Best of all, unlike your average testimonials, you can find out which ones catch the eye of your visitors by viewing your faceboard's analytics. This saves some time in the landing page A/B testing department.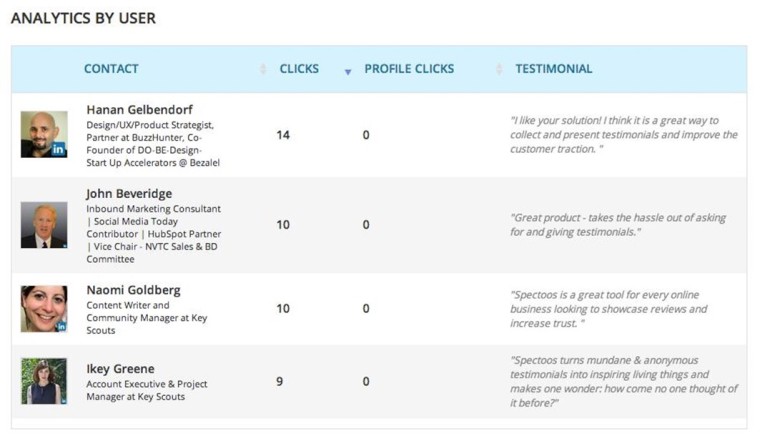 How to Research Customers on LinkedIn
Do you want to target more of your ideal customers using LinkedIn ads? If your answer is yes, then here is what you need to do.
Log out of your LinkedIn account. Search for your top customer using site:linkedin.com/company name. Go to their LinkedIn company page and look at their company details.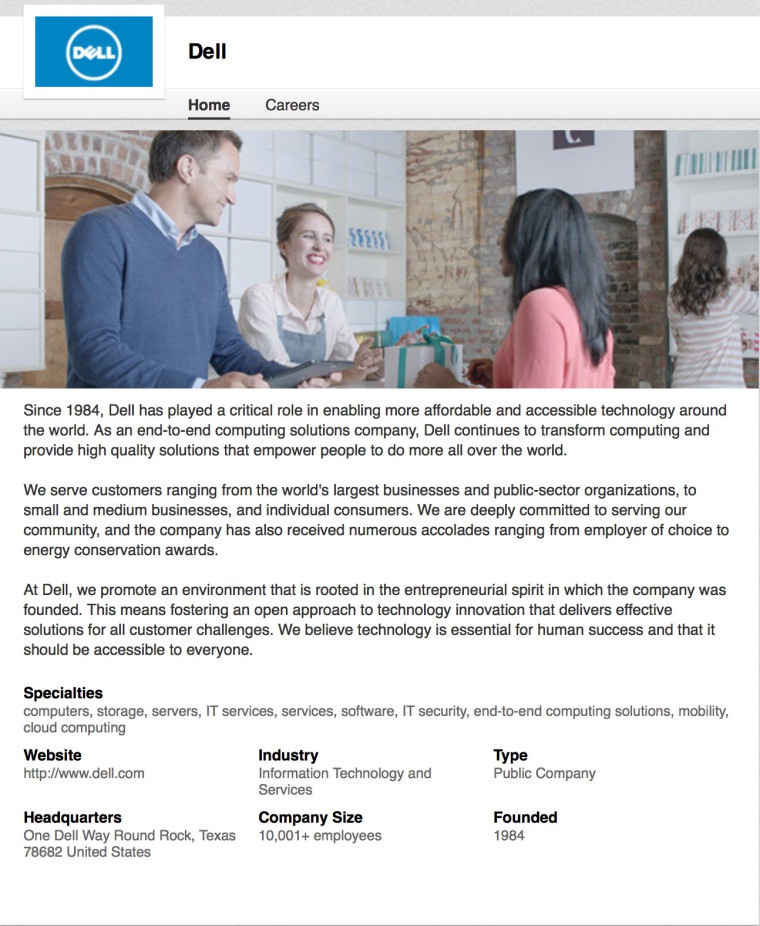 You now have your top customer's industry, company type, company size, location, and how long they have been in business. In the right sidebar under People Also Viewed, you will find similar companies that might make for good customers, too.
After you repeat this process for your top 10 – 20 customers, you'll have the information you need to target your ads to your ideal customers and not have to spend your ad budget guessing. Compile the information in a spreadsheet for future reference.
How to Target Facebook and Twitter Ads to LinkedIn Connections
Speaking of social advertising, did you know you can create custom audiences on both Facebook and Twitter to target ads towards your LinkedIn connections? You'll need to start by exporting your LinkedIn connections. Then you will need to clean up the CSV file to only include the name, email address, company, and job title columns for all of your connections.
Why leave in the company and job title columns? You can use Excel to filter your contacts down to specific companies (like some of the ideal companies you found in your customer research) or specific job titles to identify your best potential customers.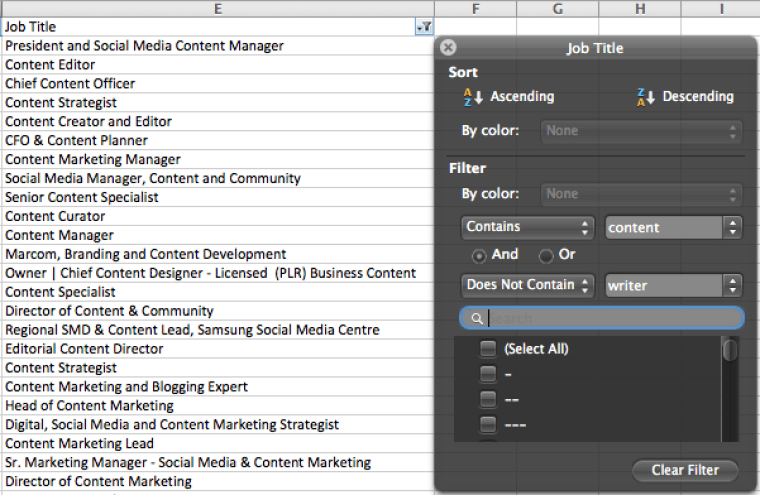 Once you've finely tuned your list, create a CSV file with just the email addresses. Take that CSV file and create custom audiences in your audience managers on Facebook and Twitter (under the Tools menu). On Facebook, you can even create a lookalike audience to target ads towards people similar to your LinkedIn connections.
The goal is to create ads on all three networks for your best potential customers. Once they've seen your ad a few times across networks, they're more likely to click-through to learn more.
How to Research Competitors on LinkedIn
Want to make sure your presence on LinkedIn stacks up with your competitors? Try Rival IQ. This tool allows you to look at how your LinkedIn company page compares in terms of followers, number of updates posted per day, engagement, and followers. I use it on a regular basis to monitor my own competitors' as well as to help my clients get their online presence inline with their competitors.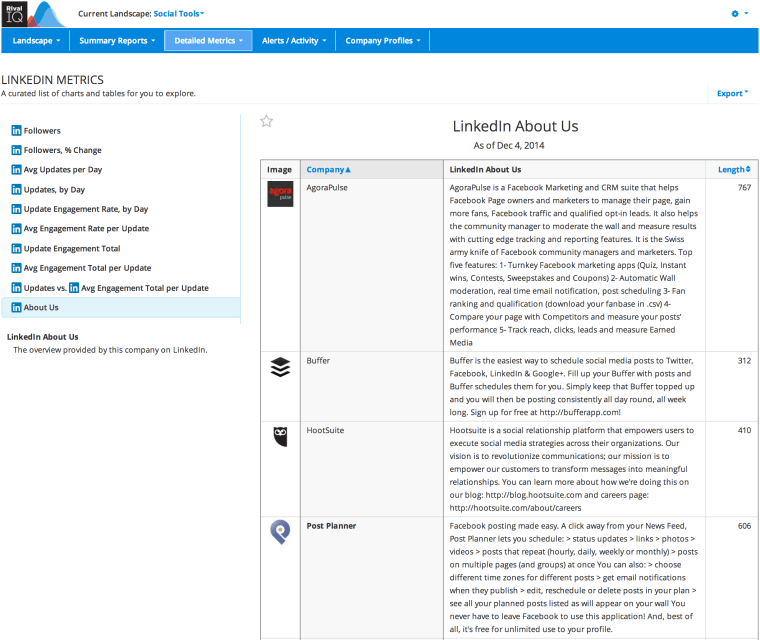 Use this information to determine whether your competitors are having success on LinkedIn and if so, how they are using their company pages. You can run similar analysis on their strategy on other social networks as well.
In Conclusion
With the right strategies and tools, you can make your LinkedIn experience both positive and beneficial for your business.
What tips, tools, and strategies have you found successful in your LinkedIn marketing? Please share in the comments!
All screenshots taken December 2014. Featured image via SEJ.