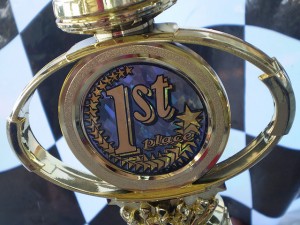 Growing the number of "Likes" on your company's Facebook page isn't just a matter of pride. In fact, the social proof generated by an active fan page can be incredibly powerful in building your brand's authority and engagement. However, earning these votes of confidence isn't as simple as just asking people to click "Like" on your page. In an age of digital desensitization, you need to do something to stand out – something like a Facebook contest…
To get your creative juices flowing, check out the following Facebook contests that helped these ten brands successfully boost the number of likes on their pages:
Company #1 – PLNDR
In March 2011, the PLNDR apparel company capitalized on the popularity of March Madness basketball with a similar competition that allowed its fans to vote the next brand of clothing carried by the company through a bracket style competition. Votes in the competition were counted in the form of "Likes", with the brands with the most likes moving on to the next level of play. As a result of this contest, the number of PLNDR fans grew by more than 800%.
Company #2 – TimetoPlayMag.com
Another seasonal promotion, TimetoPlayMag.com took advantage of Easter traditions with a virtual Easter egg hunt on its main site. The company gave clues to the hunt on its Facebook page, and the first person to find each new Easter egg (5 eggs were posted on the company's website each day over a 15 day period) won a small gift card.
By integrating the campaign on both the company website and its Facebook page, the brand was able to leverage the contest to result in increased brand awareness and social media traffic.
Company #3 – Hiatus Spa
In celebration of Earth Day 2011, Hiatus Spa ran a contest titled "Be Green and Be Good; Earth Month 2011" in which fans were invited to share their favorite green living tips and vote for the best advice shared on the company's Facebook page. The author of the tip with the most likes and comments received a gift certificate for three free spa services at Hiatus.
According to Jordan Harbinger, who helped run the contest, ""The great thing is that this has really been fun—and people are sharing wonderful, useful information."
Company #4 – Vitamin Water
The Vitamin Water company makes an excellent case study on using Facebook contests to increase Page likes, as they've conducted several of these promotions allowing fans to help choose future products, design product packaging and even name commercial lines. In 2010, the company's competition resulted in one Facebook fan winning $5,000 for her contributions, and in 2011, Vitamin Water gained even more traction by using celebrities like Steve Nash and 50 Cent to generate attention on Facebook.
Company #5 – Snack and Munch
Snack and Munch is a great example of building a contest around Facebook likes, as the company conducts weekly drawings in which all new likes are entered to win a free box of the company's product shipped directly to their homes or offices. Of course, it's important to check with Facebook's TOS before launching this kind of contest, but as long as you stick within the rules, drawings can be a fun way to build brand awareness in the social space.
A spokesperson for the company had this to say about running Facebook contests to increase attention:
"You have to be patient because the success doesn't come overnight, it takes time and persistent. Persistence is key, you have to keep on moving forward and not stop."
Company #6 – Fresh Brothers
The Fresh Brothers pizza chain capitalizes on Facebook users' love of sharing pictures by encouraging fans to take a picture of themselves with the company's mascot and upload it to Facebook in exchange for a gift certificate. The company uses their Facebook fan page to share details about where the mascot will be at what times, which has resulted in a significant number of new likes for the brand.
Company #7 – Dominos
In late 2010, pizza giant Dominos launched a Facebook competition designed to reward its most loyal fans through the Dominos Superfans app. The Page fans who recruited the most additional fans to the page were given special purchase discounts and even ranked as the "Pizza King" and "Pizza Queen" on the company's fan page.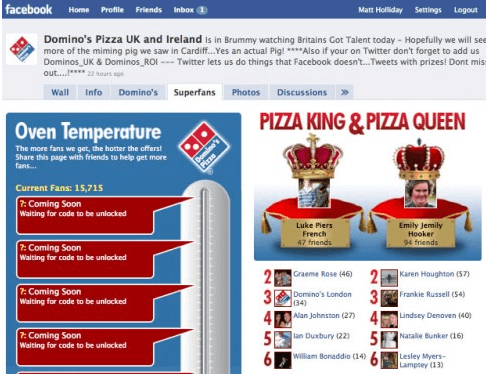 Company #8 – Clairol
When cosmetics company Clairol launched their new line of "Nice and Easy Color Blend Foam" products in early 2011, they used this opportunity to grow their social media presence as well. At the start of the launch campaign, the company had approximately 27,000 fans on their Facebook fan page. But by implementing a giveaway that sent a free product sample to the first 100,000 people who liked the page, they were able to increase their total fan count to over 262,000 in just four days.
Company #9 – Kohl's Cares
But while 100,000 free product samples sounds pretty extravagant, this giveaway pales in comparison to the contest run on Facebook by Kohl's Cares – the charitable giving arm of the popular clothing and home goods retailer. Through the campaign, the company gave a total of $10 million to 20 schools at a gift of $500,000 each. In order to be considered, schools had to enter and then compete for votes from fan page viewers. At the end of the competition, it's estimated that the page received approximately 1.5 million new likes – making it a win-win for the brand's Facebook presence and the schools that benefited from the giveaway.
Company #10 – Contiki Travel
In February 2011, Contiki Travel launched its popular "Get on the Bus" promotion, which encouraged viewers to get a group of four friends together, plan a dream vacation and then solicit votes for their plan on the company's Facebook page. The team with the winning number of votes received a vacation package worth over $25,000, and – at the end of the competition – the company had garnered an additional 8,000 likes through the promotion.
If you'd like to harness the power of these Facebook contests and apply these methods to your own fan page in order to boost your number of likes, there are a few things you'll want to be aware of:
Brush up on Facebook guidelines – Facebook has specific rules about how contests can be carried out and what types of prizes can be offered, so be sure to check out their rules and regulations before launching your own contest.
Consider the cost – If you're a smaller company, giving away 100,000 free samples might be beyond your budget anyways, but even with smaller campaigns, be sure to understand the monetary value of each like on your fan page. Dropping a bunch of money on a contest only makes sense if you know you'll see a positive ROI from a more popular fan page.
Think about your customers – Before launching a Facebook contest, be sure to spend some time thinking about your customers and the contest types they'll be most likely to respond to. Every market is different, so be sure to tailor your contest to your customers' interests instead of simply copying another company's promotion.
With a little extra work planning out the right Facebook contest for your fan base, you'll find that this type of promotion can result in substantial growth for your fan page – and, consequently, for your business overall.